Norris satisfied with P7 in Singapore as McLaren increase points gap to Renault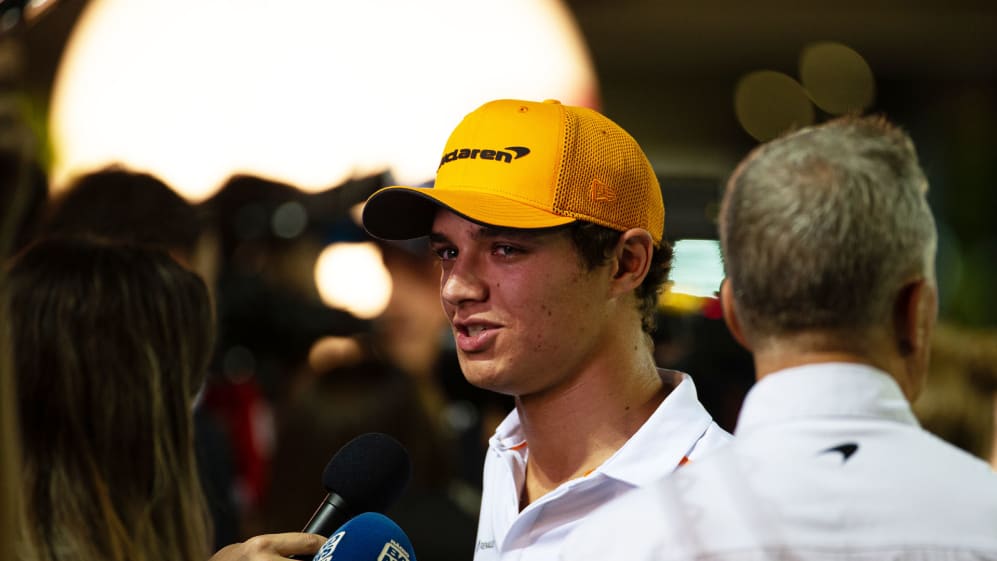 Lando Norris may have qualified 10th for the Singapore Grand Prix because of driving like "an idiot" (in his own words) – but there was nothing idiotic about his race performance, as he finished P7 to help McLaren take some much-needed points, as they fight Renault for fourth place in the constructors' championship this year.
Starting ninth following Daniel Ricciardo's exclusion from qualifying, Norris was the beneficiary of first lap contact when the other rival Renault of Nico Hulkenberg came together with his McLaren team mate Carlos Sainz, allowing him to slip into seventh.
After enduring a slow first third of the race, as Charles Leclerc held the field up to prolong the life of his soft tyres, Norris then enjoyed a steady drive back up to P7 – having dropped to 13th following his pit stop – before withstanding pressure in the final laps from Toro Rosso's Pierre Gasly to bring his car home just three seconds adrift of Alex Albon's sixth-placed Red Bull.
READ MORE: Singapore points serve as 'thank you' to Toro Rosso, says Gasly
I was having to push in the last 10 laps, which was fun, because for the rest of the race we were just driving around so slowly
"I don't think we could have done better than seventh," said Norris after the race. "It was a shame about Carlos getting hit by Hulkenberg at the beginning, because I think we could both have been in the points today.
"At the same time, from my side, it was a tough race, especially the final 10, 15 laps, I was under quite a bit of pressure... I was having to push, which was fun, because for the rest of the race we were just driving around so slowly.
"I mean, I'm tired," Norris added, when asked how he was feeling after his maiden Singapore Grand Prix, "but because the first 30 laps were so under the limit, literally just driving around trying to not to wheelspin or lock up or understeer, it was fairly relaxed. It was more like a 20-lap race."
Sainz, meanwhile, was in no doubt that Norris' P7 place could easily have been his had he not had his contact with Hulkenberg on Lap 1, with Sainz having qualified in seventh on Saturday.
"[It's] tough to take it, because we were in such an easy P7 after the start," he said. "[Then] damaged floor, puncture, one lap down, one minute pit stop and I saw myself in a very long race in Singapore. We more or less managed to recover even with a damaged floor and nearly made it to the points but disappointed because today was a very easy P7."
Having claimed just one point in the last two races, McLaren at least had the comfort of outscoring rivals Renault in Singapore six points to two (Renault having taken 26 across the Belgian and Italian Grands Prix), with Hulkenberg ultimately Renault's only scorer in P9. The gap between the two teams now stands at 22 points with six rounds to go...
2019
McLaren's gap to Renault increases after Singapore
POSITION
POINTS

4

McLaren

89

5

Renault

67