Gasly: Singapore points serve as 'thank you' to Toro Rosso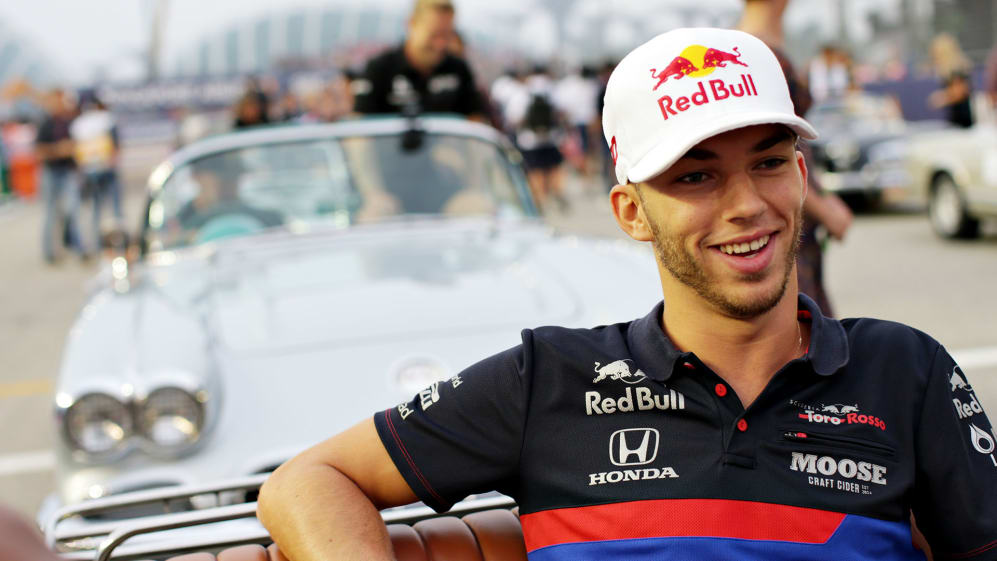 Singapore saw Pierre Gasly secure his highest finish for Toro Rosso since his recent return, and said his P8 finish at Marina Bay was a "thank you" to the team that gave him a warm welcome back.
Shocked by Red Bull management switching him back to the Faenza squad ahead of the Belgian Grand Prix, Gasly finished ninth at Spa and then 11th in Italy, before securing eighth under the floodlights on Sunday.
READ MORE: Raikkonen 'paid the price', says Kvyat as he admits to 'really poor' Singapore GP
And while the seat he vacated for Alex Albon at Red Bull is still open for 2020, Gasly is making the most of life at Toro Rosso, who sit just 12 points behind Renault in the constructors' championship. In particular, he praised the team for striving to welcome him back and put him in a competitive position in the Honda-powered STR14.
Someone told us that somehow we were running P2 before the stop, which never really happens...
"It's been really good I must say," said the Frenchman. "The team is really pushing hard and trying everything to make me feel comfortable in the car and try to make it where I need it to be to really extract the maximum from it. I must say they have been really good and it feels good to get a result like this to thank them."
Regarding a potential return to Red Bull next season, he added: "To be fair, I think at the moment I'm just happy with the steps we are making with Toro Rosso.
DRIVER MARKET: Marko suggests second Red Bull seat between Albon and Gasly
"I managed to get the car where I want and every weekend we seem to make a step forward. We still need to work even harder because I feel there is more to come, but we'll see the outcome at the end of the season."
Gasly was in the running for an even better result in Singapore, having run as high as second – behind brief leader Antonio Giovinazzi – before he pitted on lap 33. Unfortunately for him, he missed the chance to come in under a Safety Car, the first of which appeared on lap 36.
"Someone told us that somehow we were running P2 before the stop, which never really happens – I didn't even know that during the race – but when the Safety Car came out we kind of lost three or four positions so we came out P12, which was a bit annoying.
"But I gave it everything at the end to pass Kimi [Raikkonen], I had a couple of good battles with Kevin [Magnussen] and Lance [Stroll] and so it feels good to score these four points."
As for his near-miss with Sebastian Vettel, Gasly said he was caught off guard when the Ferrari driver dived in for a pass at Turn 7 midway through the race, and that he did his best to take evasive action.
"To be fair, I saw he was quite far back," said Gasly. "I didn't expect him to send it from that far back so coming in the corner I thought he would stay behind and I just saw his nose really late as I was turning in… but luckily we didn't touch."
Next up for Gasly is the Russian Grand Prix, where he hopes he can make a name for himself – just not in the same fashion as Toro Rosso team mate Daniil Kvyat infamously did a couple of years back…