I don't win boring races! – Ricciardo on crazy China triumph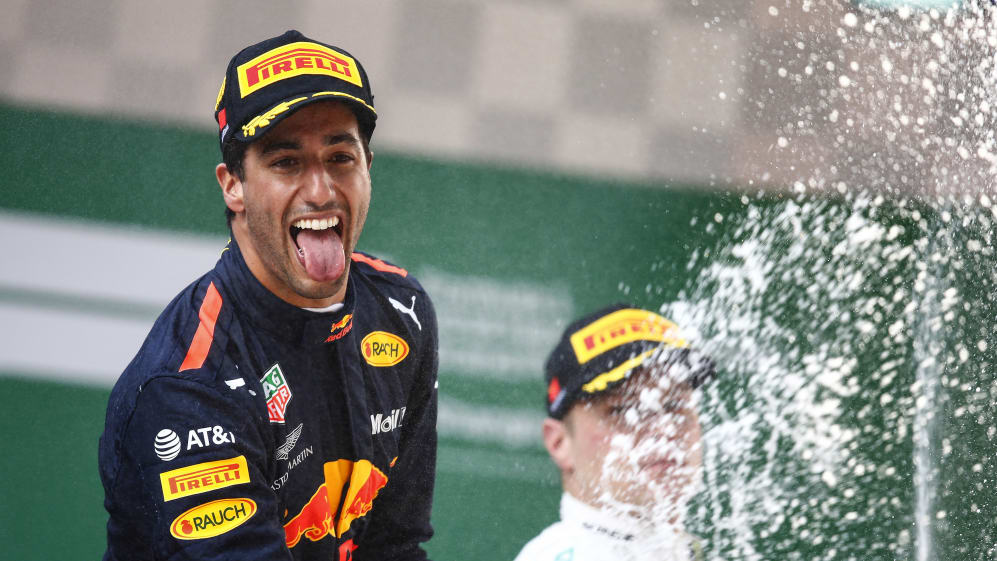 Daniel Ricciardo likes to do it the hard way. His sensational victory in China on Sunday was the sixth of his career. In all of them, he has never started the race higher than fourth. And once again, his trademark overtakes were the highlight of an absolute belter of a Grand Prix.
Ricciardo came to Shanghai on the back of four retirements in his last six races. And his luck seemed unlikely to turn when he suffered an engine problem in FP3.
But after recovering to sixth in qualifying and then running there for most of the race, the Red Bull driver was handed a lifeline when the Safety Car intervened following Pierre Gasly's tangle with Toro Rosso team mate Brendon Hartley on lap 32.
That proved the prelude to an amazing surge up the order, as Red Bull pitted both Ricciardo and team mate Max Verstappen for fresh tyres.
Kimi Raikkonen was quickly dispatched for fifth, followed by Verstappen when the Dutchman messed up trying to overtake Lewis Hamilton. Then came moves on championship leader Sebastian Vettel before a brilliant lunge on Valtteri Bottas to take the lead.
"I don't know what it is," said Ricciardo, who was understandably voted Driver of the Day. "I don't seem to win boring races. They are all pretty fun.
"It was hectic, I heard safety car [was being called] in T14. [The team] said we would double stop. It happened quickly.
"That gave us a bit of grip on the restart. We didn't think it would last that long but the tyres held up well and we had wicked pace on the softs.
"Once I was aware we had the pace, I wasn't going to let that slip. Every win I've had has been in a similar circumstance. It was crazy, a lot of fun. It was decisive, winning moves from the team. Thanks a lot.
"Twenty four hours ago, I thought we might be starting at the back of the grid (after the engine problem).
"Thanks to the boys yesterday. I thanked them after qualifying but today is the real reward. Thanks to everyone. The mechanics worked their butts off."
Ricciardo's pass on Hamilton came from a long way back, while his move on Bottas for the lead was similarly bold.
"Sometimes you have just got to lick the stamp and send it," he said of the move on Hamilton. "I enjoyed it very much. We had the soft tyres, so I knew I could get more out of the braking than them. A lot of the time you get one chance to try so I make the most of every opportunity.
"It was close [with Bottas], it was hard but fair. But I saw him defend so I wanted to go shallower, but he came a bit more. I thought about pulling out… no I'm just kidding… I knew there would be enough room, the tyres had enough grip. Worse case I went wide, and I'd have another go."
Red Bull Team Principal Christian Horner was full of praise for the Australian. "Daniel has been clinical in the way he executed that race, his passing moves," he said. "There was one move at Turn 14 he came from so far back - I think it was on Lewis - and you know, he just got the job done.
"A fantastic team effort today. Hats off to the guys in the garage, they've pulled off two double pit stops as well, nailed the strategy and Daniel's executed the perfect race."
Ricciardo was the only driver in 2017 to win a race from outside the top five, when he triumphed in Baku last year. Can he carry the momentum and defend that win when they regroup in Azerbaijan later this month?