'I drove my heart out' says Russell after late Alonso pass costs him first points finish for Williams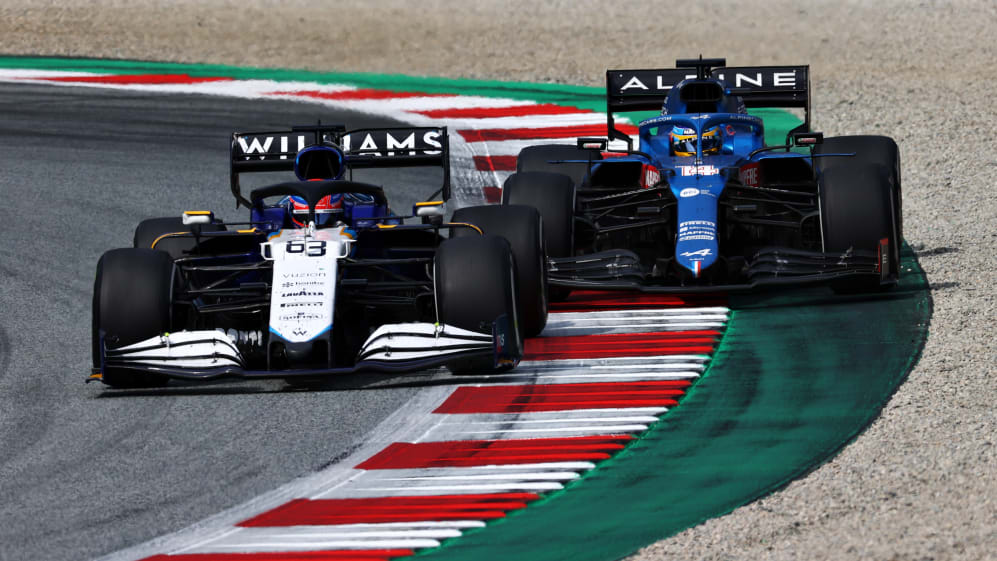 George Russell again came agonisingly close to breaking Williams' point scoring duck in the Austrian Grand Prix, before a late pass by Fernando Alonso dropped him out of the points with just a handful of laps remaining.
Williams have not scored since Robert Kubica finished tenth in the German Grand Prix in 2019, but Russell has looked very close to ending that barren run in both of the last two races.
RACE REPORT: Verstappen waltzes to second win in a row at Red Bull Ring, as Bottas beats Norris to P2
In last week's Styrian Grand Prix he was running strongly in the points before a mechanical problem forced him to retire, while this week he looked to be in even better form, making it through to Q3 for the first time as a Williams driver in Saturday qualifying. After starting eighth he dropped positions on Lap 1, but was running tenth with four laps to go, before Alonso got past him.
"We did a good strategy, [I] drove my heart out, but if you could choose to have any driver behind you in a situation like that, you wouldn't choose Fernando, and he had the pace for the top five yesterday," said Russell after the race.
"So keeping a guy like Fernando, who had the pace for the top five behind, was nigh-on impossible but I definitely gave it a shot and yes: so close yet so far."
It was yet again a case of what might have been, but the British driver was trying to look on the bright side.
"Positives: Q3. Positives: P11, so close to the top 10, and personally that's probably one of my first real battles on track, and it felt like I held my own and didn't make any silly mistakes," he said. "I've been in F1 three years now but one of those years I was driving around completely on my own. Last year was a little bit of the same, so you know, that was pretty nice to have a battle like that and especially with a guy like Fernando."
Russell caused concern before the race after reporting that the car didn't feel right on his lap to the grid, but after checking it over the team passed it fit to race. When the lights went out, Russell also dropped down the order on Lap 1, before fighting his way back up the pack and into points contention.
WATCH: Safety Car triggered on Lap 1 after Ocon and Giovinazzi collide in Austrian GP race start
"It was pretty worrying at the start; I felt like we had a bit of a problem. We still need to investigate. We've got a little idea where that came from and then made a good start but unfortunately [Yuki] Tsunoda jolted in front of me – I think he had a big lockup and had to avoid a big incident which really compromised me and made me lose two or three positions. But nevertheless, that did not change the race result."
Russell now heads to his home race at Silverstone in two week's time, where he'll be hoping he can finally end Williams' points duck in front of a full house of British fans.