Report
Verstappen waltzes to second win in a row at Red Bull Ring, as Bottas beats Norris to P2
For the second time is as many weeks, Red Bull's Max Verstappen enjoyed a serene drive to victory at the Red Bull Ring, leading every lap of the Austrian Grand Prix from pole position – much to the delight of the thousands of orange clad fans who flocked to cheer him to a third victory in a row.
In contrast to the Styrian Grand Prix, Verstappen faced no real threat from behind, even having enough time to take an extra pit stop with 10 laps to go to ensure an extra point for fastest lap – and a first ever 'grand slam weekend', with pole, fastest lap and victory, having led every lap.
Behind him, championship rival Lewis Hamilton worked his way up to second place from P4 on the grid before aerodynamic damage, picked up by running over exit kerbs, slowed his progress, allowing both Mercedes team mate Valtteri Bottas and McLaren's Lando Norris to get past.
Despite heavy pressure from Norris, who was awarded Driver Of The Day honours, Bottas held on for P2, with the McLaren driver taking a third podium finish of the season in P3. Hamilton held on for fourth, but slipped from 18 to 32 points behind Verstappen in the championship standings.
FORMULA 1 BWT GROSSER PREIS VON ÖSTERREICH 2021
Austria
2021
Race results
POSITION
TIME
POINTS

1

Max

Verstappen VER

Red Bull Racing

1:23:54.543

26

2

Valtteri

Bottas BOT

Mercedes

+17.973s

18

3

Lando

Norris NOR

McLaren

+20.019s

15

4

Lewis

Hamilton HAM

Mercedes

+46.452s

12

5

Carlos

Sainz SAI

Ferrari

+57.144s

10
Red Bull might have had an even better day, had Sergio Perez not had such an eventful race from third on the grid. After an early safety car, called on Lap 1 when Esteban Ocon was forced to park his Alpine with damage sustained bumping Antonio Giovinazzi's Alfa Romeo at Turn 3, Perez attacked Norris for P3 at Turn 3.
Going around the outside, Perez was forced off track, with Norris given a five-second penalty as a result. However, Perez would later ease Charles Leclerc's Ferrari off the road at exactly the same place and pick up an identical penalty, before doing the same thing to Leclerc at Turn 6 and getting one further time penalty.
That meant that while Perez crossed the line in P5, he was classified in P6, with Ferrari's Carlos Sainz – who propelled himself up the order with a brilliant late charge after running a long opening stint – taking fifth.
McLaren's Daniel Ricciardo, Leclerc, AlphaTauri's Pierre Gasly and Alpine's Fernando Alonso completed the top 10, the latter taking the final points-paying position from George Russell on the penultimate lap, denying the Briton a first point with Williams.
Further back there was drama on the last lap as Alfa Romeo's Kimi Raikkonen collided with Aston Martin's Sebastian Vettel as they disputed P12. But for the majority of fans around the track, it was all about the man who finished in P1…
As it happened
Amid warm temperatures and cloudy conditions, the race got underway with Verstappen leading into Turn 1 as all the front runners got a clean start – that is apart from George Russell who, seeking a first points finish for Williams, immediately dropped from P8 to P12.
However, no sooner had the drivers got up to speed than the Safety Car was called, with Esteban Ocon forced to park his Alpine with damage to complete a second successive weekend to forget. The Frenchman, who started a disappointing P17, was caught between Mick Schumacher's Haas and Antonio Giovinazzi's Alfa Romeo as the pack exited the Turn 3 hairpin, with contact from the latter's rear wheel instantly breaking his front suspension.
Racing got back underway on Lap 4, with Perez in third wasting no time in attacking Norris for P2. After an initial look around the outside at Turn 1, the Mexican tried his hand around the outside again at Turn 4. However, Norris held his ground and eased Perez off the road, the Red Bull driver complaining he'd been pushed off as he returned from the gravel down in P10.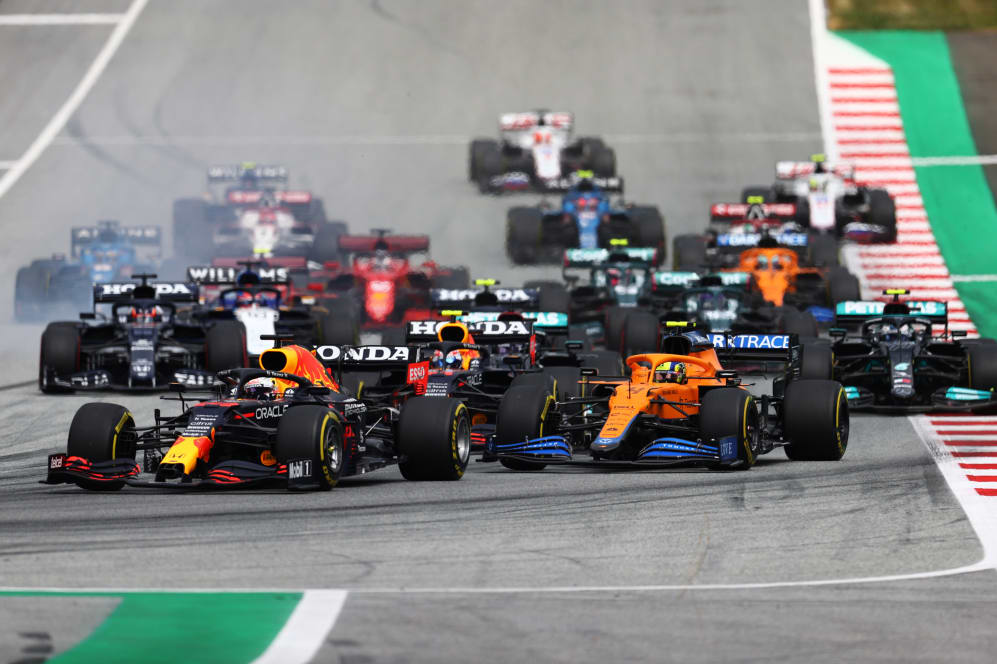 Amidst the drama, Bottas briefly passed Hamilton for P3, but the Briton pushed his way back ahead before setting after Norris, whose team mate Daniel Ricciardo had given himself a great chance of a haul of points by jumping up to P9 from P13 on the grid.
By lap 10, Verstappen had opened his lead to 3.6s over Norris and 4.5s over Hamilton, as the seven-time world champion radioed to say he was struggling to follow the McLaren. He'd remain behind until lap 20 when he finally forced his way past at Turn 4, Norris remarking that Hamilton's brakes were on fire as he drove past, with Hamilton taking the time to tell his team what a "great driver" Norris was.
In a double whammy for the McLaren man, no sooner was he passed by Hamilton than he was handed a five-second penalty for the Perez incident – though his team chose to wait until lap 26 to inform their driver, who was typically nonplussed saying: "what did the guy expect going around the outside?"
By this stage, all the drivers who had started on softs – both AlphaTauris and both Aston Martins – had stopped for fresh rubber, though Yuki Tsunoda blotted his copybook by straying over the white line in the pit entry and earning himself a five-second penalty. He'd repeat the mistake later in the race to end any hope of points, and no doubt earn himself a telling off from Red Bull top brass.
On lap 30, Norris decided it was time for fresh rubber, with Mercedes instructing Valtteri Bottas – running behind Norris on the road in P4 – to follow the Briton in, knowing he'd have to serve his time penalty before his tyres could be changed. Bottas thus had time to take on new tyres and emerge ahead comfortably ahead of Norris – much to the McLaren driver's chagrin.
A lap later and Hamilton made his stop for hard tyres, his team telling him to look after his rubber, with Red Bull – who stopped Verstappen for the same tyres a lap later – telling the Dutchman that his title rival was set to run to the end of the race.
That would prove a fallacy as it soon became apparent after his stop that Hamilton was struggling for pace, his team quickly diagnosing that he'd suffered "damage to rear aero surfaces" running over an exit kerb.
As Bottas and Norris homed into view, it was all action behind as Gasly, Ricciardo, Perez and Leclerc continued their running battle. On lap 41 Leclerc dived around the outside of Perez into Turn 4, much as the Mexican had done to Norris in the early stages. The result, however, was the same, with Leclerc running into the gravel and Perez quickly handed a five-second penalty, to be added to his time at the end of the race.
No sooner had that been issued, and Gasly had pit again, Perez lined himself up for another penalty – this time for running Leclerc off the road at Turn 7.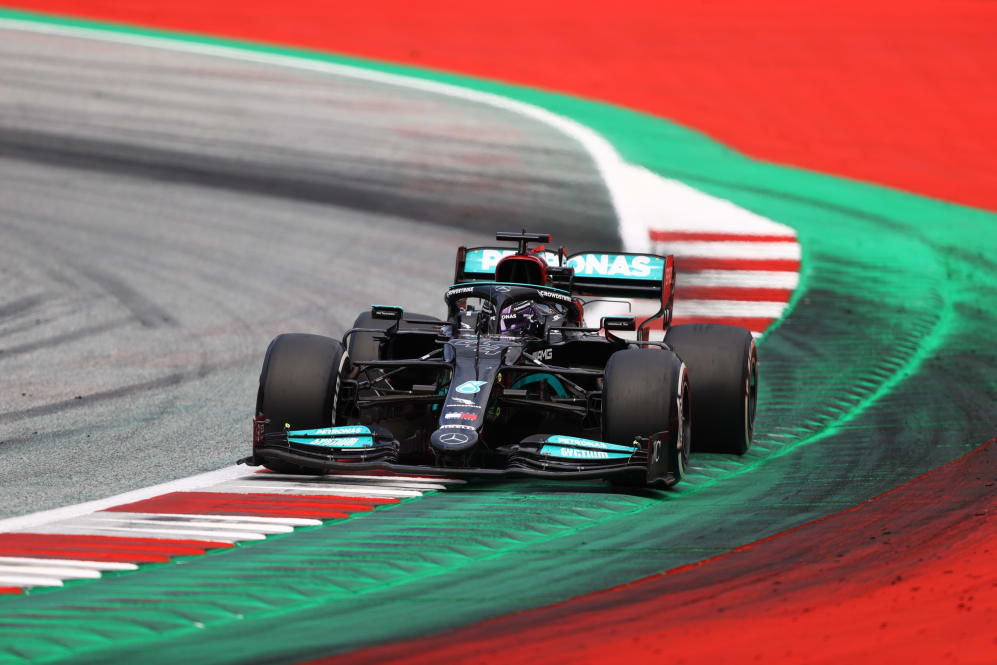 As the race moved into the final stages, Bottas and Norris arrived at the rear of Hamilton's car, with Bottas initially told to hold station. But fearing the threat of Norris, Mercedes had no choice but to let Bottas attack Hamilton, with an instruction to 'invert the positions' coming soon after and Bottas moving ahead on lap 52. A lap later and Norris was also by, Hamilton stopping for fresh rubber shortly afterwards as he focused on holding onto fourth and limiting his championship damage.
Up front, there were no such issues for Verstappen, who had so much margin in hand he could afford to stop for a second time and emerge 7.2s ahead of Bottas, with the fresh tyres needed to guarantee fastest lap.
The action wasn't over though. Having started on hard tyres and been the last to stop, Sainz was on a charge on fresh mediums. He quickly got onto the back of team mate Leclerc and was ushered past, before taking Ricciardo for P6 on the road with one lap to go.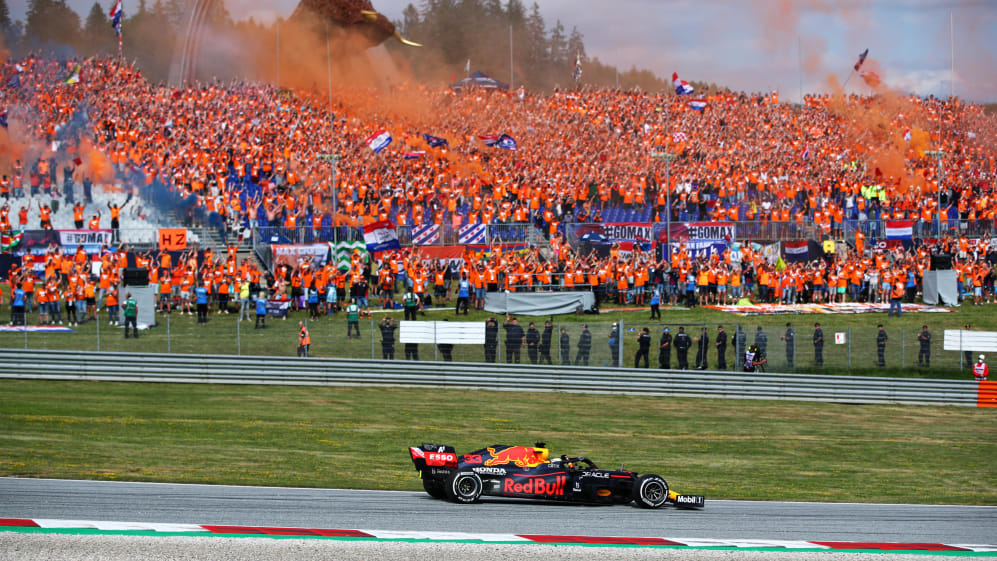 The other Spaniard on the grid, Fernando Alonso, was on a similar charge, passing George Russell for P10 late on to extend his points scoring run to four races and deny the Williams man a first point. In no mood to lose any further places, Russell then held off Raikkonen, who had similarly run a long opening stint, with the Finn then getting involved with former team mate Sebastian Vettel as they exited Turn 4 on the final lap.
The duo clashed wheels and both ran spectacularly across the gravel, with the stewards announcing an immediate investigation, the result of which was a 20-second time penalty and two penalty points for Raikkonen.
But the day belonged to Verstappen, who declared his victory "even better than last week" and affirmed his status as championship favourite.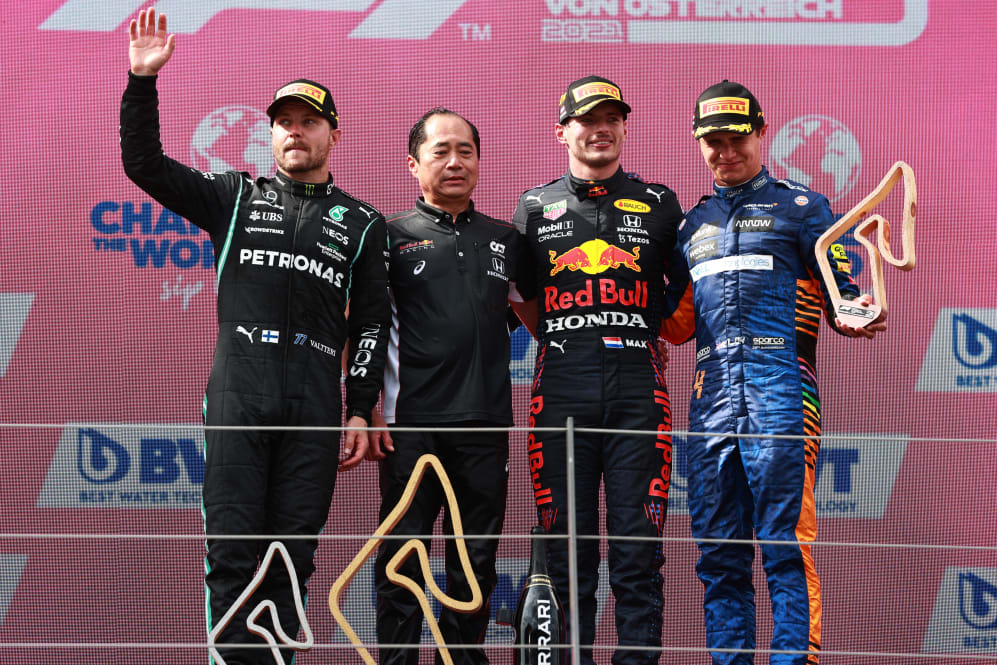 The key quote
"It's incredible to be honest. The car was on rails. I mean on every tyre set we put on, it was really enjoyable to drive. I'm a bit amazed myself how today went; I didn't expect it to be like this. Incredible job by everyone to deliver something like this. Of course, when you go into the weekend everybody sees you as the favourite, but it's never easy to actually always deliver what we did today." – Max Verstappen, Red Bull
What's next?
After an intense triple header, the teams and drivers now have some well earned downtime before the the 2021 British Grand Prix at Silverstone on July 16-18 - a historic event, with the first F1 Sprint taking place on the Saturday.