'I honestly didn't enjoy it at all, I had zero pace' – Sainz baffled by poor showing, as Leclerc takes P5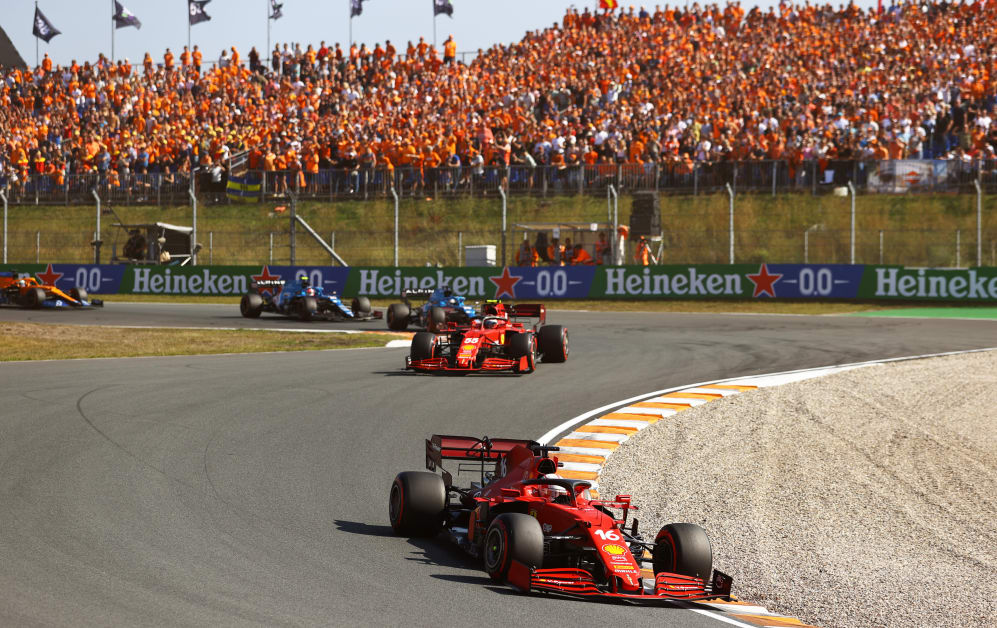 It was mixed feelings for Ferrari duo Charles Leclerc and Carlos Sainz in the returning Dutch Grand Prix, with the former pleased with his pace on the way to fifth but his team mate at a loss to explain why he fell backwards at Zandvoort...
Leclerc was frustrated with himself after qualifying as he felt P4 was possible with the car he had and he accepted it would be tricky to make progress on a circuit where overtaking is challenging. And so it proved, with Leclerc tracking Gasly all race, crossing the line fifth, which incidentally is the same position he finished on his last Zandvoort appearance when competing in European F3 in 2015.
READ MORE: Verstappen sends home fans wild with victory over Hamilton amid party atmosphere at the Dutch GP
"I'm happy with the pace, not completely happy with P5 because I think if we had done a better job yesterday in qualifying and I had put the lap together I think fourth place was definitely on the cards," he said. "Pace-wise we were the best in the midfield but it was just difficult to show it today because we were struggling to get closer to Gasly than that."
Sainz had a tougher afternoon, struggling to keep pace with Leclerc and then losing a position to countryman Fernando Alonso on the last lap to end up seventh (see the video below).
"I honestly didn't enjoy it at all, just sliding around," he said. "Honestly I had zero pace in the car today. I didn't feel at home with it compared to the rest of the weekend. For some reason I was very far away in terms of feeling.
"It is something to analyse as it's the first time it has happened this year where I really don't find myself and I spend the whole race sliding and struggling for pace and in the end I was just struggling for tyres.
"It was very, very strange. Honestly, it's a big puzzle at the moment because I don't know where the pace went and I'm pretty sure there was something going on that I need to look into. Let's hope we can find what happened before next weekend."
The positive news for Ferrari was that a solid points haul helped lift them above McLaren in the constructors' championship, opening up a 11.5-point advantage. "Yeah this is good for the team," added Leclerc.
"That's exactly what we needed this weekend. Whenever we know McLaren are struggling a little bit more, that's where we need to take those opportunities and put both cars in the points and that's what we did today."