'I knew I would get them back' – Verstappen hails Red Bull strategy after overhauling Ferrari pair for Austria win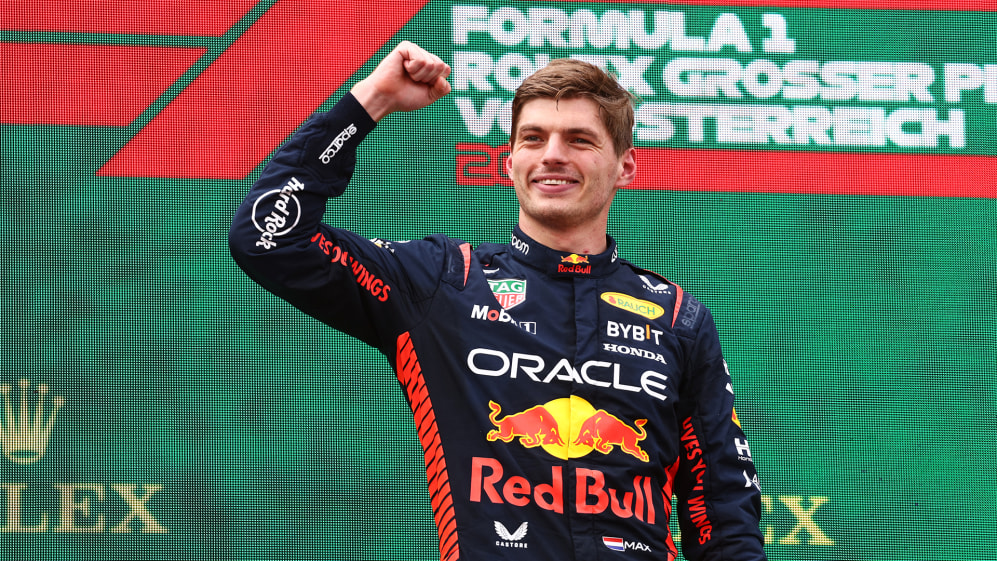 Max Verstappen has heaped praise on Red Bull for their "perfect" strategy during the Austrian Grand Prix, which saw the team hold their nerve during an early Virtual Safety Car while rivals Ferrari pitted.
Verstappen led away from pole position at the start but a VSC – triggered by Nico Hulkenberg's smoking Haas – tempted Ferrari drivers Charles Leclerc and Carlos Sainz into the pits, while Red Bull stayed out on track.
READ MORE: Verstappen beats Leclerc for victory in Austria to make it five wins in a row
However, Verstappen soon reeled in both of them when the green flag racing resumed and ultimately cruised to a comfortable win on his opposing strategy – pitting just before the finish to bag the fastest lap bonus point.
Fresh from leading home Leclerc and team mate Sergio Perez, who overhauled Sainz late on, Verstappen said: "I think the most important [thing] for me was Lap 1, to stay in front. After that we could do our own race.
"Of course we opted not to box during the Virtual Safety Car, and just follow our normal strategy, and I think that worked out really well. The tyre [degradation] was not that high around here and our stints were perfect, so a great day – I enjoyed it a lot!"
DRIVER OF THE DAY: Superb fifth place in Austria earns Norris your vote
Asked if he had any doubts about how the situation was going to play out, he said: "I mean, I could see already the few laps before the Virtual Safety Car came out, we were pulling out quite a gap, so I knew I would get them back eventually. I think just following our own plan at the time was the best way forward."
Verstappen's latest triumph – his fifth in a row and seventh of the season – means he now leads Perez by 81 points in the drivers' standings, but the Dutchman played down his charge to what would be a third successive world title.
"I don't like to think about that yet," he commented. "I'm just enjoying the moment, driving with this car, working with the team. I think the whole weekend we've done a really good job.
READ MORE: Formula 1 to continue to race in Austria until 2030 under new long-term agreement
"A Sprint weekend is always very, very hectic, and a lot of things can go wrong. Luckily a lot of things went right for us this weekend, so I'm just very happy with this weekend and we'll focus again on Silverstone."