Report
Verstappen beats Leclerc for victory in Austria to make it five wins in a row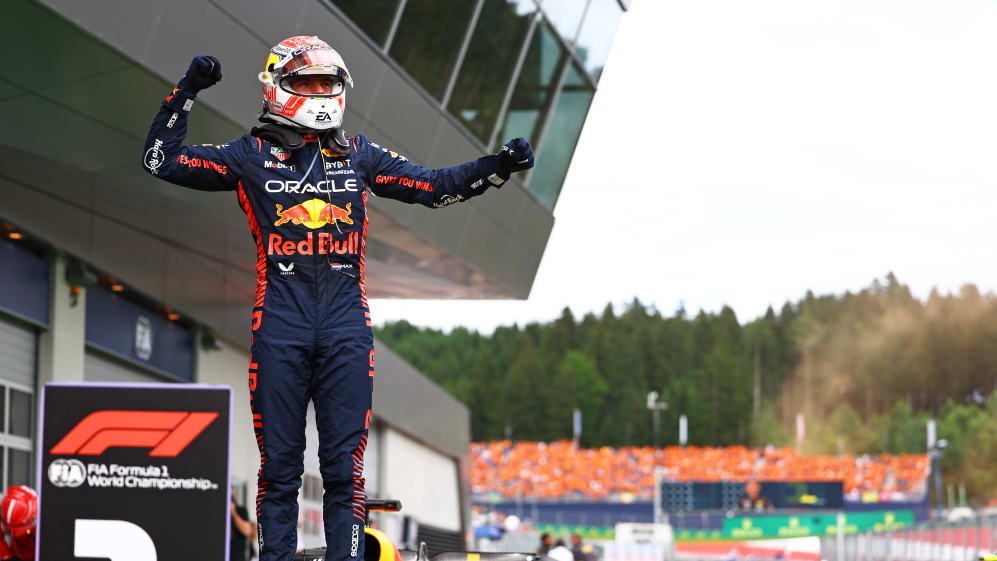 Max Verstappen completed a clean sweep of pole positions and race wins at the Austrian Grand Prix with another dominant display in Sunday's main event, leading home Ferrari driver Charles Leclerc and Red Bull team mate Sergio Perez.
Despite an action-packed encounter at the Red Bull Ring that saw several drivers penalised over track limits and strategies differ – Verstappen one of few drivers to stay out during an early Virtual Safety Car period – the Red Bull driver could not be stopped en route to his fifth win on the bounce, and seventh of the season.
Leclerc briefly led the way after taking advantage of the VSC, but he fell back behind Verstappen as the pair worked through their opposing tyre plans and the Red Bull showed its raw pace – underlined by a late and successful bid for the fastest lap bonus point.
Perez delivered a fine recovery from 15th on the grid to end a difficult run and take his first podium since the Miami Grand Prix four races ago, overhauling Carlos Sainz in the closing stages and making the most of the Ferrari driver's time penalty for track limits.
However, a post-race review by the stewards would later see Sainz handed a 10-second time penalty for track limit violations, promoting Lando Norris to P4, capping off the Briton and McLaren's encouraging weekend with their batch of upgrades.
FORMULA 1 ROLEX GROSSER PREIS VON ÖSTERREICH 2023
Austria
2023
Race results
POSITION
TIME
POINTS

1

Max

Verstappen VER

Red Bull Racing

1:25:33.607

26

2

Charles

Leclerc LEC

Ferrari

+5.155s

18

3

Sergio

Perez PER

Red Bull Racing

+17.188s

15

4

Lando

Norris NOR

McLaren

+26.327s

12

5

Fernando

Alonso ALO

Aston Martin

+30.317s

10
Sainz was far from the only driver to find themselves penalised following a post-race protest lodged by Aston Martin, however. Logan Sargeant, Nyck de Vries and Yuki Tsunoda would all receive additional five-second penalties, while De Vries again, plus Lewis Hamilton, Alex Albon and Pierre Gasly were all handed 10-second time penalties post-race. Esteban Ocon, meanwhile, was retrospectively handed a pair of five-second penalties and a pair of 10-second penalties.
That left the order behind Norris in P4 as Fernando Alonso in fifth, with Sainz sixth, followed by the Mercedes pair of George Russell and Lewis Hamilton in seventh and eighth.
Lance Stroll was promoted a place from the provisional classification to claim ninth, ahead of Gasly in 10th and Albon in 11th. The penalties promoted Zhou Guanyu to 12th (up from 14th at the flag), ahead of Sargeant, Ocon, and Valtteri Bottas in P15.
Oscar Piastri, De Vries, Kevin Magnussen and Yuki Tsunoda rounded out the order.
Haas's strong start to the event ended with the disappointment of a retirement for Nico Hulkenberg, whose loss of power forced him to park at the side of the track, triggering a Virtual Safety Car.
AS IT HAPPENED
After a frenetic standalone day of Sprint action, drivers and teams reconvened at the Red Bull Ring for the main event, the Austrian Grand Prix, with Verstappen starting on pole from Ferrari pair Leclerc and Sainz, Norris' updated McLaren and Hamilton's Mercedes.
Ahead of the race start, a minute's silence was held for Dutch racing driver Dilano van 't Hoff, who tragically lost his life in a crash at Spa-Francorchamps on Saturday, while there was also a moment to remember the influence of late Red Bull co-founder Dietrich Mateschitz, who passed away late last year.
A couple of pre-race communications saw Magnussen and De Vries move from the back row of the grid to the pit lane due to component changes under parc ferme conditions, meaning 18 drivers – the majority going for medium tyres, with only Alonso, Bottas and Magnussen on hards – assumed their respective slots.
When the lights went out in dry but cloudy conditions, pole-sitter Verstappen made a clean getaway to defend from Leclerc into Turn 1, before placing his Red Bull perfectly to defend follow-up attacks from the Ferrari through Turn 3 and Turn 4.
Leclerc slotted into second after his series of looks at Verstappen, with team mate Sainz watching on in third, Hamilton getting the jump on Norris for P4, followed by Alonso, Hulkenberg, Stroll, Gasly and Albon, who held the final points-paying positions.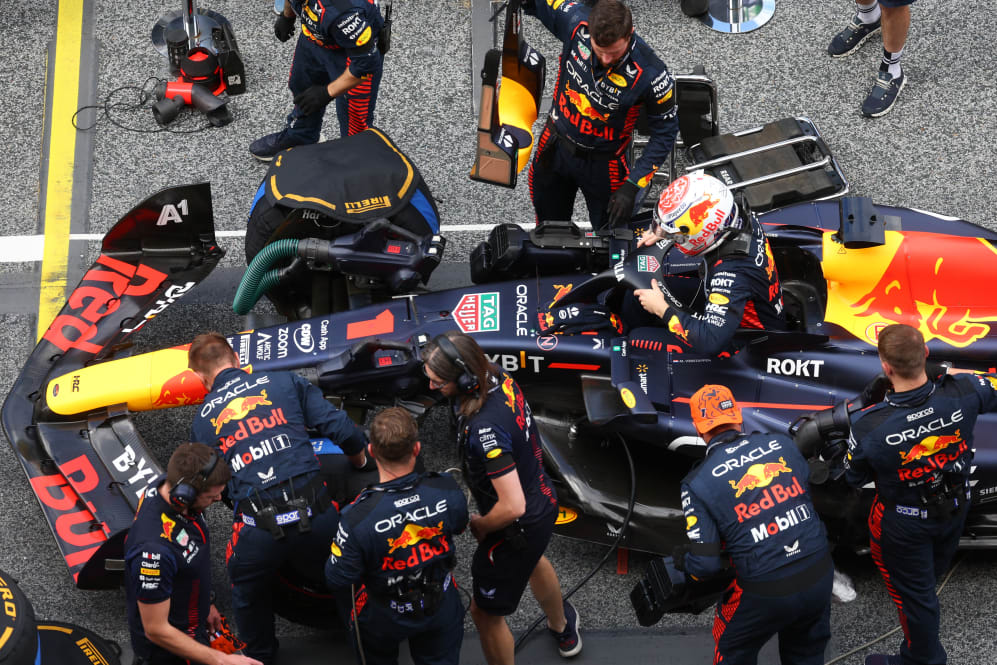 Further back, Tsunoda tagged Ocon at Turn 1 and lost part of his front wing, with Bottas also involved, before losing grip under braking for Turn 4, locking up and sliding off the track – the Safety Car subsequently being deployed.
Tsunoda and Magnussen (both swapping tyres to tick the box of two compounds used) pitted under the Safety Car, which peeled back into the pits at the end of Lap 3, with Verstappen mastering the restart to keep his lead over Leclerc and moving more than a second clear in a handful of corners.
By Lap 8 of the scheduled 71, Verstappen's lead was up to the two-second mark, while Leclerc began to come under pressure from team mate Sainz, and Norris complained over the radio about Hamilton seemingly exceeding track limits on multiple occasions.
"I think you can see, I don't need to let you know," said Sainz over the radio as he drew ever closer to Leclerc – the Ferraris dropping further and further away from race leader Verstappen as the corners and laps ticked by. "We stick with the plan, no attack for now," came the response.
In the midfield, Perez and Russell – both out of position after their qualifying woes – went wheel-to-wheel as they worked their way towards the points, the Mexican eventually finding a way past the Briton at Turn 4 after an exciting scrap, while Gasly also made a move on Hulkenberg at Turn 3 for eighth.
After further complaints from Norris, Hamilton was given a black-and-white flag, meaning any more track limits violations would put the seven-time world champion on the brink of a penalty. "I can't keep it on the track – the car won't turn," he said when informed of the situation by the Mercedes pit wall.
While Hamilton was struggling to keep his car on the track, Hulkenberg parked his smoking Haas at the side of it amid a loss of power – triggering a Virtual Safety Car and sparking a flurry of pit lane activity from cars up and down the order.
Hamilton, Norris, Gasly, Albon, Russell, Ocon, Piastri and Sargeant all took the opportunity to pit under the caution, saving them some valuable seconds in the pit lane. A lap later, Leclerc, Sainz, Alonso and Stroll pitted, but Verstappen stayed out at the front.
When the VSC ended and green flag conditions returned, Verstappen led Leclerc by just under 18 seconds, with Perez (also yet to stop) holding third from Hamilton, Norris and Sainz, who lost out after Ferrari's double-stack – questioning why his opening stint was not extended.
Sainz's fight back started with a pass on Norris at Turn 3 for fifth, while Hamilton was given a five-second penalty by the stewards over track limits, something he would either have to serve at another pit stop or at the end of the race. A pit lane incident between Ocon and Sargeant, who almost banged wheels, was also noted.
More laps brought more gained positions for Sainz, who cleared Hamilton and Perez in quick succession, before setting about making an impression on the top two of Leclerc and Verstappen – the question being whether Red Bull could make a one-stop, rather than two-stop strategy work.
Intriguingly, Leclerc had cut Verstappen's advantage to 15 seconds by Lap 23, with his lap times around a second quicker than the leader, who reported over the radio that tyre degradation was high, casting some doubt over the aforementioned potential one-stop approach.
Hamilton and Perez were the next drivers to do battle in fourth and fifth respectively, the Mercedes almost finding a way past on several occasions, arguing over the radio that the Red Bull was exceeding track limits – something Tsunoda also fell victim to with a five-second penalty of his own.
On Lap 25, Verstappen finally came into the pits, swapping onto the hard tyre as opposed to the Ferrari drivers' second sets of mediums, rejoining behind both Leclerc and Sainz – ending his run of 249 consecutive laps led. Perez boxed a lap later, but took on more mediums.
Verstappen wasted no time in closing on Sainz and passing him for P2 at Turn 3, with Leclerc some six seconds up the road as the differing strategies played out, while another change to the order came when Norris overhauled Hamilton for P4 at Turn 3.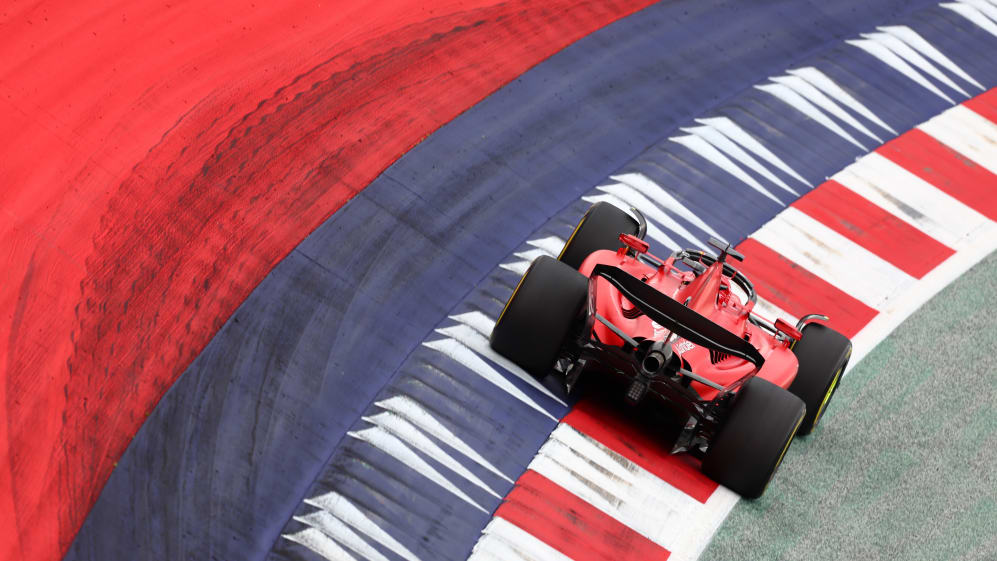 While Norris made progress, Piastri got caught out in the midfield scrapping, damaging his front wing in a bottleneck at Turn 3 and pitting for a replacement, sending him to the very back of the field, ahead of only the sidelined Hulkenberg.
There was further drama when Sainz became the latest driver to be given a five-second time penalty due to track limits, replays showing him going too far over the white lines at the exit of the high-speed penultimate corner.
"We must be inside track limits on every lap – there's so much going on here," was the message to Norris, given the number of time penalties being dished out and the potential for the points-paying positions to be jumbled up.
With Sainz's race dented, team mate Leclerc had his hands full up front, doing all he could to keep the closing Verstappen – just 2.5s back on Lap 32 – at bay. "What do you think about three stops?" Ferrari asked him over the radio, which he brushed aside with a firm "no".
As the lap counter hit 34/71, Verstappen got within DRS range and came close to passing Leclerc into Turn 3 and then 4. One tour later, the reigning double world champion got the job done with a DRS-assisted pass between Turns 1 and 3.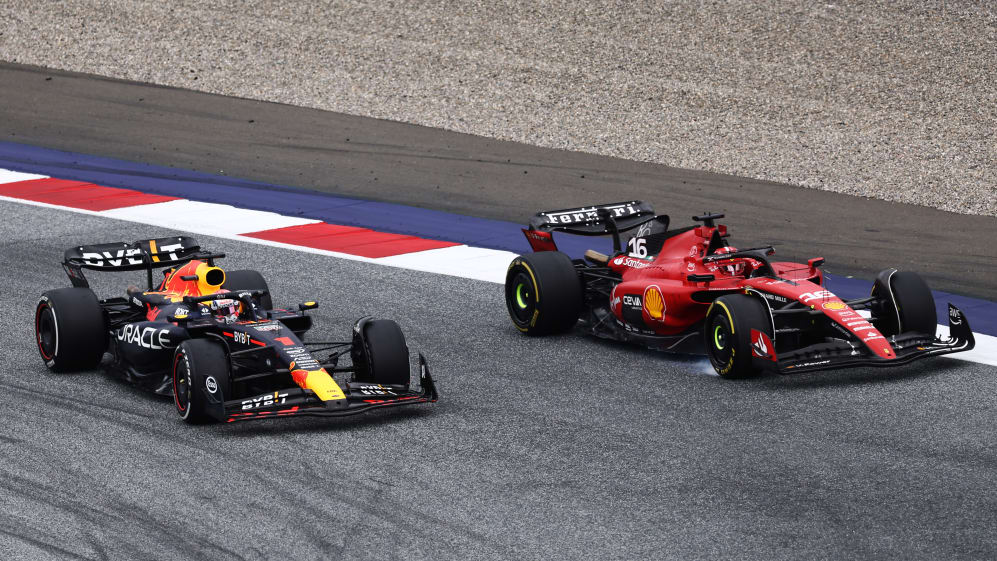 Towards the back of the pack, De Vries and Magnussen repeated their Canadian GP battle with some wheel-to-wheel action from Turns 4 to 6, leading to the Haas dramatically running through the gravel. "De Vries just completely pushed me off again!" Magnussen shouted over the radio – adding a swear word for good measure.
Further stewards' activity saw Tsunoda investigated for potentially serving his time penalty incorrectly, only to be cleared by the panel, but Albon was hit with a five-second sanction for the running theme of exceeding track limits, with De Vries also docked five seconds for forcing Magnussen off the circuit.
After 38 action-packed laps, and with the various strategies in play, Verstappen led the way from Leclerc by some five seconds, ahead of Sainz, Norris, Hamilton and Alonso, with Perez, Gasly, Russell and Albon holding the final top 10 spots.
Another flurry of pit lane activity saw Norris, Russell, Albon and Hamilton all pit again, temporarily promoting Gasly to the top six, only for the Frenchman to become yet another driver to be given a five-second time penalty over track limits. After his stop, Norris made light work of reclaiming the spot from Gasly.
Sainz pitted from third on Lap 46 – serving his five-second penalty as per rival drivers – and rejoined just behind Norris, yielding a thrilling battle between the former team mates as they ran side-by-side from the exit of Turn 3 to Turn 6, where the Ferrari nosed ahead.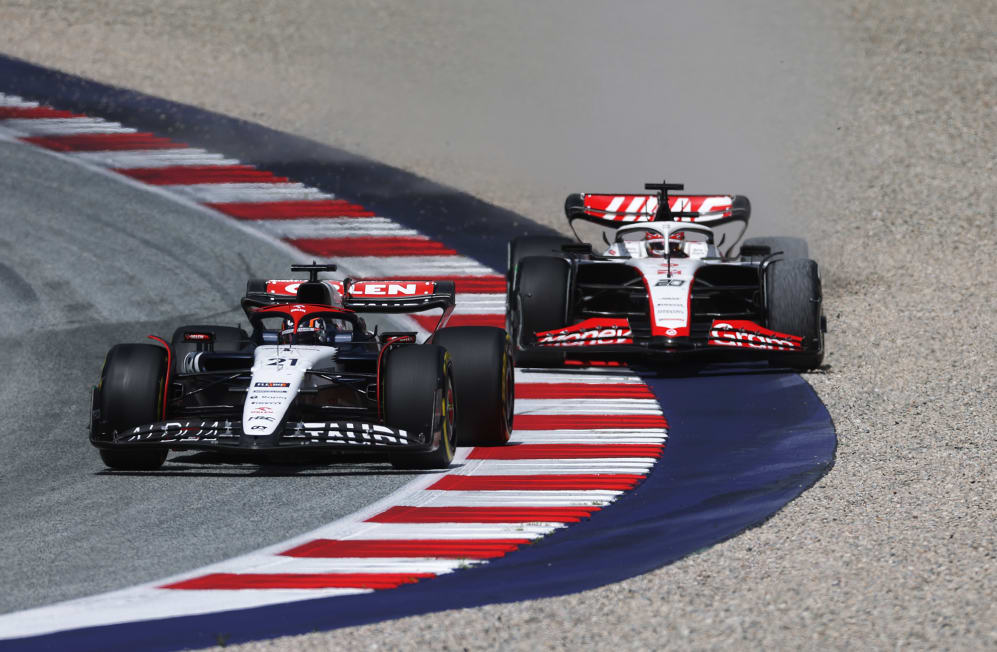 A couple of laps later, Leclerc came in and mirrored Sainz by bolting on a set of hard tyres, with attention turning to what Verstappen and Perez – now running one and two for Red Bull – would do with their respective strategies.
The first answer came when Verstappen pitted on Lap 50, moving back to mediums. Despite that stop, he remained in the lead and ahead of team mate Perez, who made his final stop a tour later – taking on a set of hard tyres.
Perez rejoined the action in fifth position, almost half a minute down on Verstappen, but with the prospect of catching Norris, Sainz and Leclerc – the second-placed man around 13 seconds up the road – and making his way onto the podium.
Amid ongoing track limits complaints and struggles with his car, which now sat seventh, between Alonso and Mercedes team mate Russell, team boss Toto Wolff stepped in with a clear message to his driver: "The car is bad, we know. Please drive it."
A lock-up for Norris at Turn 3 was all Perez needed to tuck in behind the McLaren and haul his Red Bull past with DRS on the run to Turn 4, before latching onto the back of Sainz's Ferrari the next time around and almost repeating the trick.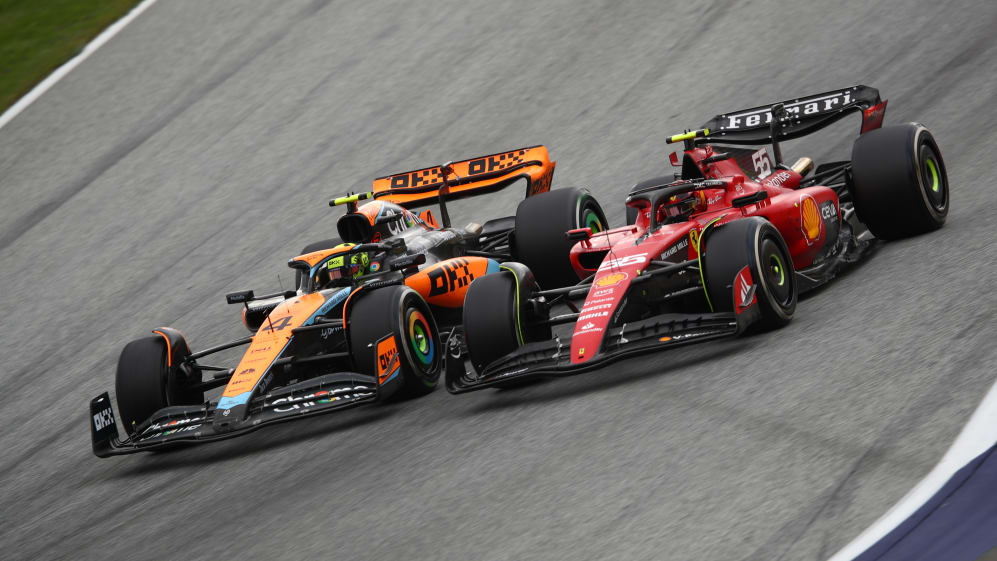 After some electrifying action and several attempted passes, Perez eventually found a way past Sainz on Lap 61 – the latter radioing that he had been "intimidated a lot" in the exchange. However, the time Perez had lost meant Leclerc was 13 seconds clear and seemingly safe from being reeled in.
Having recently pitted, Stroll made good use of his fresher tyres to pass Albon at Turn 4 for the final point, with Williams' fortunes continuing to work out for the worse when news came in of a five-second penalty for Sargeant over track limits – Magnussen getting the same soon afterward.
Up front, Verstappen pushed for a late pit stop to fit fresh tyres and go for the fastest lap. After some resistance from the Red Bull pit wall, his wish was granted and he duly pumped in the best lap of the day as he took the chequered flag.
Leclerc crossed the line some five seconds back, a margin that would have been around half a minute had it not been for Verstappen's stop, with Perez 12 seconds further back in the final podium spot, followed by Sainz and Norris.
Alonso could not add to his and Aston Martin's haul of podiums in sixth, while Mercedes had to settle for seventh and eighth with Hamilton and Russell respectively. Gasly and Stroll rounded out the points-paying positions.
After Albon's impressive run to seventh in Canada and the missed opportunity of more points in the Austria Sprint, Williams left the ninth race weekend of the season empty-handed – Albon taking 11th ahead of Alpine's Ocon and team mate Sargeant.
Alfa Romeo failed to add to their points finishes at the last two races as Zhou and Bottas took 14th and 16th respectively, surrounding De Vries in the finishing order after the AlphaTauri rookie's run-in with Magnussen.
Piastri could do no more than 17th after his visit to the pits for a new front wing, with Tsunoda – via his Lap 1 dramas and a second track limits penalty – and Magnussen the final drivers to finish, leaving Hulkenberg as the sole retirement.
However, following a protest lodged by Aston Martin, the stewards would spend Sunday night digging into over 1,200 instances where a car was reported as potentially leaving the track – the results later updated to promote Norris and Alonso ahead of the penalised Sainz, with a slew of changes further down the order as other drivers were punished for track limit violations.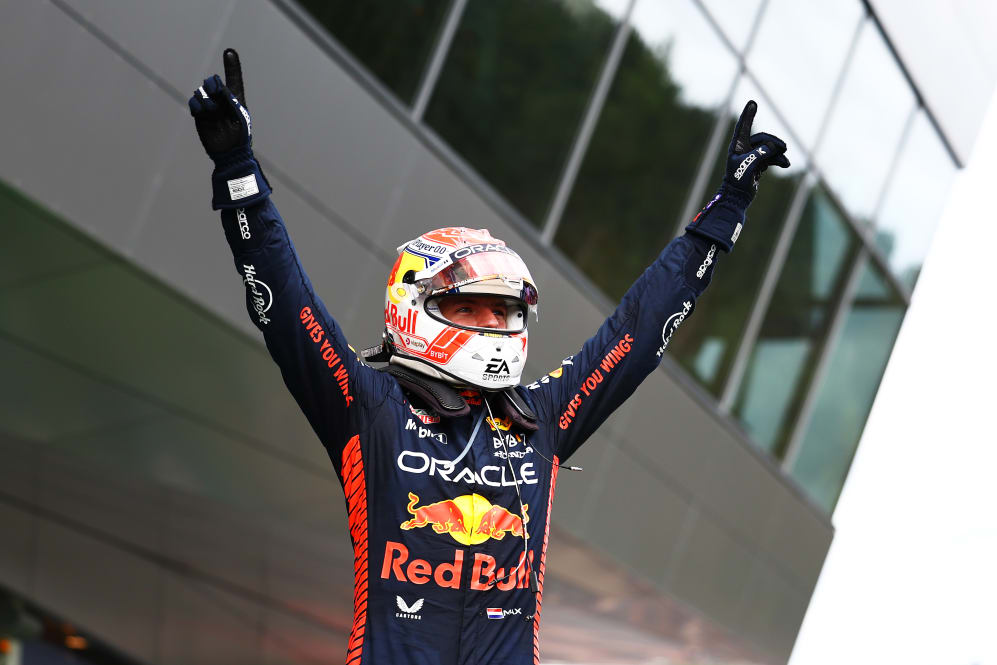 KEY QUOTE
"I think the most important [thing] for me was Lap 1, to stay in front," said race-winner Verstappen. "After that we could do our own race. Of course we opted not to box during the Virtual Safety Car, and just follow our normal strategy, and I think that worked out really well. The tyre [degradation] was not that high around here and our stints were perfect, so a great day – I enjoyed it a lot!"
What's next
The next stop on the 2023 F1 calendar will be Silverstone in the UK for the British Grand Prix weekend, which takes place from July 7 to 9.