'I really felt I had it' – Bottas says Ocon spin ruined chance of pole
Pole position eluded Valtteri Bottas on Saturday even though he was quickest in every free practice session ahead of the Tuscan Grand Prix, and he was left cursing the yellow flags triggered by a spin for Esteban Ocon late in Q3 for costing him time on his crucial final qualifying run.
In the final moments of Q3, Ocon caught the gravel out of Turn 3 and was pitched into a spin. He managed to avoid the barriers, but a number of drivers were forced to slow as double-yellow flags were waved – including Bottas, who missed out on pole by just 0.059s to Mercedes team mate Lewis Hamilton.
READ MORE: Qualifying report – Hamilton pips Bottas to Tuscan GP pole as Leclerc takes fifth
"Definitely, [the yellow flags cost me]," began Bottas. "I still had more time in there and I was just waiting for the time to get it all right. Run one was OK, but not perfect, so I was looking forward to it, but just didn't get the opportunity. For sure it's disappointing because the speed has been good all weekend.
"I really felt I had it this weekend and I was really confident going into the last run – I knew exactly where I can improve," he added.
But the Finn conceded that he should have put in a better lap on his first flying run in Q3 to put pole position beyond doubt.
"The first lap in Q3 wasn't quite good enough so I also felt there was definitely time still to be found, and I was confident of myself doing it, but there was no chance with the double yellows in the second run.
READ MORE: 'It's a serious track!' – Drivers rave about Mugello
"So in the end, I should have done a better job in the first run and Lewis obviously managed to find the pace, and his first run was better than mine, so that's it."
With a long run to Turn 1 and possibly a strong headwind on Sunday, Bottas said he still has a chance to take what would be his second win of 2020.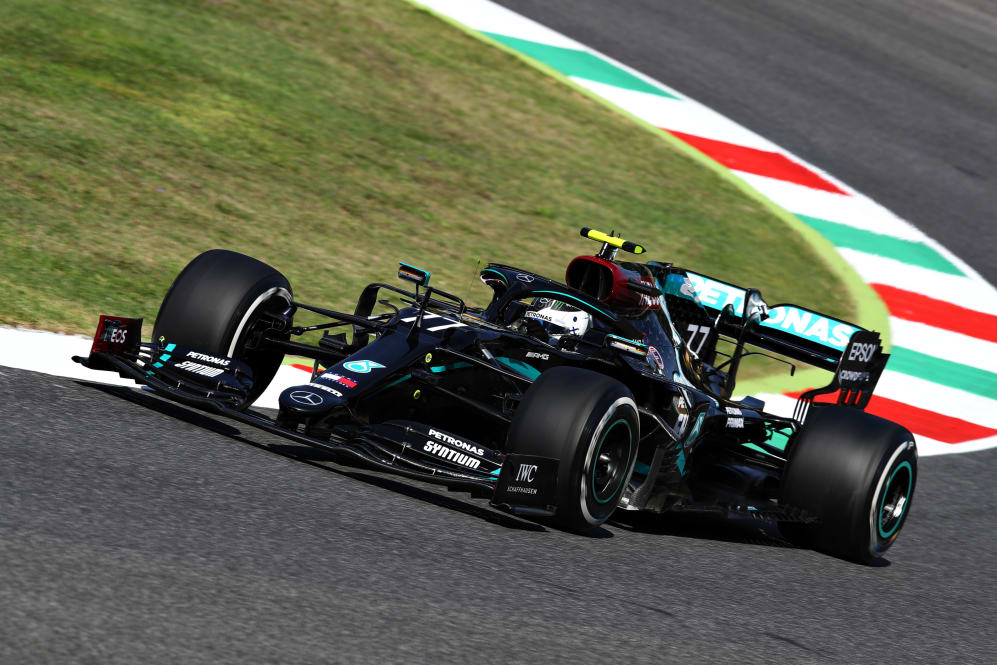 "Coming to the weekend we thought it was going to be nearly impossible [to overtake] but [from] what we experienced in practice sessions, actually the track is so wide and there's so many different lines you can take in the corners and avoid, at times, the dirty air in the corners.
WATCH TECH TALK: A closer look at the updates on the cars in Mugello - including a McLaren nose change
"The long runs were good so there's still all to play for. Of course, would have been nicer to start from pole but still, it's one of the longest runs of this season into Turn 1 and if the headwind stays, the tow is going to be quite powerful into Turn 1, so I try to turn my thoughts to the race."
With a 47-point gap to overturn in the championship, Sunday would be a fine time for Bottas to take that second win of the season and become the first F1 driver to win a Grand Prix at Mugello.