'I thought we'd both end up in the harbour' – Gasly relishes 'hard racing' with Vettel at Monaco
Arguably the best racing action of the 2021 Monaco Grand Prix was provided by AlphaTauri's Pierre Gasly and Aston Martin's Sebastian Vettel squabbling on the run up to Massenet after Vettel had exited the pits on Lap 32 – with Gasly joking afterwards that the fight had required expert driving from the pair to prevent them ending up "in the harbour".
Starting effectively P7 after Charles Leclerc's DNS, Vettel had trailed Gasly and Lewis Hamilton's battle early on in the race. But with the overcut proving powerful in Monaco, Gasly managed to pit one lap after Hamilton on Lap 30 and maintain his advantage over the Mercedes driver, while Vettel waited one further lap, allowing him to emerge from the pits narrowly ahead of Gasly.
The pair then fought all the way up the hill into Massenet, with Gasly eventually forced to relinquish track position and give up the place – allowing Vettel to ultimately finish P5 at the flag to Gasly's P6.
READ MORE: 'We've waited for that' says Vettel after jumping Hamilton and Gasly to net first points for Aston Martin
"With Seb, we literally came out side-by-side up the hill and he managed to get on top of us – but it was very close," said Gasly. "I tried to press the overtake button to boost everything I had but for some reason it didn't give me the edge on him. Going up the hill, at some point I thought we will both end up in the harbour, because it was that close. He managed to just have half a car in front of us and keep it in front.
"He didn't give me any room," added Gasly. "It was very hard racing, I told him, but we both made it. If I'd been in his seat, I would have done the same thing so nicely done from him."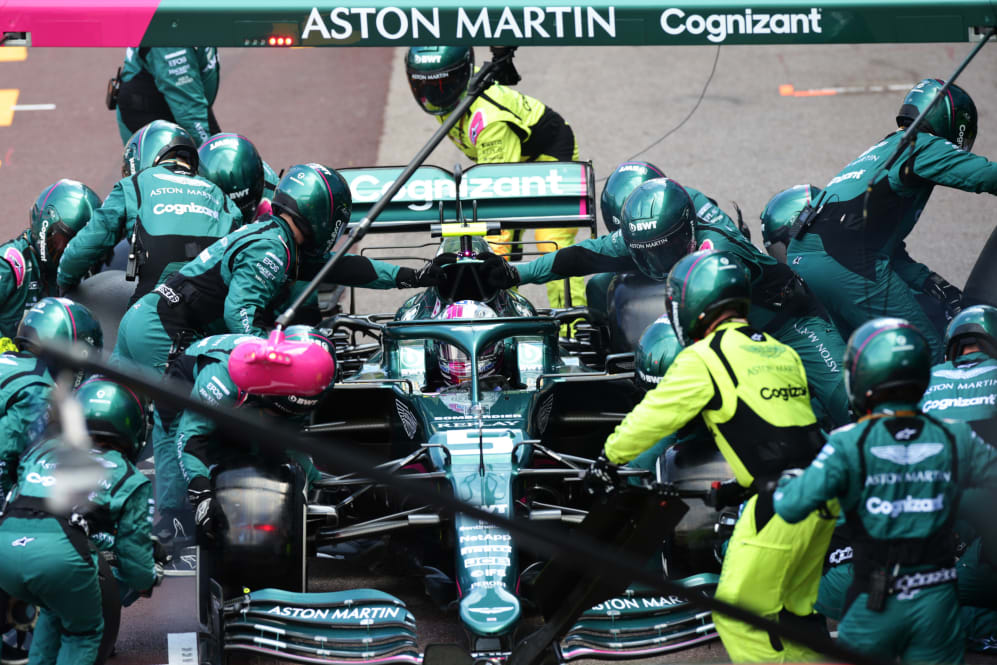 Vettel, meanwhile, said he hadn't spotted where Gasly was relative to him on track as he exited the pits.
"It was tight with Pierre coming out, and up the hill I didn't see him initially," said Vettel. "I saw he was there but not exactly where and then it was a drag race up the hill. It's not straight up the hill and I gave him room and eventually he had to back out of it… I didn't have much room either as there's a lot of pick up off-line, plus I'm on fresh tyres – you still have that silicon top on the tyres that you need to get rid of but it worked.
DRIVER OF THE DAY: Vettel gets your vote with impressive P5 for Aston Martin
"I knew that around that time [before the pit stop] it would be crucial to make our race," added Vettel of his perfectly executed overcut strategy, which yielded his first points as an Aston Martin driver. "The tyres weren't fresh anymore but I was still able to go faster than I had up to that point and a little bit faster on the next lap, and that made the difference.
"It's great for as a result… Street circuits, there's always something special that can happen and we've got to use that opportunity [in] Baku."