'I want the 25 points we lost in Baku' says Verstappen after storming to French GP pole
Max Verstappen halted Mercedes' unblemished run at Paul Ricard that they've been on since 2018, taking pole by over a quarter of a second from Lewis Hamilton for the French Grand Prix – something the Dutchman admitted he hadn't expected ahead of the weekend.
After two tricky weekends for Mercedes in Monaco and Baku, many had been predicting a Silver Arrows resurgence at the Circuit Paul Ricard, where Hamilton has taken every pole position and win since 2018.
READ MORE: Verstappen beats title rival Hamilton to pole in thrilling French GP qualifying
But although the two teams were in the mix at the head of the field throughout qualifying, a supreme final lap in Q3 from Verstappen saw him improve by a full 0.335s from his first Q3 effort, his 1m 29.990s time giving him pole by 0.258s over Hamilton, with Verstappen the only driver to lap Paul Ricard below 90 seconds this weekend.
"This has traditionally not been an amazing track for us, but to be able to put on pole here, of course we're super happy about that," said Verstappen. "I knew it was going to be better than the last time we were here. But this good, I didn't expect, so that's of course very promising for us and we just have to keep on going, keep on pushing to try and make it better."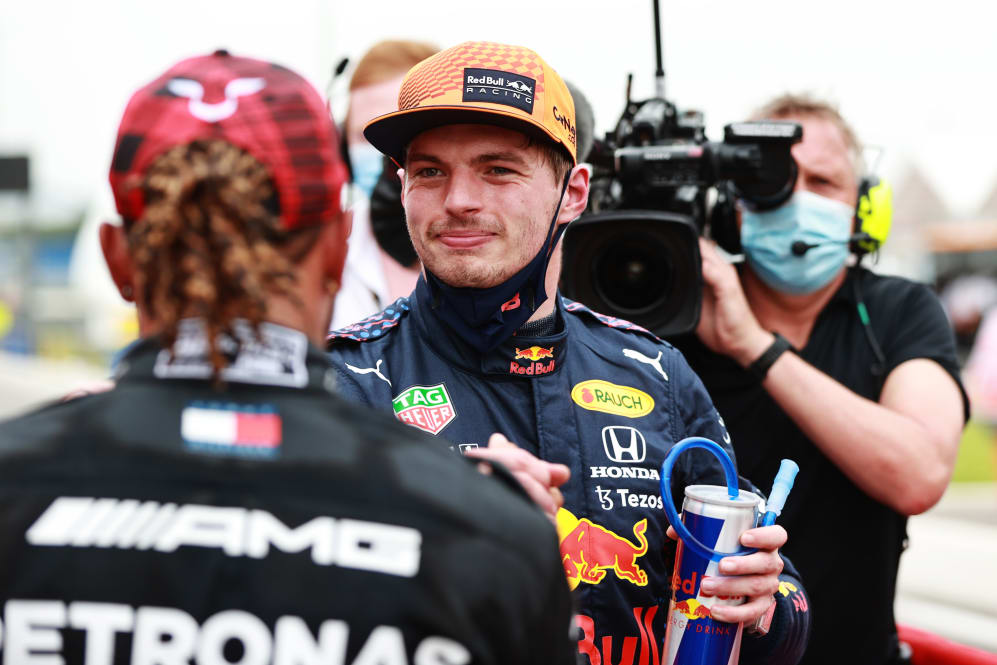 Our data from Friday practice showed Red Bull and Mercedes nearly neck-and-neck on race pace, with Verstappen adding that, with team mate Sergio Perez starting P4, he was feeling good about his race prospects – and keen to win back the 25 points he lost when a tyre blowout cost him victory in Baku.
"[The long run pace] felt good yesterday in FP2," said Verstappen. "But of course we have to wait and see what the weather will do in the morning, but I'm quite confident.
WATCH: Schumacher crash ends Q1 early at Paul Ricard – and costs Stroll a chance to progress
"Of course no points scored today," he added. "But for us, a great day and of course we have to finish it off tomorrow and try and get 25 points that we lost in Baku. But it's great promise from our side and I hope that we can keep it up."
Perez wound up 0.455s behind his team mate in P4, but a comfortable four-tenths clear of the fifth-placed Ferrari of Carlos Sainz.
But despite that, the Baku winner couldn't help feeling disappointed with his own qualifying performance, as he said a technical glitch on his first Q3 run had cost him lap time.
"Unfortunately my first run was compromised a lot," he said. "Out of [Turn] 9 I had a massive drop on the speed of the engine, something happened there. I think I was over the kerb and when the car landed, I just lost a lot of time, so I lost a couple of tenths into the run on the straight, and that definitely hurt quite a bit.
AS IT HAPPENED: Follow all the action from qualifying for the French GP at Paul Ricard
"[But] I think there's a lot to play for tomorrow, there's a long race ahead of us, and I think we can definitely have a strong race and push the Mercs from Lap 1. My starts have been very good, so hopefully off the line I can get a couple of positions and then manage our race from there."
Red Bull head Mercedes by 26 points going into the French Grand Prix, with Verstappen just four points clear of Hamilton.