'I want to get in the fight as soon as possible' says Hamilton, as Mercedes prepare to try fixes in Saudi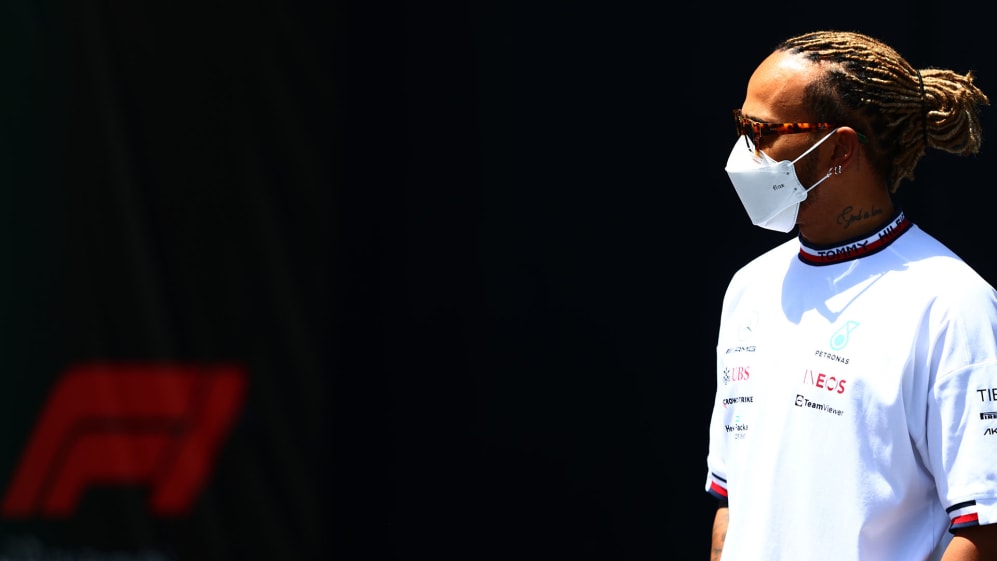 Lewis Hamilton has vowed ahead of the Saudi Arabian Grand Prix to try and get in the championship battle "as soon as possible" after a bittersweet opening race of the season in Bahrain.
Hamilton finished the Bahrain Grand Prix in P3, behind the two Ferrari drivers, and with Red Bull failing to score at all.
But he admitted after the race that Red Bull's late double DNF had been a stroke of luck, with he and new team mate George Russell having run fifth and sixth for much of the Grand Prix before being promoted to P3 and P4. And Hamilton was clearly keen to be more competitive in the coming races, starting this weekend in Jeddah.
READ MORE: Red Bull reveal cause of double Bahrain GP retirement – and say they don't expect a repeat in Saudi Arabia
"I don't currently feel too stressed," said Hamilton of Mercedes' situation. "But I want to get in the fight as soon as possible. The last race was an amazing feeling for us, given where we thought we were going to be, to come out with the result that we did. But we can't rely every weekend on that to happen, so we need to move fast, and move forward as fast as we can."
Asked what performance he expected to find in the Mercedes W13 this weekend – with the team seeking to get on top of 'porpoising' issues that have hampered them so far this year – Hamilton replied: "It's so different [here compared to Bahrain]… This track is super-fast, and it's got a different surface that will behave differently with the tyres.
"A huge amount of work has gone on in the past three days," he added. "We're aware of the problems we have, but in terms of what's causing it, we're just working through it, trying to figure that out and how we can rectify it without losing performance – and ultimately gain performance.
"But three days is such a short time between races, so it's not a huge difference here this weekend. But hopefully we'll have some things to try. And from a driver's perspective, that's exciting when you… get into the car, just trying something new and hoping it unlocks a bit of performance. But the others are still very strong."
WEEKEND WARM-UP: The drivers get ready to return to the Jeddah Corniche Circuit
Meanwhile, Russell added that he was grateful for the cadence of races at this early stage of the season, which he hoped would allow Mercedes a grace period to get on top of their issues. He told the media in Jeddah: "In Formula 1, things change incredibly quickly. We are very fortunate that the calendar is not very dense at the start of this season and even if it's a couple of months, we're only six or seven races down out of a 23-race season.
"If you come out of the blocks incredibly fast after the summer break, even as Mercedes and Lewis did last year, you're still in with a shot. So we need to be in almost damage limitation mode at the moment, pick up the pieces where there's an opportunity, and don't throw away unnecessary points."