'I was not in control of the car' – Alonso says he got lucky as he chased Sainz in closing stages at Zandvoort
The third top-six finish of Fernando Alonso's comeback season was built on patience and experience for the most part, but the Spaniard admits it was bookended by big moments of luck.
Alonso started ninth and was involved in multiple close moments on the opening lap as he overtook his team mate Esteban Ocon and Antonio Giovinazzi by Turn 7. Three separate bits of contact could have ended his race there and then, but instead Alonso was able to set up his race in relatively clear air.
READ MORE: Verstappen sends home fans wild with victory over Hamilton amid party atmosphere at the Dutch GP
"P6 I think is probably better than expectations, in terms of finishing in front of one Ferrari, and being competitive all weekend," Alonso said. "It feels OK. Good points. The first lap we took many risks as we felt necessary as we knew it was very important to stabilise the positions and after that it was all about tyre management in a good way. I am happy with how we executed the race.
"The plan was to go on the outside [at the start] because I was on the clean side of the grid and I wanted to have a straight start with not much movement, to try to go on the outside of Turn 1 but Giovinazzi had the same plan so he was on the outside and blocking a little bit my idea.
"So after that I had to improvise a little bit into Turns 2 and 3, there were a lot of cars, I was even on the grass at one point. Then in Turn 3 I chose to run on the outside and I kept good momentum on the exit but Carlos was in the middle in the way so I had to brake at the exit of Turn 3 which didn't help but then Giovinazzi and Carlos were fighting until Turn 7 and I could squeeze one position.
"But I think I had been hit by Esteban in Turn 1, by [George] Russell in Turn 2 and by Giovinazzi in Turn 6. So I had very robust tyres today with no punctures so that was good!"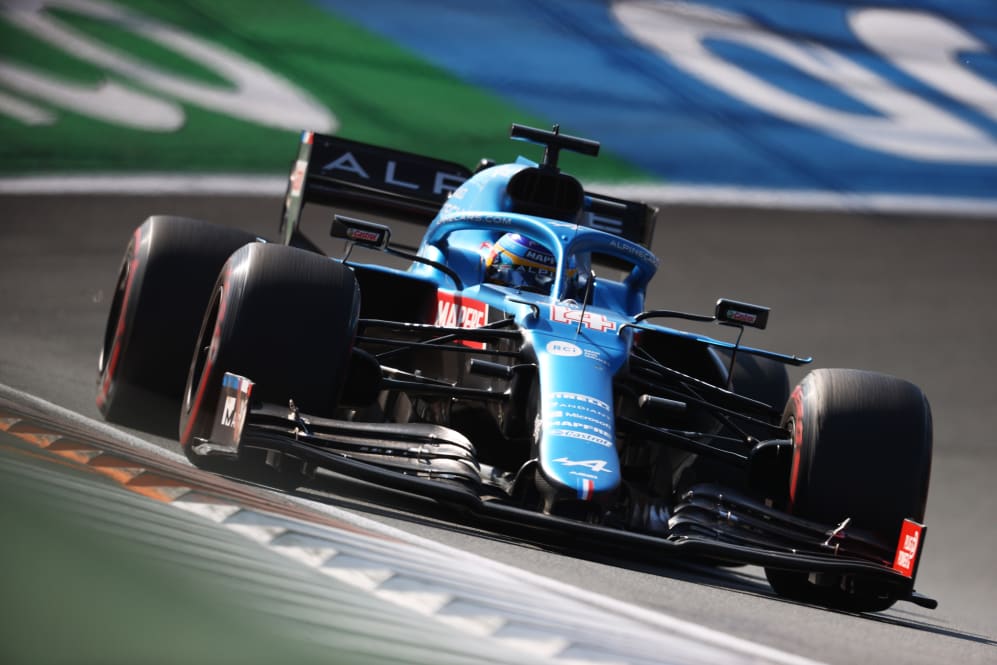 It wasn't the only worrying moment for Alonso, who also nearly ended up in the wall at Turn 3 while chasing Sainz for sixth in the closing stages, eventually making his way past the Ferrari on the pit straight.
"It was a very stressful moment for sure, I had a go into Carlos like six laps from the end at Turn 1 on the inside and I thought I was making the move and in the last moment he released the brakes and braked even later so we nearly touched in Turn 1.
READ MORE: 'I honestly didn't enjoy it at all, I had zero pace' – Sainz baffled by poor showing, as Leclerc takes P5
"Then into Turn 3 I was too close, so I locked the fronts a little bit and I ran wider than normal, I was outside of the circuit but obviously there are like two metres from the banking to the wall and I was about 10cm or something from the wall with both front tyres locked up.
"So it is not that I did anything magic there, it was just pure luck as I was not in control of the car. I got lucky there."
Despite those moments, Alonso was proud of his influence on the race result, having opted against chasing the Ferraris in the first part of the race and pacing his first stint to finish strongly.
"One of the best [races since returning] for sure. I think we executed some good races lately, I think Hungary was quite well executed from our side, we just got unlucky on the first corner but after that it was good.
"And then this one, the thing is we were on the unknown completely into the tyre degradation, we had no experience from the past and not enough laps on Friday. So every five laps we were updating the strategy and the target lap and stops, so that was a bigger driver contribution than any other race, which is more or less dictated by the computer or the simulation."