'I was on the limit all the way' says Hamilton after thrilling Hungarian GP win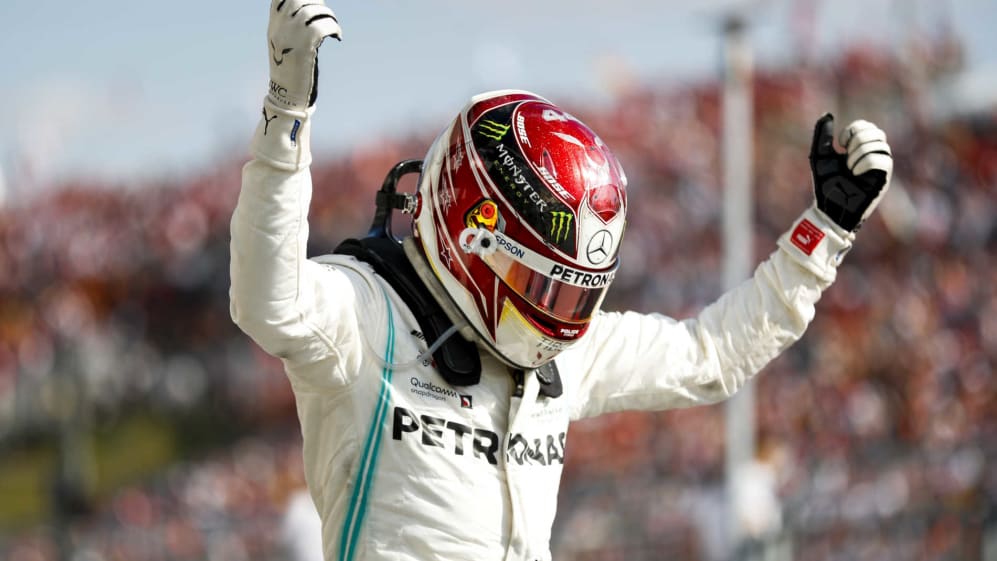 "Tired." That's how Lewis Hamilton said he felt after climbing out of his silver Mercedes having won a dramatic Hungarian Grand Prix. After watching him hunt down Max Verstappen with a series of qualifying-style laps, you can hardly blame him…
The reigning world champion put himself in contention for victory with a first-lap pass on Mercedes team mate Valtteri Bottas and then set about putting the pressure on Verstappen. He came pretty close, running side by side with him into Turn 4 – but it wasn't quite enough.
Mercedes then opted to roll the dice and pit the Briton for a second time. Hamilton wasn't sure this was the right call, as he rejoined around 20 seconds behind. But he then got his head down and obliterated the gap so that with four laps to go, he was right on the Red Bull's gearbox. With Verstappen having stayed out, his tyres were gone, and Hamilton was able to snatch the lead with three to go.
"[I feel] tired which is how it should be but I feel really grateful for the day and really for the team for continuing to believe in me and continuing to push to the limits and take a risk and a chance on me," said Hamilton.
"For a race to be able to push like that, I'm telling you I was on the limit all the way."
Hamilton had to back off to cool his brake discs having launched a series of attacks on Verstappen in a bid to take the lead and was consistently asking his team on the radio for updates on their condition.
"We'd had brake problems all weekend and having separation of the front temperatures and glazing, I was a bit worried," he said.
"We made some changes and it still didn't make a difference and naturally we get into the race and we have this problem so I was actually doing a lot of just lift and coast and not even touching the brake for half the lap.
"Of course the big stops you had to use it but I was trying to just save as much as I could for that time when I do get a chance.
"It was very, very difficult to get by, [Verstappen's] defence was great. They are quite quick on the straights. Honestly I didn't know if I could catch that 19-second gap.
"My tyres were going drop off - all these things going through your mind. But like the team said, just keep your head down so I just did and kept pushing and pushing and the gap closed and closed and closed. The laps were like qualifying laps every lap.
"My hat off to the team and I think if Niki [Lauda] was here today he would take his hat off."
The result means Hamilton extends his lead in the drivers' championship to 62 points over Bottas heading into the August summer break.