Feature
ICYMI: Lumberjack vibes, groundhogs and a game of ping pong - it's the best social media from Canada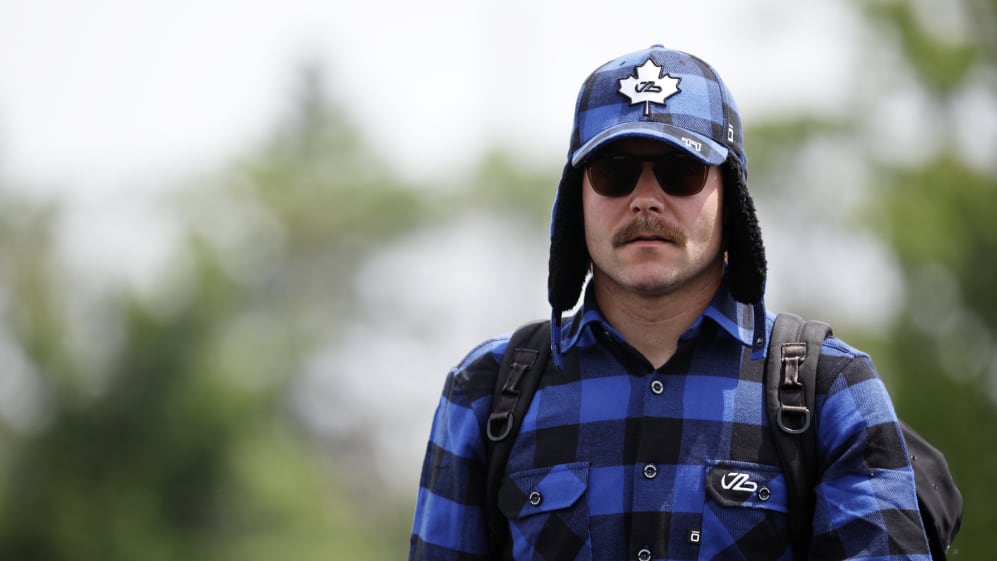 Canada provided non-stop action all weekend, from a wet qualifying to a frantic Grand Prix. There were crashes and overtakes galore - but off the track, there was just as much excitement with celebrity sightings, wildlife incursions and some dubious fishing antics. Here's all the best social media you might have missed from Montreal...
Racing or ping pong?
For once, an F1 driver was actually playing ping pong - until an errant shot sent the ping pong ball into the drink. Luckily George Russell has long arms and good balance, although how everyone resisted the urge to push him in we'll never know.
Oops! Error retrieving Twitter post
Tsunoda goes swimming
AlphaTauri decided to bid farewell to a team member in style, not expecting Yuki Tsunoda to voluntarily follow suit and somersault into the lake. Tsunoda executed his front tuck with the precision of someone who had some practice spinning around in wet conditions on Saturday.
Oops! Error retrieving Twitter post
No own goals for Guenther
Haas team boss Guenther Steiner headed for the ice and took the chance to show off his skating skills with the Montreal Canadiens. Steiner played ice hockey in his youth - no, really - as a goalie, although these days he is better at dishing out punishment than deflecting it.
Oops! Error retrieving Twitter post
Wolff returns to the dark side
Darth Toto first emerged a few years ago, the pouring rain making an instant meme out of the Mercedes boss. He has certainly given way to anger a few times, but not yet fully embraced the dark side.
He wasn't the only one embracing his inner Vader though - although quite what Ferrari are doing comparing their star driver to a muppet...
Oops! Error retrieving Twitter post
Oops! Error retrieving Twitter post
It wasn't a ruff day at Aston
It takes quite something to steal the show from a home driver and a two-time world champion who grabbed yet another podium, but this dog managed it. Turning tricks on cue, he was slightly more obedient than F1 drivers tend to be when told to obey team orders.
Oops! Error retrieving Twitter post
Lean, mean and green
The basketball legend Danny Green was in the pit lane at the weekend, posing for colour co-ordinated photos outside Stroll's garage before taking up residence with Ferrari. Luckily, the Ferrari drivers are both quite tall - at six foot six, Green would have towered over Tsunoda had he popped down to AlphaTauri.
Oops! Error retrieving Twitter post
Parking up in style
You know that feeling when you are trying to parallel park and passers by stop to watch? Imagine that, only the passers by are loud, Australian and quite decent behind the wheel. That's what happened to Gasly when he opted for a scooter as his chosen mode of transport to the track. Still, could have gone worse.
Oops! Error retrieving Twitter post
Is it raining?
Russell must have known his infamous radio message from Spain where he mistook sweat for rain would follow him the rest of his career. Only one race later, and the rest of the teams have wasted no opportunity to rib the Mercedes man.
Oops! Error retrieving Twitter post
These boots were made for scoring
Bottas was rocking some pretty cool treads this weekend, the moustache adding the lumberjack vibes. After spending much of the year masquerading as an Aussie, the Finn fully embraced the Canadian spirit - right down to the details on his boots. He'd certainly love a touch of groundhog day moving forward if it meant scoring in every race.
Oops! Error retrieving Twitter post
An ode to the humble duck
Bottas is fairly used to ice driving, but the amount of rain on track clearly caught him by surprise at the weekend. He seemed slightly stuck for words when trying to describe the conditions for his team - but eventually he managed to very succinctly find just the word he was looking for.
Oops! Error retrieving Twitter post