Feature
IDEAL LAP: Hamilton quickest on day 1 in Bahrain – but is Verstappen actually the man to watch?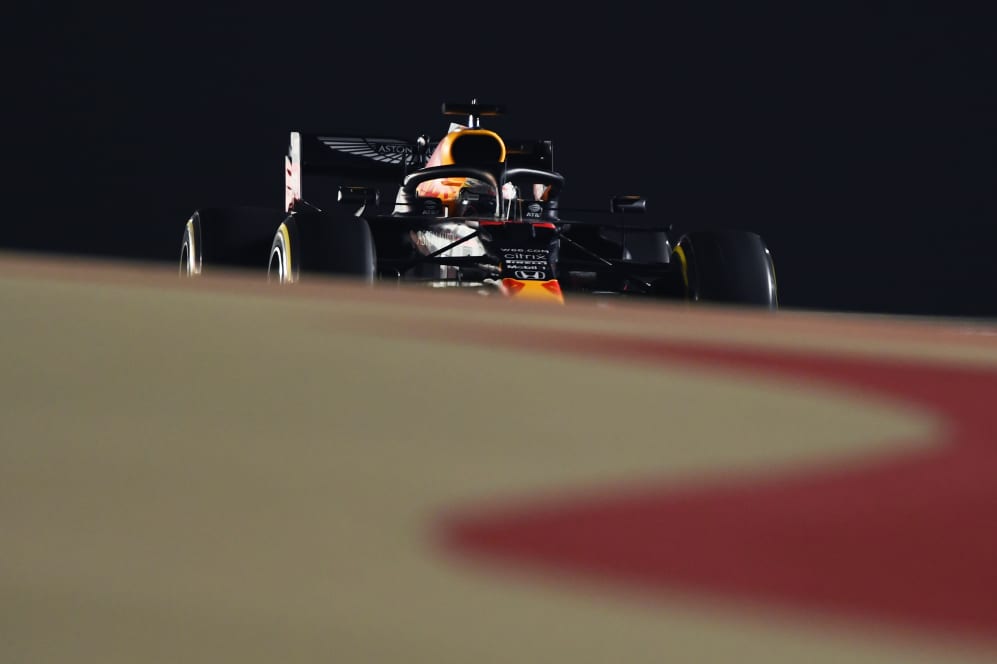 Fresh from his seventh world championship victory, Lewis Hamilton set the pace as he got back to work under the lights in Bahrain, but if every driver had managed to put their best mini-sectors together, it seems he wouldn't be top of the pile…
The graph below plots a driver's classified lap time against his ideal lap time. What's an ideal lap time? Allow us to explain…
Ideal lap explained
An F1 track is broken into three sectors for timing purposes. However, those sectors are also split into smaller 'loops' or mini-sectors. In our ideal lap calculation, we add together a driver's quickest individual loop times from a session, regardless of which lap they were set on.
This gives us a theoretical best lap for each driver i.e. what their fastest lap time would look like if they set their best times in each loop on the same lap. If there is a large gap between a driver's actual lap time and their ideal lap time on the graph, that suggests they are potentially able to lap a lot faster than they showed in any given session. All they need to do is hook up a perfect lap…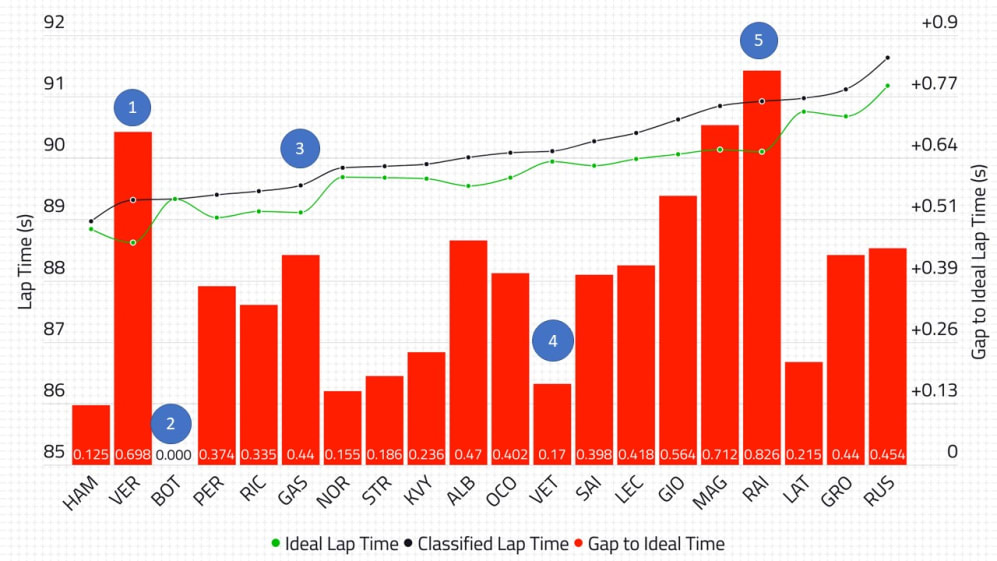 What the graph shows
1 - Verstappen could well be the man to beat
Max Verstappen kept his cards close to his chest when speaking after Friday practice, but the Dutchman has reason to be pleased with his efforts at Sakhir as despite finishing second overall, our data suggests he left 0.7s of lap time out there, which would have put him around 0.3s clear of pace-setter Lewis Hamilton, even if the reigning world champion had put all his best mini-sectors.
2 - Bottas put together his ideal lap
Rarely do we see a driver hook all of their best mini sectors up into one timed lap, but Valtteri Bottas achieved the feat in Bahrain on Friday. However, that means that he was 0.7s adrift of Verstappen's best time, and 0.4s shy of his Mercedes team mate Hamilton, suggesting he has plenty to do overnight if he wants to be in the fight for the top honours this weekend.
3 - Gasly in a tight fight for best of the rest
AlphaTauri looked mighty quick under the lights, with several of their rivals namechecking them as ones to watch this weekend, so impressive was their pace. And had Pierre Gasly got his perfect lap in, he would have been a match for Racing Point's Sergio Perez, which suggests not only will there be a tight fight for a spot on the second and third rows of the grid, but also for the solid points on Sunday.
4 - Vettel outpaces Leclerc but Ferrari fail to shine
This was looking like a strong weekend for Ferrari, based on pre-race simulations, however while Vettel only left 0.17s on the table, when taking all of his mini-sectors into account, that lap was not good enough to challenge the top 10 and put him behind both McLarens, Renaults, Racing Points and AlphaTauris. However, he was at least a fraction ahead of team mate Charles Leclerc.
5 - Raikkonen had a scrappy Friday
This wasn't the easiest of Fridays for Kimi Raikkonen, who spent FP1 on the sidelines as Robert Kubica borrowed his car, and then struggled to get a good lap together when he took over in FP2. The Finn left the most time of any driver out on track, and can improve by a massive 0.826s if he got all his mini-sectors together, which would put him on par with Alfa Romeo team mate Antonio Giovinazzi and a match for rivals Ferrari.