'I'm here to win' – Pole-sitter Leclerc eager to banish 'frustrating' Singapore memories on Sunday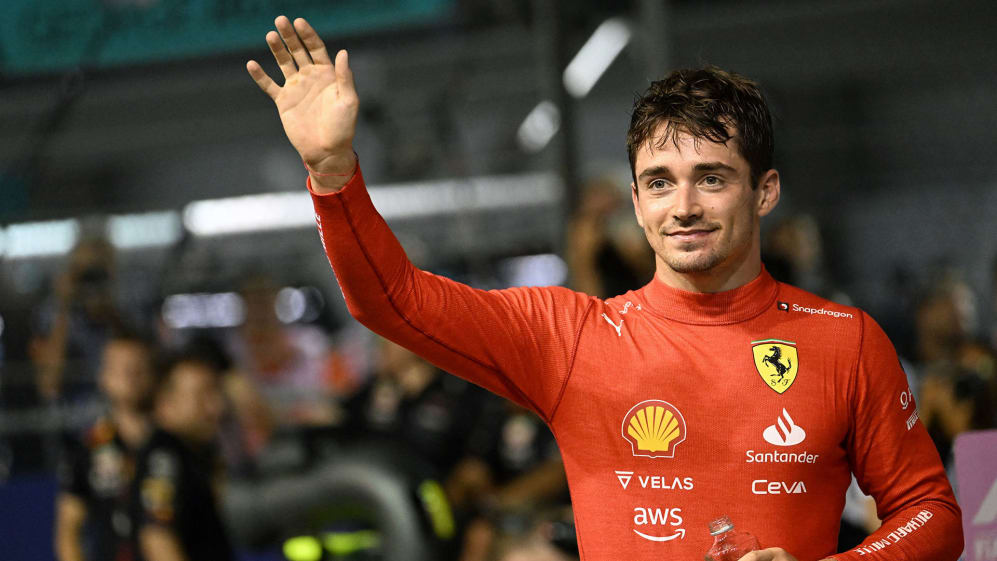 Charles Leclerc will start on pole for the 2022 Singapore Grand Prix – and the Ferrari driver said he wanted to make up for what he called a "frustrating" 2019 race that saw him lose out to then-team mate Sebastian Vettel…
On Saturday, Leclerc qualified on pole position by just 0.022s over Sergio Perez in a close-cut, damp qualifying session, which saw Max Verstappen qualify eighth and Lewis Hamilton take third on the grid.
READ MORE: Leclerc claims pole position by 0.022s from Perez in stunning wet-dry Singapore qualifying as Verstappen takes P8
The Ferrari driver was delighted, but admitted that memories of the last Singapore Grand Prix – where in 2019 Ferrari's strategy call saw Vettel undercut him and win, leaving Leclerc furious – were still raw.
"Obviously that was frustrating that day, I remember it very, very well," he said. "Looking back, it was probably the right choice for the time, because it helped us do a one-two which probably wouldn't have been possible without that.
"Having said that, if it happens again tomorrow, I will probably be as frustrated as 2019, because I'm here to win and the only thing I want to do is to win tomorrow, so I'll try my best and let's see what we'll do."
The Monegasque driver added that his second consecutive Singapore pole was "really special" despite mistakes at Turns 13 and 16 that almost saw him relinquish the chance to start from P1.
"It was really, really special. Every qualifying [session] in street tracks are super [on the] limit and even more when it is damp like that. There are some parts of the track that are wet, so you lose the rear, but overall I managed to do quite a clean lap and it worked well.
"I'm very happy with today's result, especially considering the Friday we had," he added. "We had very limited amount of laps yesterday for some issues, but we recovered well. So, we don't have much data for the race run but if we do the perfect execution, I'm sure we can win."
HIGHLIGHTS: Watch the action from a damp third practice session at the Singapore Grand Prix
Carlos Sainz, who qualified a tenth behind Hamilton in P4, expressed his disappointment having made a mistake at Turn 16 in Q3 and lost the chance to maximise improving conditions at the end of the session. The Spaniard said he was eyeing the podium on Sunday.
"I think I was on pole all the way until Turn 16 and then the lap went away from me," he said. "It's true also that we did the lap fairly early, still had two minutes on the clock left, and in these conditions, maybe we could have done it a bit later and maximised the track evolution. But it is what it is. We still can win and we still can get into the podium tomorrow from P4.
"I think we did a good session overall, it's just a shame that that tenth and a half cost us four positions. We'll take it, but we'll look back into it and see what we could have done – also to do the lap a bit later or a bit less mistakes through the lap – and see where we can improve," concluded Sainz.