'I'm more than proud' – Frederic Vasseur reflects on 'emotional' first win as Ferrari team boss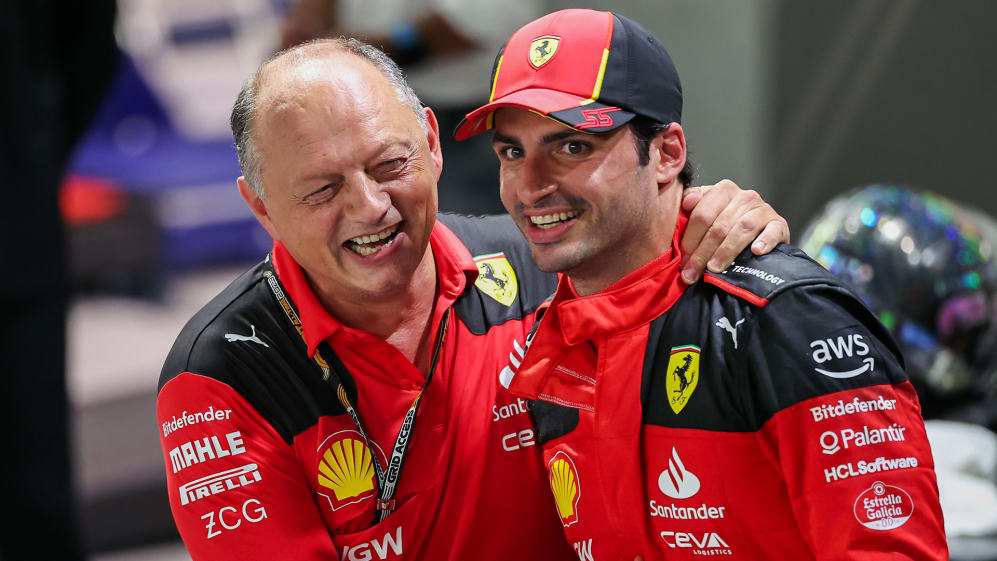 Frederic Vasseur enjoyed a special trip to the podium at the Singapore Grand Prix as Carlos Sainz's hard-fought win gave the Frenchman his maiden triumph as Team Principal at Ferrari.
Sainz converted pole position into victory around the Marina Bay Street Circuit via a nail-biting late battle with McLaren's Lando Norris and the two Mercedes drivers, taking advantage of a rare off weekend for Red Bull, whose 15-race winning streak came to an end.
READ MORE: Sainz credits key 'Carlando' moment for preventing him being 'dead meat' on his way to Singapore victory
After an up and down first nine months at the helm of the famous Italian marque, it marked the best moment yet for Vasseur as he attempts to return Ferrari to winning ways on a consistent basis and end a title drought stretching back to 2008.
Asked how much Sunday's result meant to him, Vasseur began: "Honestly, it was a strange feeling for me on the pit wall, because I was not too stressed the last couple of laps.
"I was much more stressed when I watched again the last couple of laps, when I was out of the race than during the race, and perhaps the feeling that Carlos was really under control of the situation.
"Emotional, yeah... For sure, on the podium, it's a bit emotional, because it was the first one. But at this stage, I was more thinking about what we did from Jeddah, that Jeddah was a tough weekend for us, that we had a very good recovery after Jeddah, good teamwork.
READ MORE: 5 Winners and 5 Losers from Singapore – Who impressed under the lights at Marina Bay?
"I think we built up step-by-step the confidence and the pace. I'm more than proud [about] the job done by the factory and the guys [in the team]."
Put to him that Zandvoort and Monza were important races in Ferrari's quest to understand their car's weaknesses, Vasseur gave a fresh assessment of where the team stand with the current SF-23 package.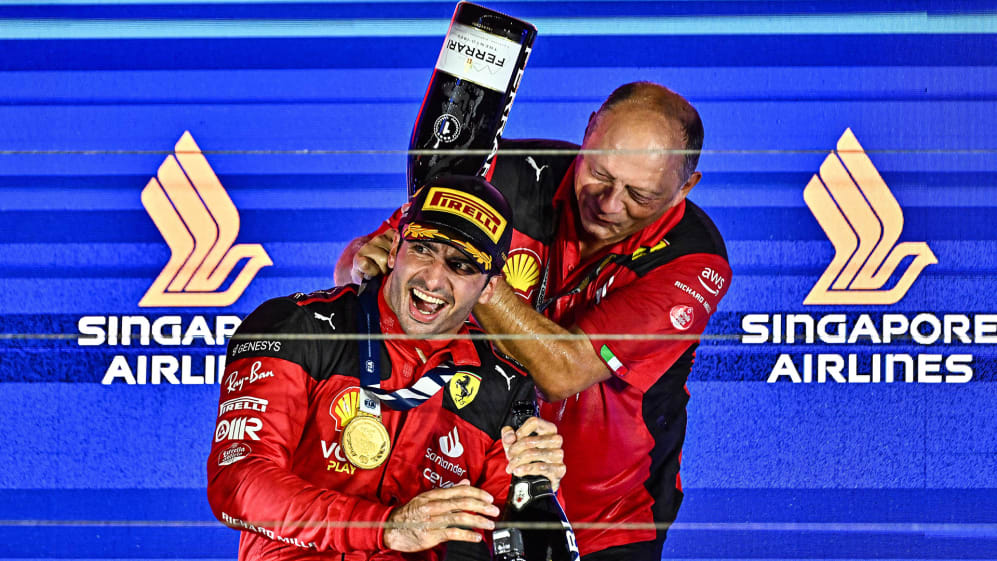 "I think we have to stay calm," he commented. "When we had it tough we didn't come to the conclusion that everything is going badly and that we had to change everything and so on, and it's not after two weekends that we are world champions.
"We have to stay calm, we need to keep the same approach, try to develop step-by-step, but there is nothing magic in this business – you won't find four or five tenths [in one go].
F1 NATION: A Carlos Sainz smooth operation and George Russell's heartbreak – it's our Singapore GP review
"In terms of confidence … I think it is probably in Zandvoort that we unlocked something on the understanding of the set-up and we built up the pace at Monza, part of this in Zandvoort, and probably a large part of the pace this weekend in Zandvoort."
With Charles Leclerc backing Sainz up in fourth position at Marina Bay, Ferrari have cut the gap to second-placed Mercedes in the constructors' standings – the gap now down to just 24 points.