Sainz credits key 'Carlando' moment for preventing him being 'dead meat' on his way to Singapore victory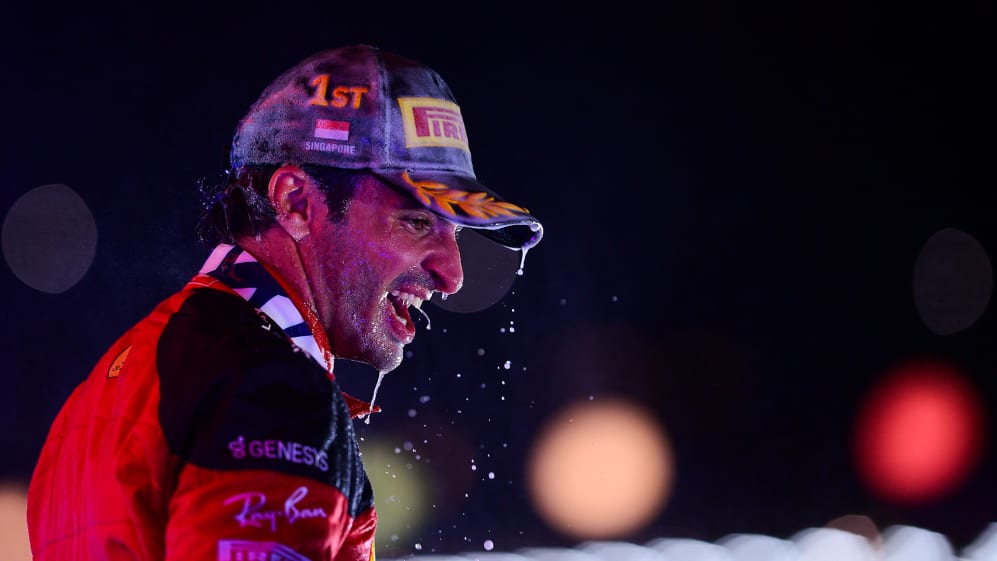 Carlos Sainz scored his second ever Grand Prix victory in Singapore and his first of the 2023 campaign to break Red Bull's winning streak, but despite starting from pole and leading from lights to flag, it was anything but simple for the Spaniard.
In an intense race in hot and humid conditions, the pressure was immense from start to finish as Sainz fought to keep the arguably quicker Mercedes of George Russell at bay for much of the evening. He was forced into managing his tyres in the early stages to ensure he could make it to the pit stop period with his nose in front, but that paled into insignificance compared to the pressure that came late on.
READ MORE: Sainz holds off Norris and fast-charging Mercedes pair to take sensational Singapore Grand Prix victory
With Mercedes on fresh medium tyres, and Sainz nursing a set of the hards that he'd had fitted under the early Safety Car, it was going to take quite the effort to keep them behind in the last handful of laps. Sainz might not have had his team mate as rear gunner but he had the next best thing – former team mate and best friend Lando Norris in the McLaren.
"That little bit of extra stress [at the end] I didn't want and didn't need," he joked afterwards. "But wins never come easy and today we had a bit of everything and we had to fight for it, we had to be strategic, we had to nail everything, we had to commit to our plans and it worked and now we are on a win that tastes really, really well."
Sainz was praised for dropping back in the closing stages to ensure Norris could pick up DRS with which to defend from George Russell and Lewis Hamilton, and the Spaniard admitted the idea was his own as he tried everything to hang on to a famous victory.
FACTS AND STATS: Red Bull's run finally ended and Lawson takes maiden F1 points
"I didn't need the team to suggest it, I knew my pace more or less to Lando [Norris], I knew how difficult it is to overtake here. I knew he was on a hard, I knew if George [Russell] and Lewis [Hamilton] were passing him I was probably going to be dead meat also, so I needed him to hold on as long as possible.
"I slowed down just a bit to give him DRS into Turn 7 to hold them off and keep my race under control. Not easy as you are putting yourself under risk and you cannot do any mistakes, but it was my strategy and it worked and I'm glad it did.
"I think we should buy each other drinks, by giving him DRS I saved his P2 and by him defending as well as he did from Russell he helped me to get P1. Good 'Carlando' moments out there and it was nice honestly to get the podium with him, we have a great relationship and it was good also to see the McLaren guys there with Ferrari, good story."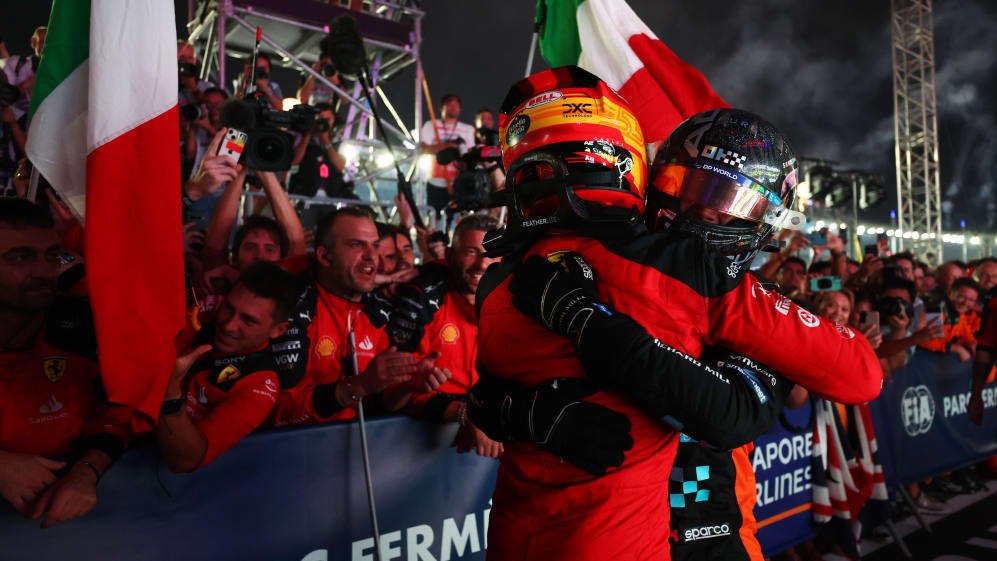 As for Charles Leclerc, he opted for a different strategy to his team mate, but it didn't quite pan out for the Monegasque after he was held in the pit lane when the team double stacked their drivers in the Safety Car period.
"Unfortunately, we had a Safety Car but this didn't really help me because everybody stopped at the same time.
"I had traffic so I had to be held up, so I lost four or five positions there, and from that moment onwards I always knew it was going to be an uphill race for me so it's like this. At the end, we've managed it perfectly as a team. I knew that meant I would be a little bit on the back foot today, but it was up to me to do a better job yesterday in qualifying."
MUST-SEE: Heartbreak for Russell as he crashes out of Singapore Grand Prix on the final lap
Leclerc managed to bring home a decent amount of points in fourth, just holding a charging Max Verstappen at bay in the closing stages of the race. Double points for the Scuderia combined with none for Aston Martin mean Ferrari extend their advantage over the Silverstone team in the fight for third in the constructors'.