IN NUMBERS: The amazing stats behind Red Bull's century of F1 wins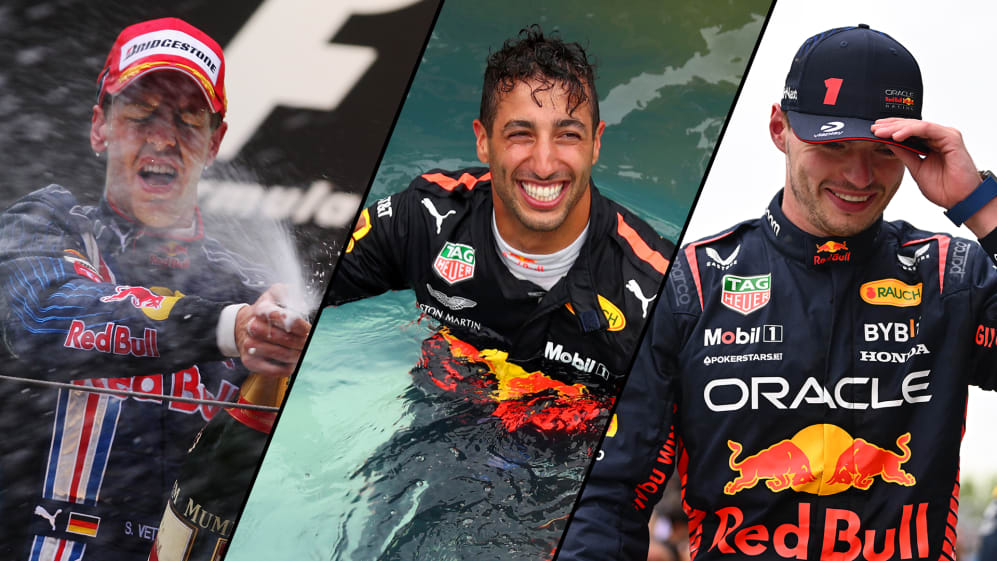 Red Bull made history at the Canadian Grand Prix as Max Verstappen's dominant win gave the team their 100th victory in the sport. To mark the occasion, we put together a list of the standout numbers from their impressive run, covering drivers, circuits and other eye-catching statistics…
-- 19 --
Red Bull's 100 race wins to date have been achieved across 19 seasons, with the Milton Keynes team making their F1 debut back in 2005. After several podium finishes, they won for the first time at the 2009 Chinese Grand Prix.
READ MORE: Verstappen wins Canadian GP to claim Red Bull's 100th victory and equal Senna's tally
-- 30 --
From that aforementioned first win to their most recent in Canada last weekend, Red Bull have triumphed at 30 different circuits over the years – spanning five continents (Asia, North America, South America, Europe and Oceania).
-- 7 --
Monaco is Red Bull's most successful circuit thanks to a tally of seven victories, while Abu Dhabi's Yas Marina (six) and Japan's Suzuka, Belgium's Spa-Francorchamps, Malaysia's Sepang, Brazil's Interlagos and Spain's Barcelona (all five) are also particularly profitable venues for the outfit.
-- 41 --
Of Red Bull's victories so far, 41 of them have been achieved by reigning double world champion Verstappen. He started that list by winning on his debut for the team at the 2016 Spanish Grand Prix.
-- 38 --
Next in the table is Sebastian Vettel, who claimed 38 race wins – and four world titles – during his stint at Red Bull from 2009 through 2014, before leaving for Ferrari and later joining Aston Martin.
READ MORE: Verstappen hails 'incredible' milestone as he helps Red Bull hit a century of F1 wins
-- 5 --
Overall, five drivers have won races with Red Bull since their debut: the aforementioned Verstappen and Vettel, along with Mark Webber (nine wins) Daniel Ricciardo (seven) and current driver Sergio Perez (five).
-- 52 --
More than half of Red Bull's victories – more specifically, 52 – have come from pole position. However, the squad have won a race from as low as 14th on the grid – Verstappen turning this spot into the top step of the podium in Belgium in 2022.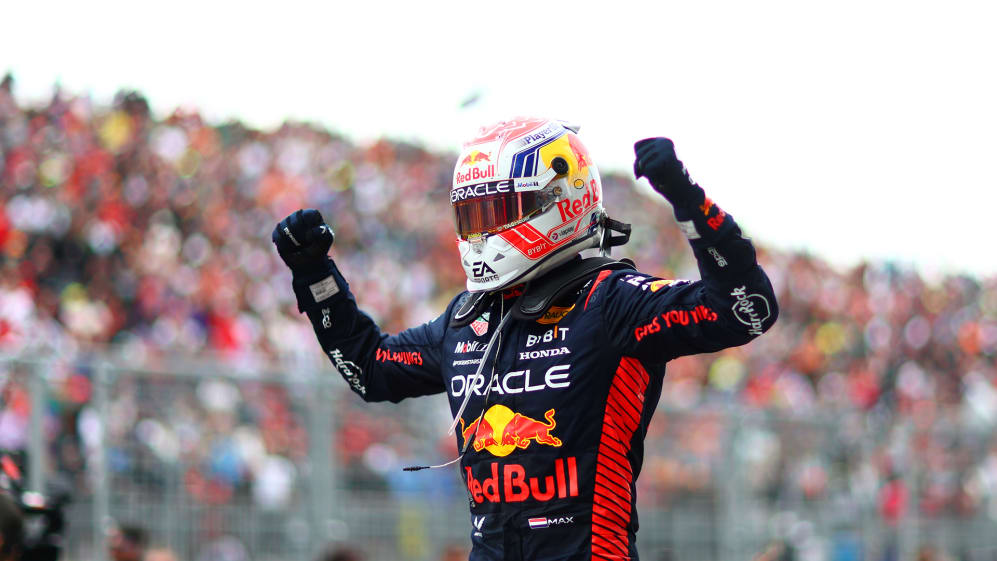 -- 26 --
Meanwhile, more than a quarter of Red Bull's victories have spearheaded a one-two finish. The first of these 26 perfect results came in China in 2009 via Vettel and Webber, with the most recent coming in Miami in 2023 via Verstappen and Perez.
-- 17 --
Red Bull's most successful season in terms of race wins was the 2022 campaign, in which they triumphed 17 times. Verstappen took 15 of those victories, while Perez contributed two.
FACTS AND STATS: Red Bull match Mercedes' best-ever season start as Hamilton takes 10th Montreal podium
-- 4 --
Only four other teams have secured more than 100 wins in the history of F1. This group comprises Williams (114), Mercedes (125), McLaren (183) and Ferrari (242).
-- 9 --
If Red Bull win again at the upcoming Austrian Grand Prix, the team would take 10 victories in a row for the first time. They previously won nine on the bounce with Vettel during the second half of his final title-winning season in 2013.