'It was a good battle' – Verstappen gives his take on his Lap 48 defence from Hamilton in Brazil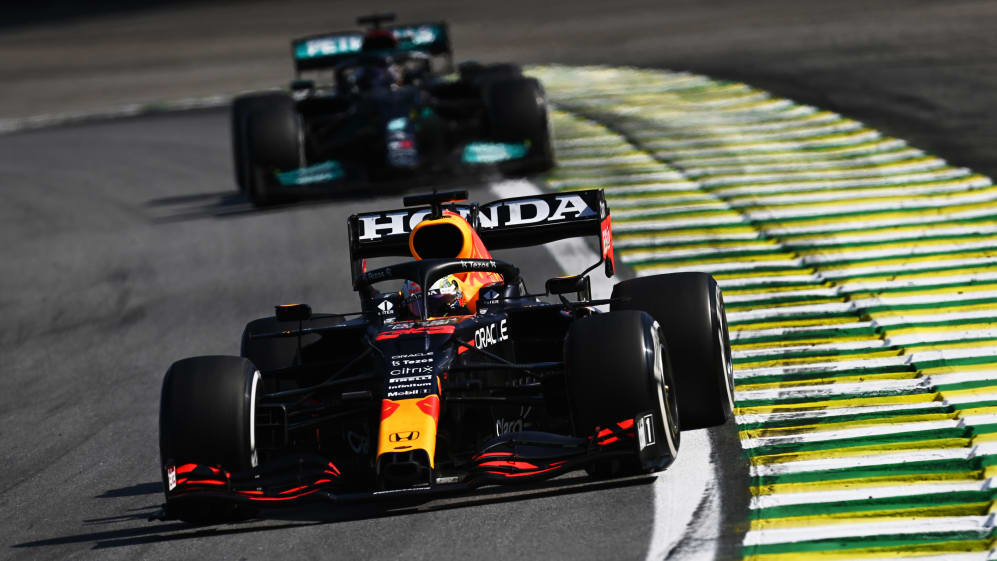 Max Verstappen doesn't like finishing second, but after a staunch defence he admitted there nothing more he could do to keep a sensational Lewis Hamilton from snatching victory in the Sao Paulo Grand Prix – and gave his take on the controversial moment when he fought off the Mercedes man on Lap 48.
Verstappen bolted into the lead at the start and looked in fine shape when Sergio Perez moved ahead of Valtteri Bottas to ride shotgun. But behind him, title rival Hamilton was flying, scything his way through the field and was soon on the Red Bull driver's gearbox.
He robustly defended from Hamilton on multiple occasions, including when they both ran wide into Turn 4 and along the preceding straight, but eventually succumbed to the pressure.
READ MORE: Hamilton takes victory in Brazil after stunning drive from P10 and pass on Verstappen
"We tried everything we could," he said. "I think it was a good battle, but at the end we just missed a little bit of pace, but we gave it all today and it was a lot of fun. We had a good start, that was important to get ahead [of Bottas] and from then it was trying to manage my pace and then the Safety car and then the VSC for the debris."
And what of that controversial moment on Lap 48 when both drivers went off the road at Turn 4 as Verstappen kept the lead (as you can see in the video below)? The stewards decided no investigation was neceassary, but what did Verstappen make of it?
"At one point Lewis was behind me, I could see there was a lot of pace. It was already quite tough to match that. We did all the right calls in trying to cover. Not much to say about that. We were a bit too slow.
"I mean we both of course tried to be ahead into the corner so I braked a bit late to get that position. I was on the edge of grip. That's why I think I was already on the apex and it's a safer way of running a bit wide there. In a way I was happy stewards decided we could keep on racing. I could see the racing in general was really good today.
"This weekend they were quick on the straights," he added. "It's not ideal when they sail past you and that's all you can do. Of course I like to win. Second today, with the defence I did, is also satisfying. You can see one weekend it's good for you, the other it's good for them. Hopefully like that for the rest of the season."
Hamilton reduces the deficit to Verstappen to 14 points with three races – and a maximum of 77 left on the table. "It's been like this the whole year," he said. "A lot of things can still happen."
READ MORE: 'I don't remember another weekend like this' says Hamilton after sensational last-to-first comeback in Brazil
Verstappen's team mate Perez valiantly tried to keep Hamilton behind for as long as he could, before dropping to third and then losing that spot to Bottas, who benefitted from stopping under the Virtual Safety Car to undercut the Mexican.
"It was important to try and keep him there, otherwise he would put pressure into Max straightaway," said Perez. "It was impressive the straight-line speed that they [Mercedes] have.
"Most of the time, I looked in my mirrors, he was so far away, and then I look at the end of the straight and he was right next to me. He [Hamilton] was just on another planet today."
He added: "We were extremely unlucky with the VSC, unfortunately that hurt and helped Mercedes to undercut with Bottas. We did the best we possibly could today. It is a bit of a shame, we should have finished ahead of Bottas."