'It was a very strange one' – Leclerc and Sainz both baffled by Ferrari's pace as they score front row lockout in Mexico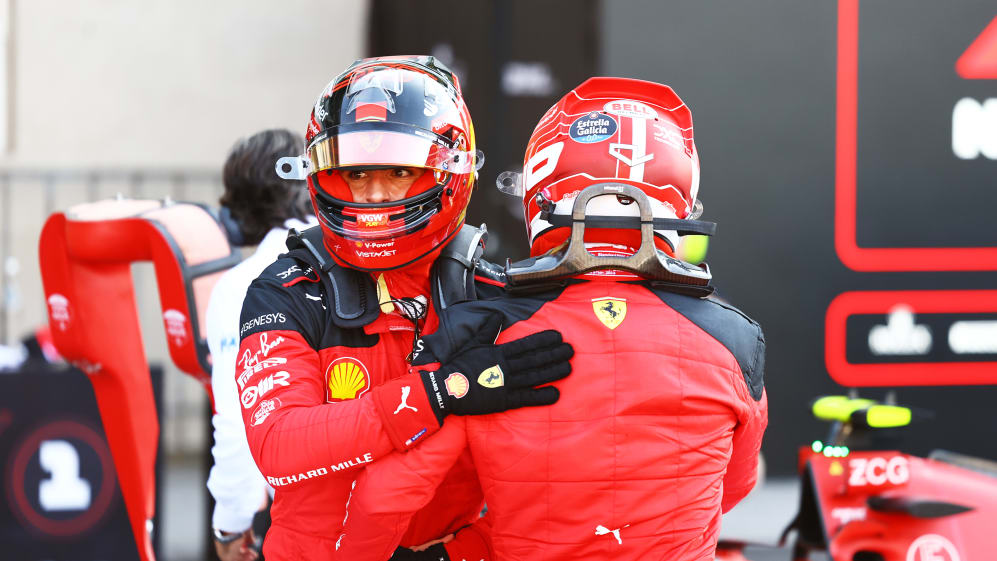 Charles Leclerc and Carlos Sainz could not hide their surprise after Ferrari sealed a stunning front row lock out for the Mexico City Grand Prix, as they quickly turning their attentions to winning on Sunday.
Leclerc made it into the final portion of qualifying having been fourth in Q1, and sixth in Q2, but the Monegasque took provisional pole on his first lap in Q3, after seemingly looking out of contention.
READ MORE: Leclerc takes sensational pole ahead of Sainz and Verstappen as Ferrari lock out front row in Mexico City
Leclerc's lap of a 1m 17.166s eclipsed Sainz's previous pace-setting time by just 0.067s, and with both drivers unable to improve on their final run, it secured him his second consecutive pole position – following Austin last weekend.
Asked if he had seen that performance coming, Leclerc replied: "Absolutely not. It's been two weekends in a row where we say that so then people will start not believing us anymore. To be honest, I did not expect to be on pole position today.
"We thought we were lacking quite a bit in FP3, but for some reason once we put everything together it went well. [With] the new tyres, we gained a lot. Already focusing on tomorrow's race because [we've had] many pole positions but now we need to convert it into a win tomorrow."
Starting in first place can be quite the poisoned chalice in Mexico given the long run down to Turn 1. Asked how he intends to combat this, Leclerc replied: "First place here I'm not sure is the best starting place, but anyway that's fine, I'll take that pole position.
"We'll just [focus] on ourselves. We've had pretty good pace all weekend. I'm not sure if we've got enough to be challenging for the win, but we will try everything in our hands to try and get it… I'm really happy with today and, like I said, lets finalise it tomorrow."
HIGHLIGHTS: Relive the action from a dramatic qualifying as Leclerc takes surprise pole in Mexico
Sainz will line up next to his team mate having only narrowly made it into Q3. The Spaniard was only 10th fastest in Q2, and he was also at a loss for words following Ferrari's performance.
"It was a very strange one," said Sainz. "The whole weekend I struggled to put a lap together, and the first lap that I put together was Q3 run one, and suddenly we were P1 at the time, then Charles pipped me by half a tenth, one tenth.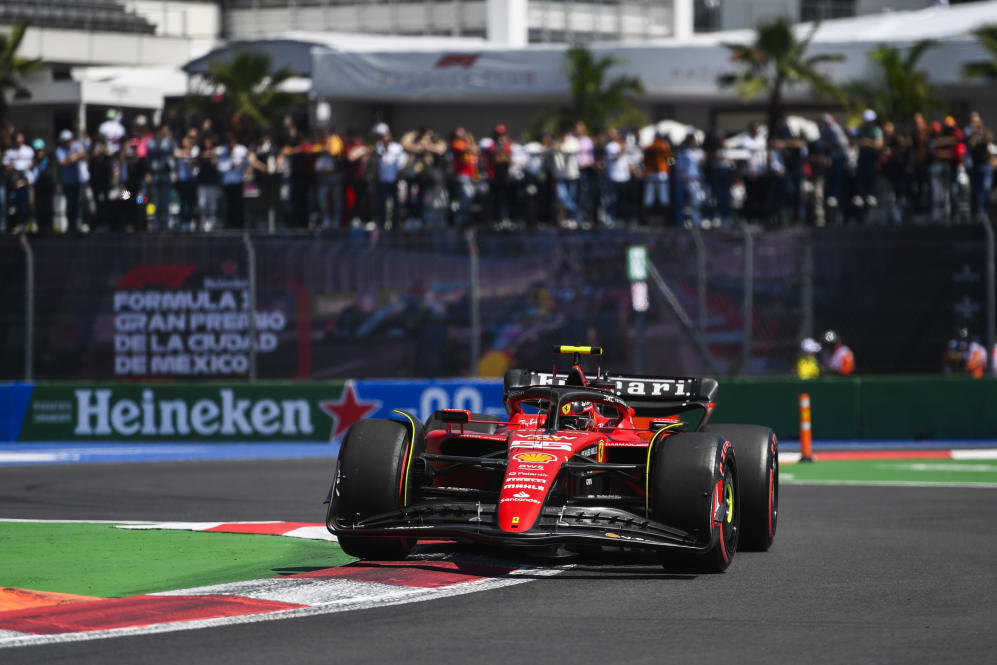 "I just struggle to understand where suddenly we can find half a second and then go half a second slower in the next lap.
"It's very tricky with the tyres, the feeling in the car is very strange. But we managed to put a good lap when it counted, and it puts us in a good position for tomorrow."
AS IT HAPPENED: Follow all the action from qualifying for the Mexico City Grand Prix
Asked what was possible in the race starting ahead of Max Verstappen in third, Sainz said: "Well clearly, we are not as strong in high fuel as we are in low fuel. I think our car benefits a lot from that new tyre, soft tyre peak at the rear.
"We are going to see how we can do tomorrow to keep the tyres alive, to keep that Red Bull behind because having two cars in front, it's a good advantage. So, we are going to try our best."