'It was an amazing day for us' says Gasly after securing P4 in Azerbaijan GP quali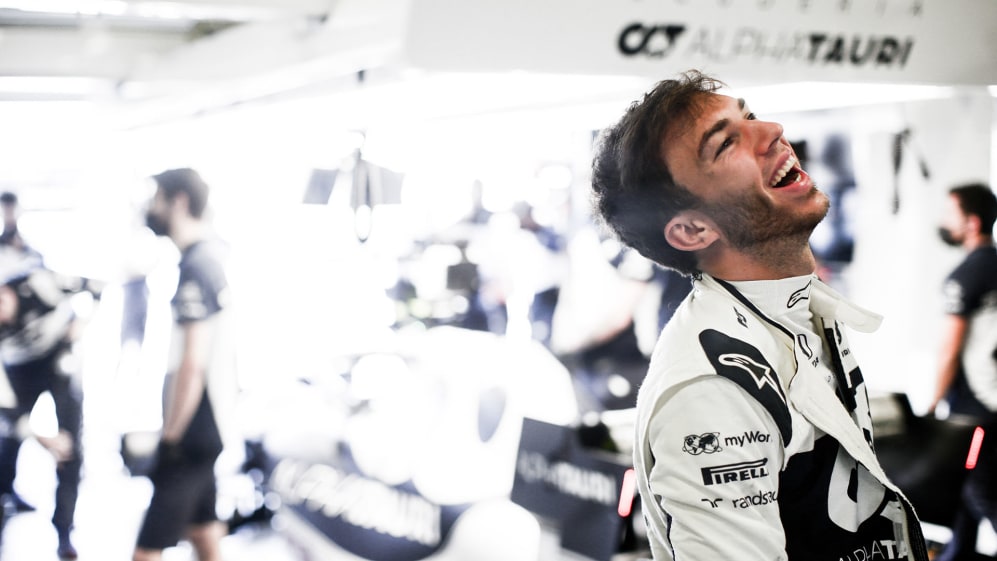 Pierre Gasly was undoubtedly one of the stars of qualifying for the Azerbaijan Grand Prix, the Frenchman following up his session-topping practice pace with P4 on the grid – with Gasly feeling he was in a "strong position" to convert the result into big points in Sunday's race.
Gasly was on the pace from the get-go on Saturday, with a late effort from the AlphaTauri driver seeing him top FP3 by 0.344s from the Red Bull of Sergio Perez. Gasly was then able to carry that pace into qualifying, reaching Q3 before putting in a mega lap to secure fourth on the grid – his time just 0.002s slower than third-placed Max Verstappen's, as a late red flag helped ensure his time went unchallenged.
READ MORE: Leclerc takes shock pole in dramatic Baku qualifying session as FIVE drivers crash out
"It was, I must say, an amazing day for us. P1 in FP3, topped the session, then coming into quali, fighting for pole position with the Ferrari, the Mercedes and the Red Bull, which was something which never really happened for us.
"So very pleased with our performance, P4 and only a tenth away from the first row, nothing to Max which would have been nice to have been in the top three, but that's how it is. I think at the end of the day, it was still a very, very strong lap and it puts us in a strong position for tomorrow."
Gasly is on a strong run of form currently, having beaten Lewis Hamilton in Monaco to claim P6 – with the Frenchman revealing that his AlphaTauri AT02's pace in Baku had made him "super-excited" coming into qualifying.
"It feels good," he said. "I go out there, I just do my thing and we're very competitive, so I got super-excited coming into quali because when you know you've got the performance to fight for top positions, it gives you something inside you that feels nice.
READ MORE: Verstappen curses 'stupid' qualifying in Baku as he loses another chance of pole to red flag
"We finished ahead of a Ferrari, a Red Bull, a Mercedes, so I think it's something which shows the good work we're doing as a team and I think all the guys can be really pleased with that."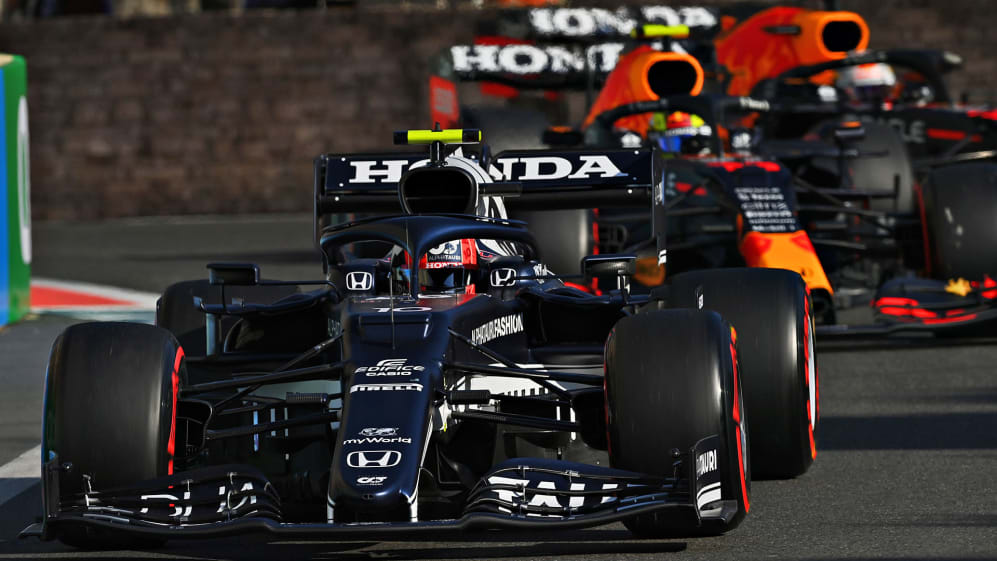 It was the crashes of Gasly's team mate Yuki Tsunoda – appearing in Q3 for the first time in his F1 career – and Ferrari's Carlos Sainz that ensured Gasly held onto P4. But despite the crash, Gasly added a word of support for the job Tsunoda had done around Baku, after a tough run of races for the rookie.
READ MORE: 'I was just pushing too much' – Mixed feelings for Tsunoda after first Q3 ended with crash in Baku
"He did very well, especially building the pace session after session and I think he did very strong," said Gasly. "This track is super difficult, we saw a lot of guys doing mistakes, crashing, touching the walls, going straight on – even myself in practice.
"You're just pushing the limit; it's such high speed, low downforce, that it's really easy to make a mistake. At the end of the day, I think he should be pleased with what he has done and first Q3 is always nice."