'It was never my intention' – Norris apologises for breaking Verstappen's Hungarian GP winner's trophy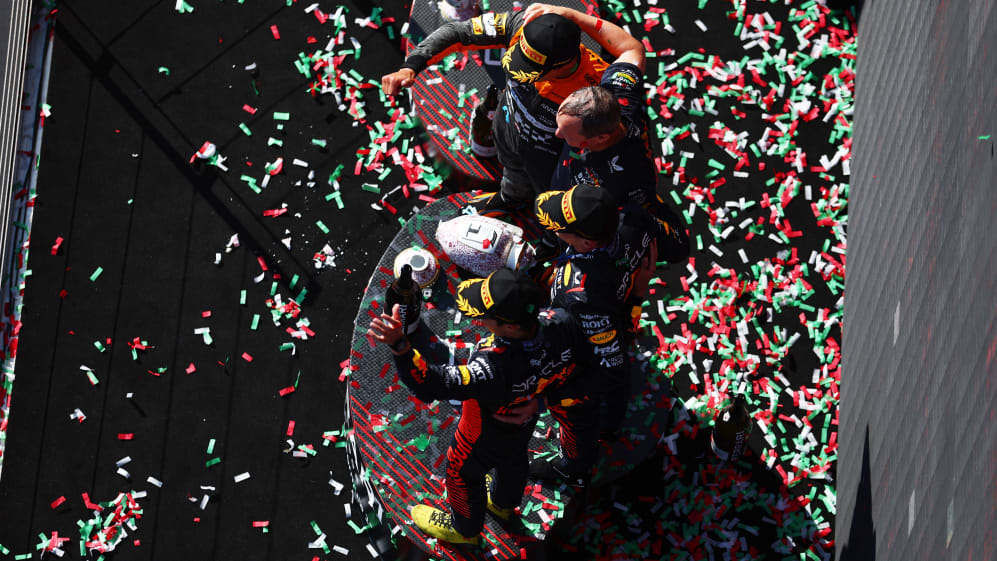 Lando Norris scored back to back podiums for the first time in his career in the last two Grands Prix, but his sheer, unbridled joy at being back on the rostrum in Hungary led to a calamity of errors as he managed to break race-winner Max Verstappen's trophy.
Many drivers have a trademark celebration, and rather than take inspiration from his former team mate Daniel Ricciardo's shoey, Norris likes to bang his bottle of Ferrari Trento on the ground to cause a huge eruption of bubbles with which to spray his fellow drivers.
While this has already caused some hilarity in the past, with Norris breaking a bottle of the fizzy stuff in the pit lane trying to celebrate with his then team mate Carlos Sainz, what happened in Budapest was slightly more embarrassing for the McLaren man.
NEED TO KNOW: The most important facts, stats and trivia ahead of the 2023 Belgian Grand Prix
As Norris slammed his bottle into the podium, Verstappen's P1 trophy toppled off the top step of the rostrum, breaking into pieces. Norris looked suitably guilty as he glanced down at the damage, before sharing a smile with Verstappen when the Dutchman noticed what had happened.
"I do want to apologise for it, it was never my intention to do such a thing," said Norris when he spoke to the media ahead of the Belgian Grand Prix. "I know how much it means to the Hungarians and it is part of their culture and so forth. Of course I want to enjoy my time but it was never my intention to do such a thing.
"I did apologise to Max, I did make a couple of jokes about it which maybe I shouldn't. I do feel bad, if he did it to my trophy I'd feel annoyed. I do apologise for it, to the people who put the time and effort into making it, I really didn't mean for it to happen and I'll be a lot more careful next time."
BETTING GUIDE: Who could stop Red Bull's record-breaking run in Belgium?
Norris confirmed that his trademark celebration is here to stay, quipping that he'd "move the trophies aside" next time. And with those McLaren upgrades working well, that next time could be as soon as this Sunday, with Norris back at one of his favourite circuits as he looks to extend his podium streak.