'It was painful' – Norris describes McLaren's straight-line speed struggles after surprise P7 finish in Belgium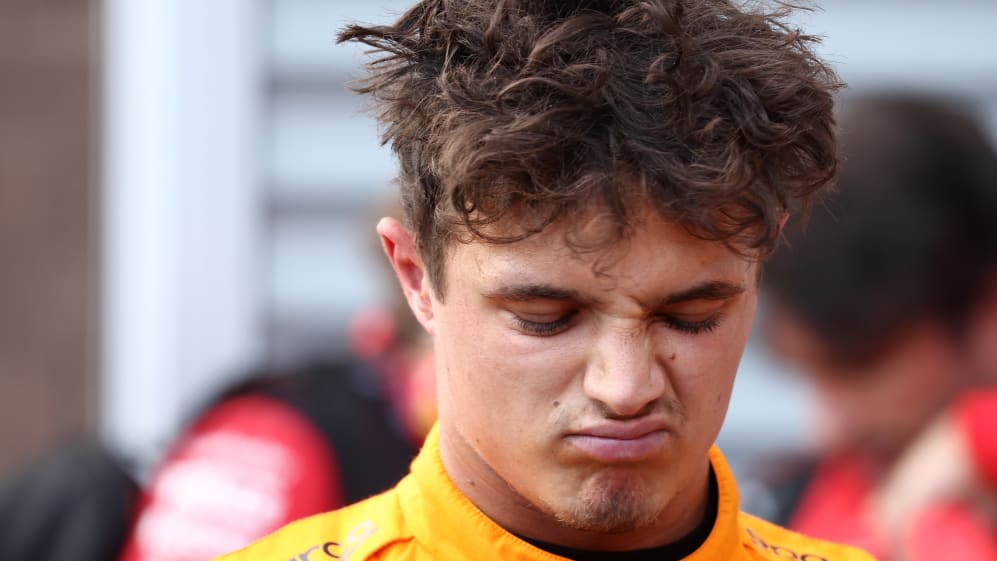 Lando Norris admitted it was a "good surprise" for him to find himself finishing seventh at this weekend's Belgian Grand Prix, after a "painful" afternoon behind the wheel of the MCL60 struggling for straight-line pace.
Norris started from seventh on the grid, but his struggles saw him lose places early on, as he dropped outside the top 10. A switch from the mediums to the hards didn't see much improvement, before going on to the softs dropped him to the back of the field.
MONDAY MORNING DEBRIEF: How the mid-race rain rescued McLaren's Sunday in Belgium
However, he managed to make his way back up the order before holding off the late challenge of Esteban Ocon to take seventh place. And after the race, Norris explained why McLaren struggled so much compared to their rivals.
Asked what had happened with the car, Norris said: "Nothing, I was just barely making eighth gear, we were that slow in the straight. I just couldn't defend, I couldn't attack. It was impossible to overtake; I didn't overtake one person on the straight today. We were too slow.
"I think I only overtook two or three people today and that was all in the corners. It was painful. The beginning was so painful, but we tried and to go on to the hard and we got done over again. The hard was not a good enough tyre.
"So, we had one thing left to try and that was put a soft tyre on. This was already on Lap 24, 25. So I was expecting to box again for another soft at one point. But we were somehow in seventh, we undercut like 10 cars, I think, which I was pretty surprised by. Good surprised of course.
FACTS AND STATS: Win 12 for Red Bull heralds most successful season start in F1 history
"I thought I was going to be boxing again, and they were like, 'Okay we are going to try and go to the end.' I pushed the tyres so much in the beginning, I thought my race was going to be over again and I was going to start to struggle too much.
"But we kept the tyres alive and still managed to finish P7, stay ahead of Esteban, who was closing quite quickly in the last couple of laps, so I'm happy."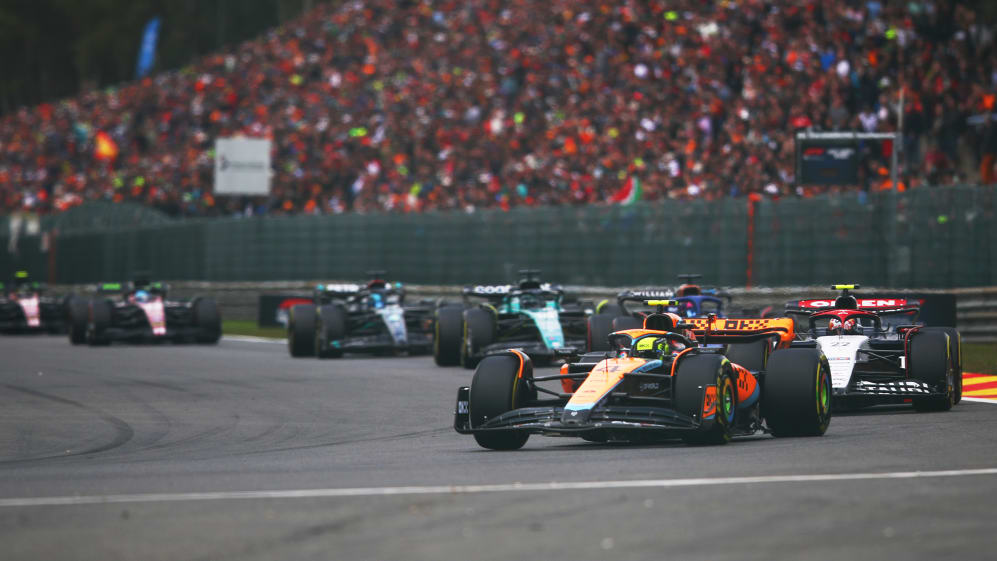 Sharing an example of how much he struggled in the straights – with Norris receiving a number of conciliatory pats on the back from his fellow drivers in the pen – Norris said: "Everyone was overtaking me before the DRS activation zone. Honestly, I had a run on Alex [Albon] out of Turn 1. I was coming at him out of Turn 1, I had new tyres, he had old tyres, and I think by the end of the straight, he pulled, like, three or four car lengths on me.
READ MORE: What the teams said – Race day in Belgium
"This was me with DRS, using overtake. It was just painful. I actually could not overtake a car on the straight today, no matter how good my exit was. We got it wrong; I think we've admitted it already.
"We got it wrong, we were way too high on downforce, and it didn't help us in pretty much any way, so we'll review and make sure we do a better job next time."