It wasn't worth fighting Verstappen - Hamilton
Lewis Hamilton has admitted that he deliberately 'didn't make it too hard' for Max Verstappen to overtake him in Sunday's Malaysian Grand Prix, as he knew his Mercedes did not have the pace to match the Red Bull.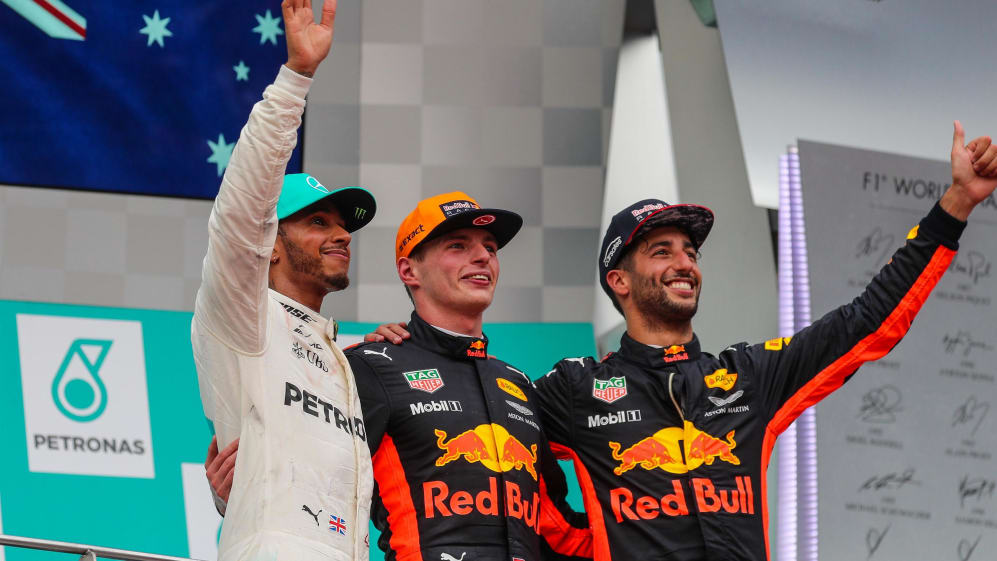 Mercedes had struggled all weekend to make their car work at Sepang, and despite starting and leading away from pole position, Hamilton was passed by Verstappen on lap 4 and eventually finished in second place, 13 seconds behind the Dutchman.
"We knew going into the race that we didn't have the quickest car," said Hamilton. "Our deltas… Ferrari were eight-tenths faster than us, and the Red Bulls also five or six-tenths quicker, so there wasn't really much I could do there.
"I had to really make a decision when Max was closing me down, to not fight him and risk him crashing into me, because he's going to give it everything – he's got nothing to lose, whereas I've got everything to lose. So I didn't make it very hard for him."
Of more concern to championship leader Hamilton was title rival Sebastian Vettel, who fought back to fourth after starting from the back of the grid. It means the Ferrari star now trails by 34 points in the standings, the deficit up from 28 points prior to Malaysia.
"I think it's okay," added Hamilton, who had obviously hoped to pull away by more than six points. "I mean, considering he started last it's not really that great to be honest. We should have won today, but we just didn't have the pace."
With five rounds remaining, Hamilton's worry is clearly that despite his healthy championship lead, there might be little Mercedes can do to ensure he has race-winning machinery at his disposal.
"There's nothing we can do about the car – it's the way the car is," he said. "People have been saying all year long that we've got the best car, and it's a fact that at some races our car has worked out to be better. But I think globally that we don't have the best car and we've done an exceptional job with what we have.
"There are some real big problems with our current release. I can't explain to you what they are, but we really need to make sure we rectify them for next year's car if we are going to have any chance of fighting both of these teams [Red Bull and Ferrari] next year when they step up their game.
"This year I think we can just stay there or thereabouts. I don't know which one of these next races is going to be good for us, and which races are not, but we'll do everything we can to try and stay ahead."
Despite their Malaysia woes, Hamilton's result combined with team mate Valtteri Bottas's fifth place means Mercedes now lead Ferrari by 118 points in the constructors' standings, on 503 to 385.