'It's a good start' – Verstappen says Red Bull 'did the best' they could as he seals pole position in Qatar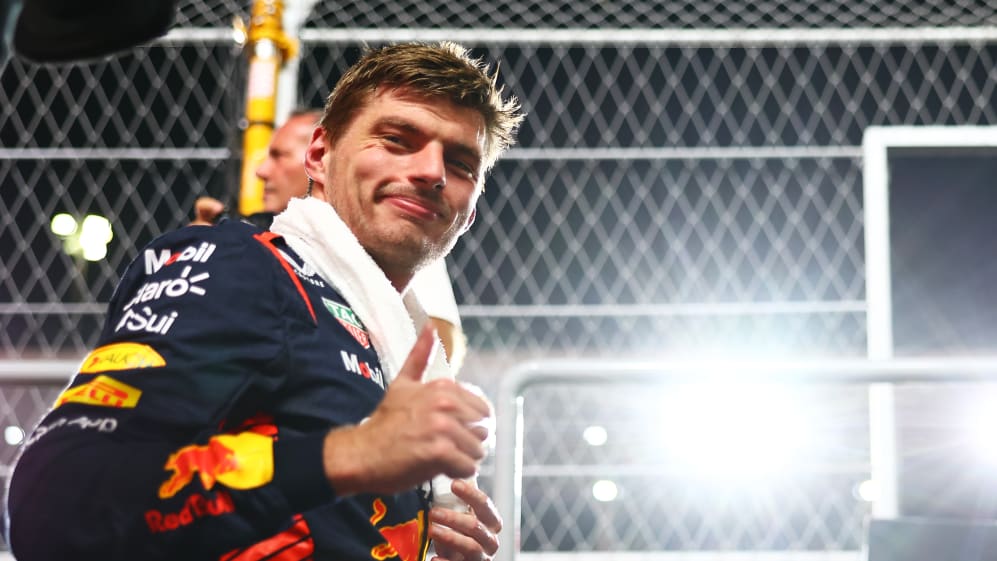 Max Verstappen was more than "happy" with the performance from him and his Red Bull team on Friday night in Qatar, after the Dutch driver qualified in pole position for Sunday's race.
Verstappen set the pace throughout the opening day in Lusail, leading every session bar Q2 in qualifying. And on his first – and only – lap in Q3, Verstappen set a blistering time of 1m 23.778s to take pole position – with George Russell, in second, 0.441s off his pace.
Verstappen dominates to take pole position ahead of Mercedes as he closes in on third world title in Qatar
With the Dutch driver able to clinch his third drivers' title in a row in tomorrow's Sprint, he acknowledged that it had been a "tricky" day in Qatar.
Verstappen said: "The tarmac didn't give a lot of grip, so it was really building up to it lap after lap. I think we were in a good window, we were improving quite nicely, run after run.
"Especially run one in Q3, the car felt quite good, it felt like a good lap, but it was also really on the edge of knowing what is the limit at the moment with the track surface. So it made it quite tough, but overall, very happy with the performance, and the day."
Verstappen heads into Sprint Saturday knowing that he needs only sixth place to confirm his third consecutive title. Asked what his mindset is like ahead of the 100km action, Verstappen said: "The car seems good when it's dark, so that's good.
"Tomorrow of course, when we have the other qualifying [it's] a bit different, a bit warmer, I think, so I don't know what's going to happen then. It's a good start, of course we can't really touch the cars anyway, so I guess that's good for us.
AS IT HAPPENED: Follow all the action from qualifying for the Qatar Grand Prix
"That's all I could have hoped for really because Sprint weekend is always very tricky to nail, and [you] try to go into qualifying thinking that you have the right setup on the car, but I think we did the best that we could."
As for his team mate, Sergio Perez, he missed out on a place in Q3 after having his fastest time deleted for exceeding track limits. And he admitted to struggling with the balance of the RB19 as he gets set to start Sunday's race from 13th on the grid.
"It was quite difficult," said Perez. "We struggled a lot for balance. We had so many issues that I just couldn't fit any of them. Every corner was pretty much different, I think the conditions are very difficult, but [I] just struggled a lot today in qualifying."
When asked what his approach will be for the rest of the weekend, Perez replied: "It's not over. It's obviously going to be very difficult to pass, especially with the track conditions that we currently have. But we will see what we are able to do and recover from there."