Feature F1 Unlocked
'It's all extra excitement' – Norris opens up on racing in front of his home crowd at 'mega, magical' Silverstone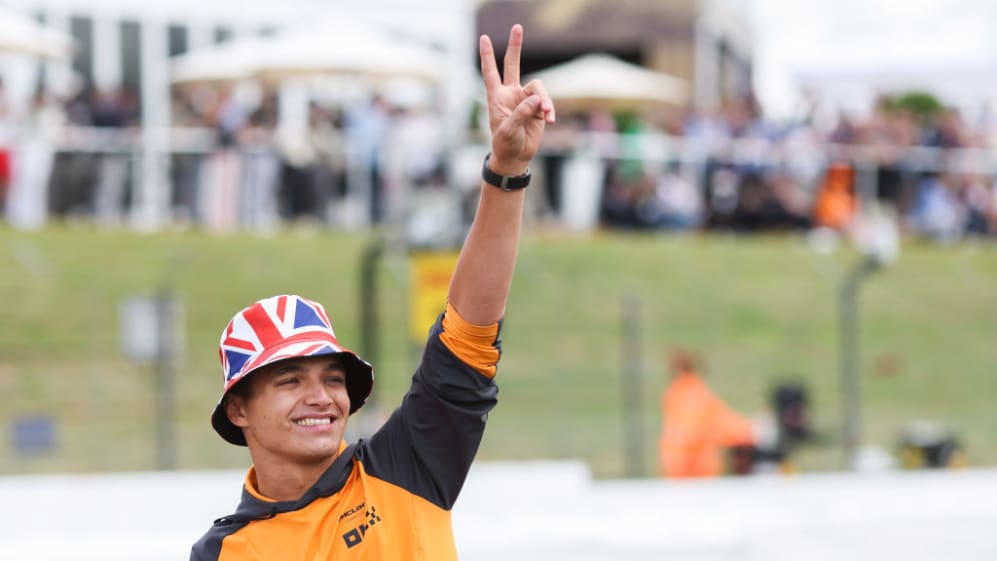 This is a big weekend for Lando Norris. A home Grand Prix, of course, is always a big weekend for any Formula 1 driver, but these are interesting times at McLaren.
The 14-time British Grand Prix winners came into the season down-playing expectations: the MCL60, they said, wasn't ready; late revisions to the 2023 technical regulations had thrown off their development. The car at launch wasn't quite where they wanted it to be, but they'd get there with a significant upgrade package.
READ MORE: 'That's what I fell in love with' – Norris gets his wish with McLaren's special chrome livery for British Grand Prix
These are, in all honesty, the words every team unpacks when their launch car isn't behaving – but then, in Austria, McLaren arrived with a sizeable upgrade package for Norris's car and sure enough, it rocketed from the back of the midfield to somewhere off the front of that pack.
Norris was fourth in qualifying – and growling that he should have done better – then third in the Shootout, best of the rest behind the Red Bulls. His engine going into anti-stall as he slowed to a standstill behind the battling Bulls ruined his Sprint, but a spritely performance in the Austrian Grand Prix itself had him finish fifth on the road, fourth in the final classification and worthy of the fans' endorsement as Driver of the Day.
It was his and McLaren's most competitive performance of the year by some margin. Could this be the real deal?
If you don't believe in the existence of the Magical Upgrade Fairy, then there's plenty of caveats you might apply: a single practice session ensured no-one had time to hone their set-up; the track doesn't feature the long off-throttle mid-corners where McLaren have been struggling; and Norris has a personal affinity with the Red Bull Ring that verges on the preternatural.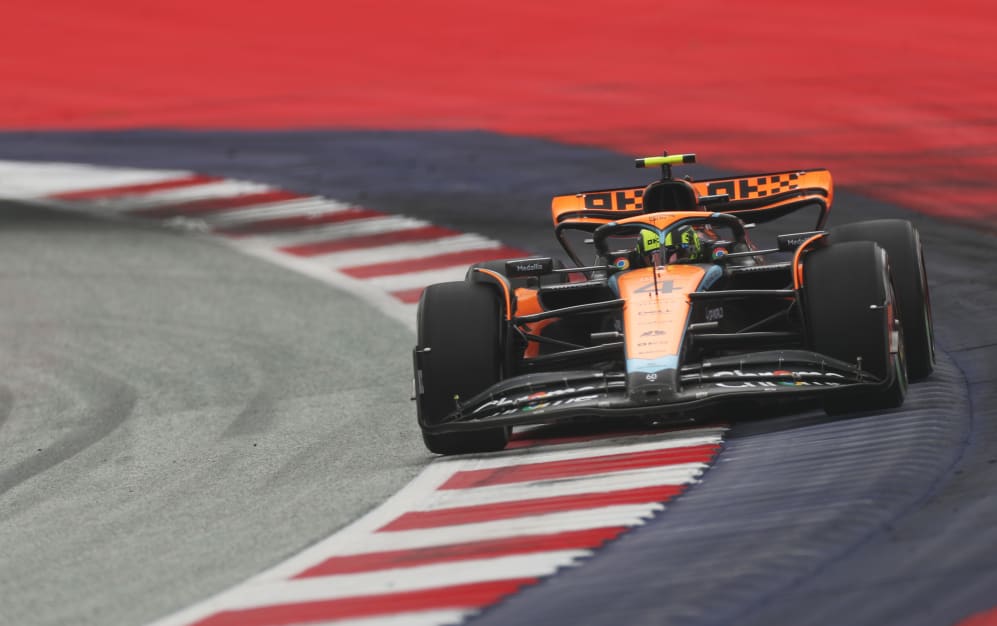 But still… fourth. As they scampered out of Styria, McLaren were shrugging a little themselves. "We know this track is a bit of a 'Lando-Special', and he was excellent again today," said Team Principal Andrea Stella, "but certainly some of this result is down to the upgraded aerodynamic package fitted to his car."
This weekend's British Grand Prix should provide rather more information on whether Austria was an outlier or a genuine sign of improvement, but regardless of how the MCL60 acquits itself at Silverstone, Norris is expecting to enjoy himself.
BEYOND THE GRID: Lando Norris on driving McLaren's revival and the responsibility of being the team's senior driver
There are drivers that view the oncoming storm of their home Grand Prix with trepidation. There is, after all, a lot more media work to do; more hands to shake; more receptions to attend; less time to sleep and prepare. But Lando is one of the other sort: always eager to leap into the weekend with as much force as he can muster.
"I just enjoy it," he says. "There are more things to do, more people to see, more activities, longer days – but it's all extra excitement: there are fans shouting your name, wearing your t-shirts.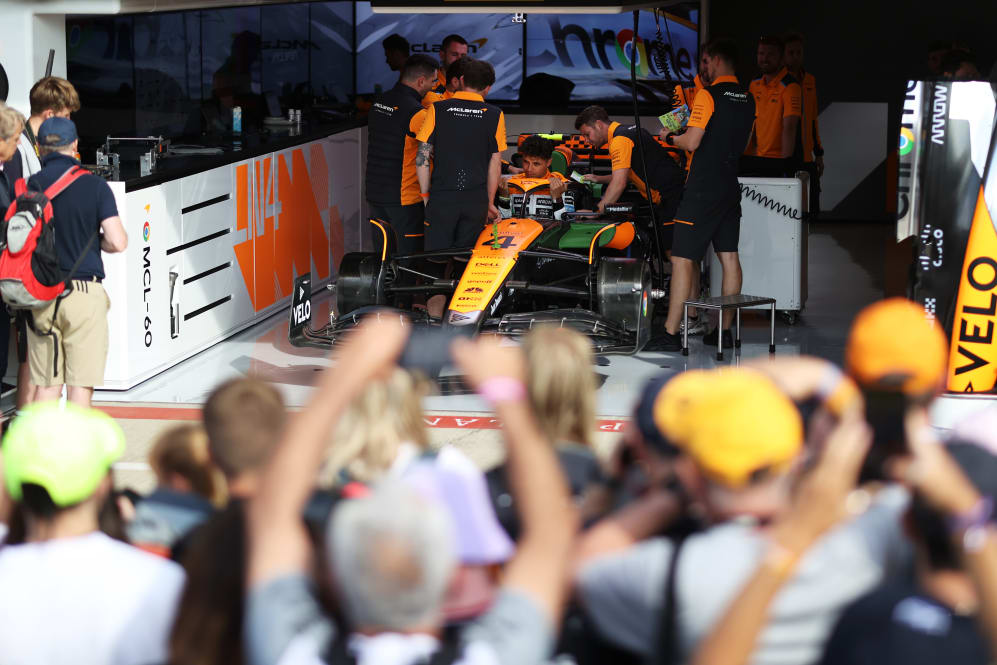 "It's an amazing experience to see so many people supporting you and I get a lot out of it. There's no downside to that unless you count muscle cramp from smiling so much – and there's worse things to suffer from than that."
Norris is unsure how his car, and that of team mate Oscar Piastri (who gets his first taste of the upgrade this weekend) will perform at Silverstone, conceding that while the faster sections of the track will suit it, there are other sections, notably around the Arena "where we might struggle a bit more" – though he insists competitiveness isn't a deal-breaker for the level of satisfaction that comes from driving around the famous old track.
NEED TO KNOW: The most important facts, stats and trivia ahead of the 2023 British Grand Prix
"I just love it," he says. "It has a flow to it: not too tight or twisty; not too much stop-start. You always feel that the more you can let the car flow and relax into it, the better you go.
"Then Maggots and Becketts in an F1 car? Mega. Magical. It's just so quick. You really test the limit and there's not so many places where that's true. Suzuka perhaps, or the first sector at COTA [Austin's Circuit of The Americas]."
While staying this weekend at the circuit's new Hilton hotel, overlooking the pit lane, Lando believes Silverstone offers its most enticing view of F1 cars through those fast changes of direction – but qualifies it by saying that he's watched more of the British Grand Prix on a monitor or TV than he has out and about around the track.
"The first time I came here, I was… I think 13, and that was just for Friday, so I never saw the Grand Prix until 2017, when I was here with McLaren. That was quite the experience: from never having seen the race live to being handed a set of headphones and dropped directly into the garage."
READ MORE: 'It's massively exciting' – Hamilton shares more details on Apple's F1 movie as filming begins
He did, of course, learn his trade at Silverstone, racing on the National Circuit (i.e. the northern half, with a loop-back from Maggots to Aintree) in Formula 4 and Ginettas, but says Silverstone feels like a very different place with a full house for the Grand Prix – and one he always savours.
"Each year, my first out-lap of the weekend I spend looking at the grandstands," he says.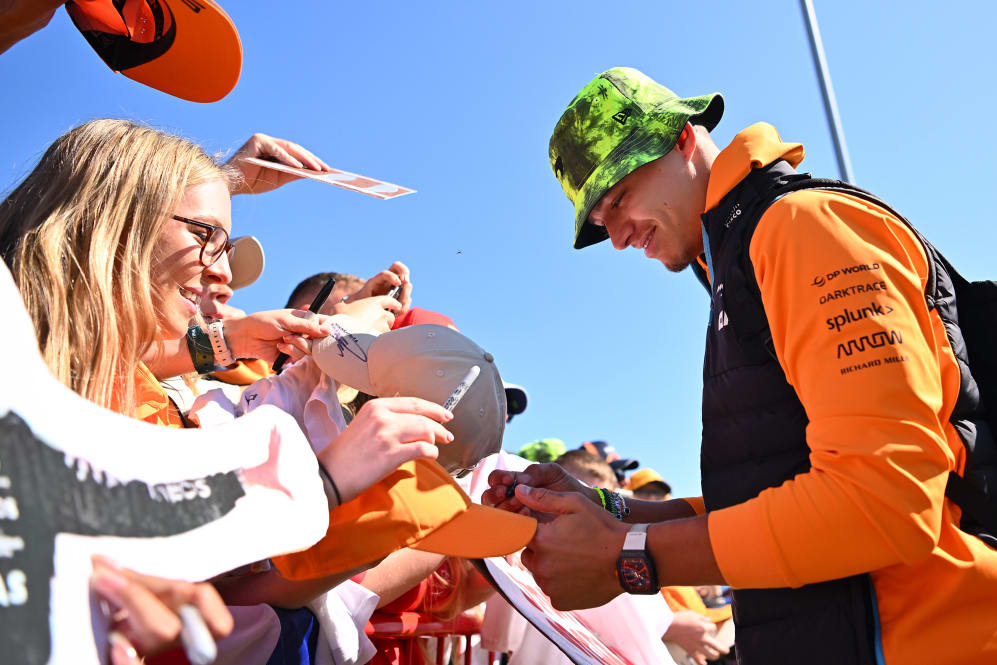 "It might mean I'm a little slower than the team would like with the tyre warm-up, but it's worth it. Every corner has a full grandstand: if people wave, I'll wave back – and I'm definitely going to be searching for Norris flags!
"I think you have to take in the experience, and really see how many people are there supporting you – but only on that lap.
SILVERSTONE 2008: 'He was determined to be the best that day' – Hamilton's mesmerising first home win remembered by team mate Kovalainen
"Afterwards you're so focussed on what you have to do, it might not be until the in-lap after the chequered flag that you look up again from the cockpit.
"Sure, you'll see it all on the Drivers' Parade but it's not quite the same, so that first lap on Friday – yeah, I'll be paying attention."
To read on, sign up to F1 Unlocked for free
You'll unlock this article and get access to:
Live leaderboard data
Epic experiences and rewards
Money-can't-buy competitions