'It's better like this' – Norris praises unforgiving nature of Mugello after FP2 crash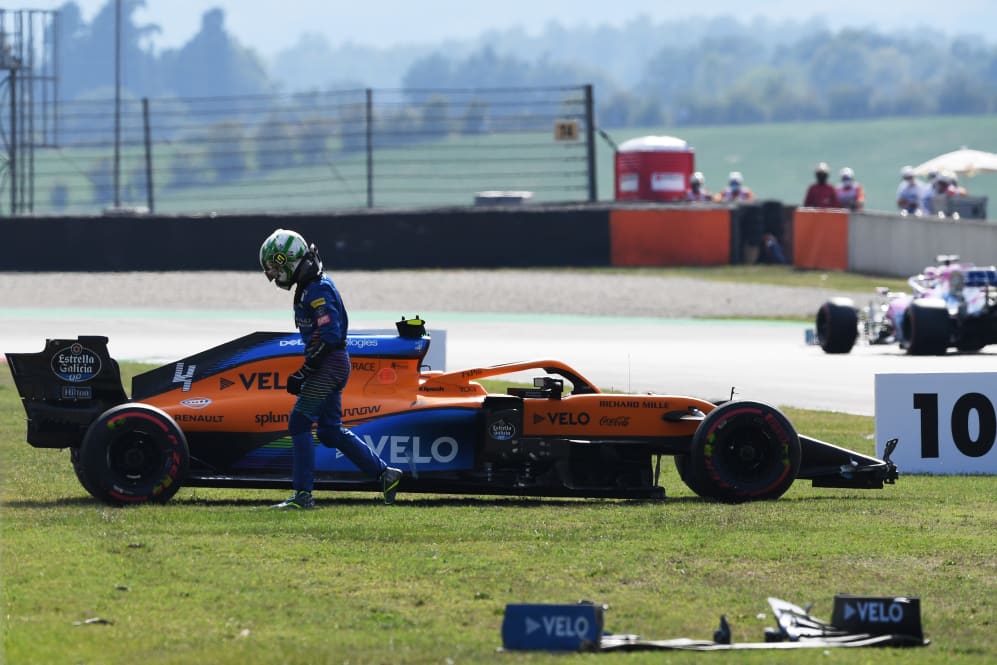 Lando Norris was the first driver of the Tuscan Grand Prix weekend to fall foul of the barriers at Mugello as he spun and crashed at Turn 3 during FP2 – but despite the off ending his day's running, the McLaren driver praised the 'old-school' nature of the circuit.
With no tarmac run-off at the exit of Turn 3, Norris's second practice crash happened as he clipped the gravel and was spun into the awaiting barrier which ripped off his front wing. The session was red flagged as the 20 year old – who was unhurt – climbed out of the car and made his way back to the pits. Afterwards he said he welcomed the "challenging" nature of a track with tight confines.
READ MORE: FP2: Bottas leads Hamilton and Verstappen, as Norris is first into Mugello barriers
"As much as I hate that there was gravel because of ending up and crashing and damaging the car, it's better like this," said Norris. "And I think it's more tricky but its more challenging and I think that's what it should be like. Not ideal, but it's what happens sometimes."
There was no major damage on his car, either, even though the crash itself looked spectacular.
"It felt a lot worse when I was in the car than what it looks like, so I think there's some damage – a bit to the steering and maybe the rear – but nothing major, luckily. I don't think I damaged too much of the floor or wings, apart from the front wing, obviously.
"It's not terrible, it could have been worse, so I'm lucky, but it was a small mistake from my side which was quite costly – [it] cost me all of the high fuel running in P2 but yeah, it is what it is, and we need to try and make up for it tomorrow," he said.
MUST-SEE: Russell turns commentator as he gives fans a guided lap of Mugello over team radio
More concerning for McLaren, who came into Mugello buoyed by Carlos Sainz finishing P2 and Norris P4 at Monza, is their pace compared to midfield rivals Racing Point and Renault. And Norris explained the new-to-F1 Italian track had proved to be much trickier than they first expected.
"We were maybe expecting just to hit or start the weekend a little bit stronger," he said. "I don't think we're bad or were slow but it's just, the car has been quite tricky and we're maybe not as competitive as what we were expecting comparing to some of the other teams.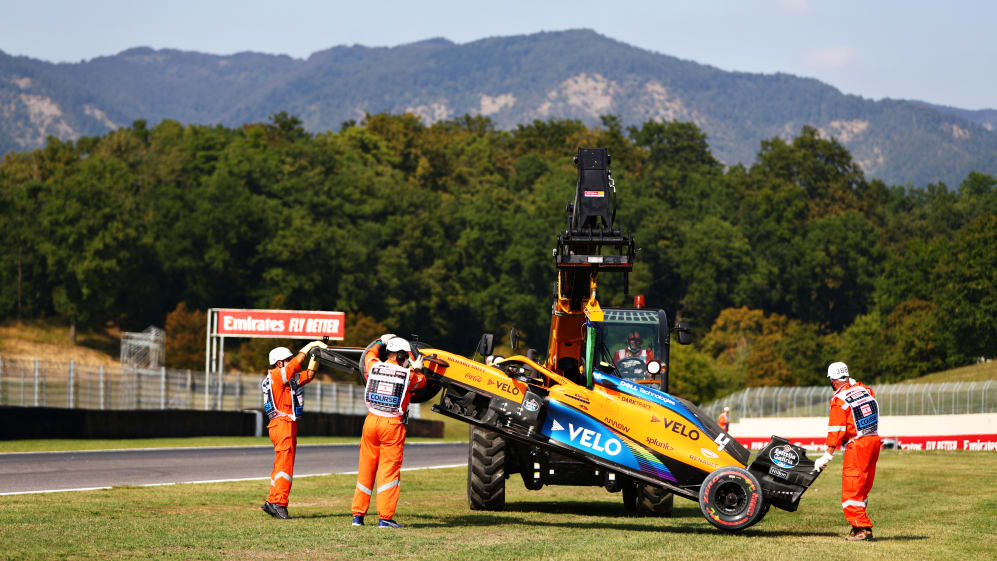 "So we have a bit of work to do. Tomorrow if we do a good job and I put the laps together like I didn't do today then I'm confident we can do a much better job."
Neither McLaren finished in the top 10 on Friday afternoon: Norris was 14th, his team mate Sainz 0.007s faster for P13 in FP2, while the Renaults of Daniel Ricciardo and Esteban Ocon were 5th and 6th respectively, while Sergio Perez was 7th for Racing Point, with his team mate Lance Stroll in 11th.
WATCH: 2020 Tuscan GP FP1 – Norris sings his way through radio check