'It's the thing that people don't see' – Pete Bonnington on how 'rock star' Hamilton keeps improving
Pete 'Bono' Bonnington went from working with seven-time world champion Michael Schumacher at Mercedes to helping Lewis Hamilton to become one himself at the team. And Hamilton's race engineer was full of praise for the way his driver had transformed himself from a "rock star" F1 driver into the sport's most complete performer.
Hamilton famously replaced Schumacher at Mercedes in 2013, making a shock move over to the Silver Arrows from the McLaren team who had supported him since his karting days. And interviewed after Hamilton had secured his seventh drivers' title at the Turkish Grand Prix, Bonnington remembered his and Hamilton's first encounter at Mercedes.
"The first time he came to the factory, that's the first time we met and the first time we started working [together]," said Bonnington. "It felt like he was a rock star walking in. Looking back at the pictures, you just think, 'Wow, this is Lewis'. Michael was such a legend, a great driver to have worked with. And then Lewis comes along and you think, this is the next breed. He's here and he's the rock star – and I'm the one in charge.
READ MORE: Hamilton says he's 'only just getting started' and is motivated to stay in F1
"Back then [in 2013] he wasn't quite as polished as he is now," added Bonnington after Hamilton's Turkish Grand Prix triumph. "Now, today, just wow. Performances like today, it's the strength that he has that just shines through."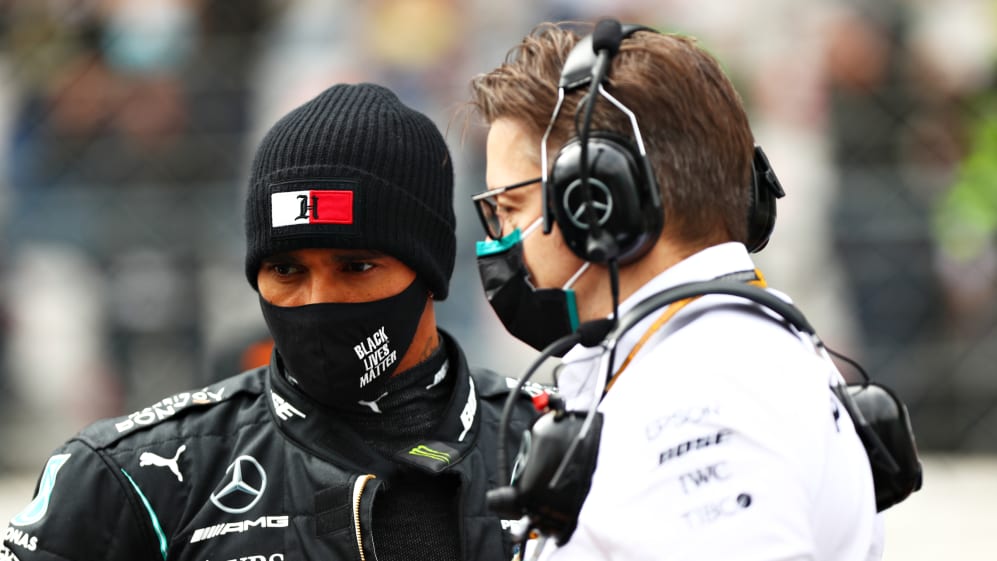 Bonnington has been alongside Hamilton for each of his six drivers' titles with Mercedes, the pair having won every crown since 2014 bar one. But asked at Istanbul Park how title #7 – which saw Hamilton match Schumacher's championship record – compared with the others, Bonnington demurred.
"They're all just super special and, to be honest, they're fantastic," he said. "You can't compare one to the other, they just keep building year on year and improving.
READ MORE: The GOAT? Our writers on whether Hamilton is the greatest, if 2020 is his best season, and more
"Each year, you've got to climb the same mountain, and it's so great to get up here and look at the view," he added. "And this year, with all the current troubles in the world, in this climate, it's been really special to do it, to maintain focus and really make sure that we bring the result in that the team deserves.
"We've kept improving, chipping away, year on year, just trying to find what's the next thing that we can learn, where can we find that next bit of performance. [Lewis] just embraces it, which is really great. It's the thing that people probably don't see but it's just that ability to learn and soak up the next thing."
WATCH: Lewis Hamilton's in-depth interview – 'I don't think I've hit the limit yet'