Feature F1 Unlocked
'It's time to get to work' – Pierre Gasly takes you behind the scenes in his exclusive new F1.com column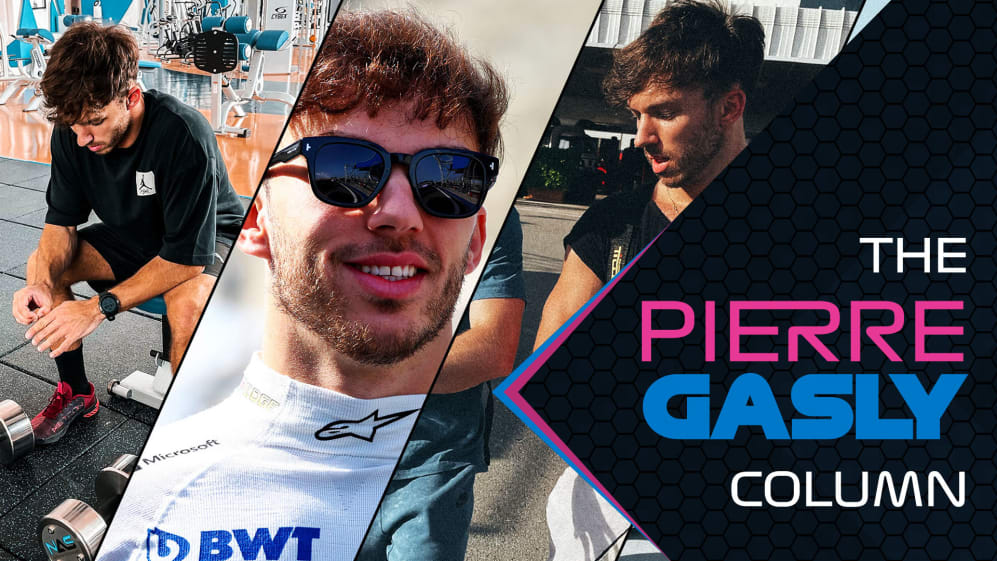 Hey everyone, I'm excited to share with you my first column with Formula 1. Over the course of my first season with Alpine, I want to bring you into my world and give you a peak behind the scenes. I hope you will find It interesting!
New colours
I must say, it was an incredible feeling walking into the paddock last week in Bahrain in my new colours to join my new racing family. Obviously, Red Bull has been my home for a decade and now I find myself walking past their garage and hospitality facilities and into a new environment with Alpine.
READ MORE: 'It's just a matter of time' – Gasly convinced Alpine have what it takes to reach the front of the F1 grid
It did strike me when I was designing my new race helmet that this was a completely blank page, a fresh start with everything in my hands.
I feel right at home here with my new team. The transition has been so smooth - it feels routine already. It was great to visit Enstone for the first time in December just after my first test with the team in Abu Dhabi and since then it's been all about fully immersing myself into new surroundings.
I haven't really thought too much about it being an all-French team with Esteban and I, only that it's a hard-working Formula 1 operation with ambition and a clear mission.
That said, having visited the Manufacture Alpine Dieppe Jean Redele last week – where Alpine road cars are made – it reminded me about the team's roots and what it stands for. What I see at this team and also at the Alpine brand is, above anything else, motivation to get to the top. There are many talented individuals here and I'm determined to play my part in contributing to reaching its objectives.
Oops! Error retrieving Twitter post
Hot to cold to hot again…
My Christmas and New Year was spent with my family and friends in the Alpes and I take great value during this period. Formula 1 is so relentless both outside race weekends and during the Grands Prix itself. Usually, we are either at a race track, at the factory preparing or working on behalf of the team on marketing days, so whenever I have time to see my parents, brothers, nieces, nephews and friends, I take it.
In January, it was time to get down to business and I spent some days in Dubai for warm weather training with my new performance coach, Ben. I then took a little trip to Miami to visit my friends at the NFL team Miami Dolphins and it was a cool experience to take on the 'Cheetah' Tyreek Hill in a couple of challenges. Unfortunately, his speed on foot was far superior to mine, so I think a little revenge challenge for the Miami Grand Prix in May is on!
ANALYSIS: Can the new A523 help Alpine's all-French line-up slash the gap to F1's 'big three' this season?
So after a period in the 30C sun – definitely needed at that time of the year – I travelled with Esteban and Alex Rins, the MotoGP rider, to -20C Sweden for a team filming event led by Castrol, which involved ice driving under the expert guidance of rally legend Petter Solberg and his son Oli.
I've always had an interest in rallying since my dad competed in France when he was younger. Driving on ice, however, was a completely new experience for me and I must say…what an incredible thing to do. The outcome of the filming will be revealed this week but, for now, I will stay focused on Formula 1 and let the Solbergs show how it is truly done!
It feels like the off-season is shorter as time goes by so fast. Early February was spent in Enstone doing simulator work, seat fits and plenty of pre-season media duties before the launch in London where I met one of my sporting heroes, Zinedine Zidane. That was a nice surprise.
It was cool to chat current football news and his desire to coach again. Maybe he can offer some expertise from the pit wall…well, one day perhaps…! My race number – #10 – is inspired by him so to have him as an Alpine ambassador is very special for me.
READ MORE: Football legend Zinedine Zidane to champion equal opportunities in new Alpine ambassador role
While Esteban and I were in Normandy at the Alpine Factory, we visited the first kart track where we met as young kids near Rouen. After getting changed in a small motorhome in the car park, it felt just like the old times as we both walked towards the revving sound of our KZ karts.
Plenty of cool memories came to mind between us about how we all raced together as kids and now, 20 or so years on, we're both Formula 1 drivers, Grand Prix winners and now wearing the same team colours as team-mates. The odds on that when we were eight years old were probably very slim!
Test test, mic check…
I do like the off-season for many reasons but I'm a natural born racer and I want to compete, so when it was time to test the A523 for the first time in Silverstone, it was certainly exciting and it just leaves you with the urge to drive more and more.
The three days in Bahrain just went by in a flash. I would say it was a low-key test for us, which is just what we set out to achieve. We stuck to our plan, we have so many ideas to optimise the car and, right now, I'm feeling ready to race this weekend.
READ MORE: Alpine team boss Szafnauer sets clear target for 2023 and shares update on their '100-race plan'
I have no expectations in my mind, nor do I feel apprehensive about my Alpine debut. I think this team can achieve great things this year and we know it's a long season ahead. All I'm thinking about now is clicking my visor down for qualifying and the race and giving it my all to start the year as best as I can.
Let's go.
Enjoy the race weekend, it's time to get to work.
Pierre

To read on, sign up to F1 Unlocked for free
You'll unlock this article and get access to:
Live leaderboard data
Epic experiences and rewards
Money-can't-buy competitions