Japan preview quotes - Force India, Haas, McLaren, Renault, Mercedes & more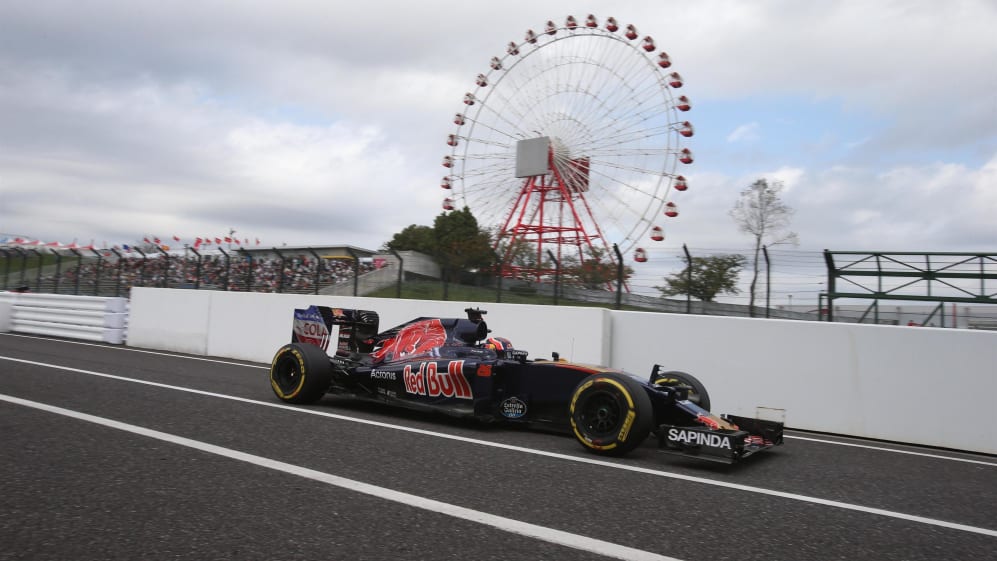 There's no let-up for the teams and drivers as they hop from Sepang to Suzuka for the 2017 Formula 1 Japanese Grand Prix. Those involved look ahead to the event...
Force India
Sergio Perez
"The Japanese Grand Prix is one of my favourite weekends of the season. We receive so much support there: the Japanese fans are amazing and I am really looking forward to meeting all of them. There is a Japanese woman who always dresses up in Mexican colours and she even learned Spanish just to talk to me, it's such a special experience.
"The track itself is amazing. Sector one is the most beautiful sector in the world, with so many quick corners and an incredible flow. It will be impressive to race on it with these high-downforce cars. I think it should be a good weekend for us because we have made some really good progress with the car in the last few races."
Esteban Ocon
"Suzuka is a place I really enjoy. I had my first taste of it last year and it's just so good. The high-speed sections are very special and when you have a car with a lot of grip, like in qualifying, you can find a nice rhythm. There is no real secret to being quick there: you just need to work on the details. You need to get everything perfect to complete a good lap.
"There is so much history in Suzuka. When you arrive there you think about the battles between Senna and Prost all those years ago. We certainly need these sorts of tracks. The fans, as well, are great. Motorsport is massive in Japan and you see it the moment you arrive in the country. Last year, I saw a fan with a cap in the shape of a rear wing with a working DRS. It was really funny and I'm never going to forget it."
Tom McCullough, Chief Race Engineer
"The Japanese Grand Prix is one of the highlights of the year, a classic venue with some of the most enthusiastic fans in the world and a great atmosphere. Suzuka is a challenging circuit that drivers typically enjoy and the 2017 regulation cars should make this track's high-speed corners even quicker. The unique figure-of-eight layout means there's a similar number of left and right-hand corners and most drivers' highlight is the iconic sector one, with a constant change of direction requiring a very well-balanced car. Set-up is biased towards the medium and high-speed corners: effectively, there are only two low-speed corners, the T11 hairpin and the final chicane. It's an old-school track that punishes mistakes and it's a challenge for both drivers and engineers."
Vijay Mallya, Team Principal
"There are many positives to take from our performance in Sepang last weekend. The pace of the car in both qualifying and the race shows that we are still unlocking further performance from the VJM10. It's a good sign for the remaining five events of the year. Suzuka will give us another chance to explore our latest developments on a track that is very technical with big emphasis on aero.
"It's worth mentioning again how impressive Sergio's race was in Malaysia. Despite feeling unwell all weekend, he still managed to deliver one of his best results of the season. Esteban also drove a remarkable race. 53 laps on one set of tyres to score the final point was a big achievement. It's just a shame the luck went against him otherwise he would surely have picked up even more points."
Haas
Romain Grosjean
"It's always difficult to say exactly why [Suzuka is my favourite circuit]. I think it's the flow, the corners, the high-speed nature of the track. There's a risk, as well, with all the gravel and the narrow parts of the circuit. Overall though, it's not one thing, and sometimes you don't know why you like something, you just do.
"It's one of those tracks where you need quite a lot of downforce and a really good car in the high-speed corners. There are some important low-speed ones, as well. It's about getting the right confidence in being able to push to the limit in those tricky sector-one turns. It's not an easy track to set up the car, but definitely a really good one to be on.
"[Beyond the race track] it's a pretty crazy atmosphere from Thursday onward. All the grandstands are full. After the race, they're still there watching the replays of the grand prix on the big screens. They always have really cool fashions on display, with some crazy accessories. They love Formula One and they're very passionate. It's a very electric atmosphere. It's great to see that passion and so many people cheering for teams like us.
"When we speak about Japan, everyone brings up sushi first. There's much more to the country than just that. There's some great meat, great fish. The techniques there are very different than French gastronomy. It's very delicate. I love it."
Kevin Magnussen
"It's just a great circuit. It's extremely fast, and you have the section in sector one with all the esses – that feels amazing going through there in a Formula One car. You have the fastest corner in the world, as well in 130R. It's a real driver's track with high-speed corners where you need to really push the car. It's a great atmosphere there. The Japanese fans are amazing. They really get into it."
Guenther Steiner, team principal
"You need to be a brave man around Suzuka. You're at high speed and when you go off, sometimes it's not a soft landing. You need to be brave, but you also need to be very technical to set the car up. Suzuka is definitely a track that tests driver skill."
McLaren
Fernando Alonso
"Suzuka is definitely one of my favourite tracks on the calendar, and along with a lot of the other drivers I always look forward to racing in Japan every year. It's one of the classics and its configuration is completely unique. It has a bit of everything – it's demanding, fast, and a big challenge for a driver and for the engineers, so it's the perfect racer's circuit.
"It's an important race for us given our connections with Japan, and for me personally it's a special place. I've always found Japanese culture fascinating and the incredible support from the fans make this race weekend one of the most exciting and crazy of the season. I always try to make the most of our time there, make a couple of trips to the must-see places in Tokyo and really get a feel for this incredible location.
"I've had a couple of difficult races recently, so I'm looking forward to getting back on track and working with my engineers to turn our fortunes around. I feel that we've definitely had the pace there in the car – and Stoffel has been able to demonstrate what we're capable of – but bad luck and struggles in traffic have meant we haven't been able to score the points we'd hoped for on my side. Both of us will be pushing hard for the Japanese contingent of our team, our partners and of course our fans, and I hope we can finally show the progress we're making with our car."
Stoffel Vandoorne
"After two really positive races, I'm really looking forward to heading back to Japan. It's one of my favourite countries and I always enjoy spending time there. The culture, food and people make it really special, and for a long time I've been looking forward to experiencing the Suzuka circuit in a Formula 1 car for the first time.
"For me, Singapore and Malaysia were a real boost, and we were really able to get on top of every session and maximise what we had available in our package. We know there has been potential all season, but for one reason or another we weren't able to show it – so having two strong results back-to-back has been really encouraging and I'm keen to see how we will do in Japan.
"It's a much tougher circuit for our car than Sepang, and requires a lot more outright power. The advantage is that I won't be coming to this circuit fresh this weekend, as I've tested and raced at Suzuka a few times before – the last time I was there I won in Super Formula. I'm working very hard with my engineers and we'll be putting in the same level of preparation for this race, so I hope we can keep pushing forward and have another strong weekend."
Eric Boullier, Racing Director
"Everyone at McLaren Honda is excited to return to Suzuka for the Japanese Grand Prix, in a country that has effectively become our second home. Suzuka is one of the most iconic tracks on the entire calendar, and of course an important venue for us and our partner Honda. Naturally, our aim is to do everything we can to support both them and our amazing fans there, who are among the most passionate of any country we visit all over the world.
"After some encouraging signs in the past couple of races, we would like to continue the progress we are making and, particularly at this special race for the whole team, enjoy a strong result on both sides of the garage. Our spirit is strong, and we're working hard together to maximise every race weekend in an effort to make a dent on the constructors' championship before the end of the year.
"We know Suzuka won't be the easiest track on which to shine, but every team up and down the paddock loves it for its formidable twists and turns, and its unique set of challenges that make it all the more rewarding to get right. We're all aware of its characteristically power-dependent nature, but there are technical sections, such as the flow of corners in Sector One, where our package should be better able to show it strengths, and it'll be good to see just how fast these 2017 cars go on this track."
Yusuke Hasegawa, Honda R&D Co. Ltd Head of F1 Project & Executive Chief Engineer
"After having another positive weekend in Malaysia, we have built up good momentum heading to our home grand prix in Japan.
"We always enjoy going back to our home circuit and being waited for by warm and cheerful Japanese fans. The atmosphere encourages us a lot and we hope we can give them a great race.
"Many drivers mention Suzuka as one of their favourite circuits, and I think this is because it has both technical and power-hungry features. For engineers, it's a very exciting track as we are able to show our ability in terms of finding the perfect set-up, although we also find it very challenging. The balance of the car will be very important, so we need to make sure we set up the drivability in accordance with McLaren's chassis requirements.
"It will be our last Japanese Grand Prix as McLaren Honda, therefore it is a special race for the team. I myself have strong feelings for this race and I'm hoping to make it as memorable as possible for both the team and fans."
Renault
Nico Hulkenberg
"Japan is very special. The fans are amazing; they are among the most enthusiastic out of all the places we visit. They are super supportive; day, night, whatever the weather. It's certainly one of the race weekends I look forward to. I have a fairly decent and consistent record around Suzuka, so I'm looking forward to getting out there and hopefully continuing the run.
"I love coming to Japan as Suzuka is one of the best tracks to drive on the calendar. It has a good flow, it's very quick but a nice feeling. You can be quite aggressive in places. It's quite up and down, which you don't really see on TV. 130R is flat out, a big corner and a lot of fun. This year's cars will be a cool sight to see there! It's a great pleasure to nail these corners."
Jolyon Palmer
"It's an old-school circuit, highly unique especially the first sector which is fast and flowing with quick changes of direction. The middle sector is cool with the two Degners, which are quick and crucial to get right. 130R is mega and the chicane features a good overtaking spot. It's three challenging, but enjoyable, sectors and I went fairly well there last year, so looking forward to it.
"The fans embrace Formula 1 like no other country and Suzuka is always packed out when F1 is in town. The fans are so passionate which makes it a special weekend. There's crazy merchandise and crazy hats there and everyone really shows their support. That's what we love to see! The history of Formula 1 and Japan is well-known. As for other aspects, I'm quite partial to sushi and teriyaki so I'll be eating well when I'm there."
Bob Bell, Technical Director
"It's a challenging track and a Grand Prix which always produces exciting racing. The circuit is a mix of low and high-speed corners and frequent changes of direction such as the S bends. It should suit the R.S.17; speed-wise it's a bit like Spa and Silverstone where we went well. We head to Japan feeling hungry and positive. We want to get over the disappointment of Sepang as rapidly as possible.
"Japan is a venue where you never quite know what you're likely to get with the weather. We have seen numerous wet races in Suzuka across the years and even some more extreme weather too. However, if we look at our recent wet weather performance, we can see that we struggled a bit in Monza on the Intermediates, but we weren't bad in the Wets in Singapore. We're making progress and learning how to handle different conditions.
"In summation, we don't go to Japan with many major concerns. We need to keep working on our reliability as we have the pace in the car to meet our objectives, it's more a case of getting the car across the line with both drivers."
Cyril Abiteboul, Renault Sport Racing Managing Director
"Suzuka is one of the most iconic and unique circuits in Formula 1, and we love racing there. Japan is the final race of the East Asian triple-header before the last stretch.
"Suzuka is a favourite for the drivers due to the unique challenge it offers and its fast bends. It's a well-balanced track, not too power sensitive, so we think we can be competitive there. Back-to-back races are always challenging, but it means we head to Japan determined to return to the points.
"We will have some aero upgrades in Suzuka which we hope will bring performance and so points. They are essential if we are to reach our end of season objective of fifth in the constructors' championship."
Mercedes
Toto Wolff, Head of Mercedes-Benz Motorsport
"In sport, it's in the tough times that you really see the strength of a team. Our championships in the past three years have come because we have never taken success for granted and, even in the good times, we were able to put our finger in the wound and work on our weaknesses. After Malaysia, we have found ourselves doing the same: analysing our problems, beginning to understand their causes and working on solutions.
"However, this is not the work of a moment. While we work to improve in those areas, we must not forget the many strengths we have shown this season. Our car has taken more pole positions and race wins than any other and we lead both championships - thanks both to the strength of our own performances and, in part, the misfortune of our rivals. But every point counts, no matter how they come to us.
"Lewis has made the most of every opportunity in recent weeks; he has been in fantastic form, particularly since the summer break, and is driving with a perfect balance of aggression right now. It has been a more challenging picture for Valtteri and it is a priority for us to give him the car he needs to perform - and to help him extract everything from it. It is not an easy time right now but this is the time for his strength of character, work ethic and natural talent to shine through.
"The next challenge comes in the form of Suzuka, a circuit which will ask very different questions of our car than Sepang. In the last years, we have performed very strongly there. But recent weeks have reminded us that historic form counts for little with these 2017 cars and tyres. It is a circuit which rewards Grand Prix cars and drivers performing at their very best - and we expect a very close fight between ourselves, Ferrari and Red Bull.
"As a team, our targets for the final quarter of the season are very clear. It is entirely in our hands to make sure we achieve them."
Williams
Felipe Massa
"Suzuka is definitely one of the best tracks in the world and one where I really love racing. I think the car we have this year will be amazing there with the high downforce and the high-speed corners, so I am really looking forward to going there. Another great thing about being in Japan is the fans, who are some of the best we come across during the year."
Lance Stroll
"I have heard so many great things about this track. All the drivers seem to love it and I am told the Japanese fans are also great. I am especially looking forward to Suzuka and spending a lot of time out in Asia. There have been some classic races there and let's hope this year is the same. I am a big fan of the food and I especially love sushi and sashimi."
Paddy Lowe, Chief Technical Officer
"Japan is a fascinating country with some of the most enthusiastic fans that we see in the whole championship. Their commitment to the sport, the teams and the drivers that they follow is unparalleled, so we all enjoy the appreciation and interest that we get at this race. The circuit itself is one of the greatest race tracks on earth in my opinion. It has a long and significant history as one of the Formula One classics. It has a unique figure of eight layout with the track going underneath itself half way around. The track requires power, downforce and above all else, great skill from the drivers. It is one of the most difficult circuits for a driver to learn and master, especially the famous sequence of "esses" in sector one. This will play to Felipe's experience but we look forward to seeing how Lance faces the challenge of Suzuka for the first time in his F1 career."
Pirelli
Mario Isola, Head of Car Racing
"The Japanese Grand Prix continues the trend we've seen so far this year of bringing softer, and therefore faster, tyres to several Grands Prix compared to last season. In the case of Suzuka, this is particularly pertinent as it's one of the most challenging tracks for tyres of the entire year, with a very big emphasis on lateral loads that can cause thermal degradation if the tyres are not properly managed. This is also one of the reasons why the drivers enjoy Suzuka so much; with the cars travelling a lot faster through the corners this year under the new regulations with wider tyres, it's very possible that we will see another lap record fall and some truly impressive maximum g-force loadings."
Toro Rosso
Pierre Gasly
"As I am racing in Japan this year, I first came to Suzuka this winter, for some Super Formula series testing. It wasn't much, just two half days. Then I had the first round of the season here. It's a really impressive circuit, with some incredible high speed parts and the fantastic first sector. It is now one of my favourite tracks, even though it also has a sad place in my heart because of what happened to Jules (Bianchi) in 2014. I have enjoyed my time in Japan. In fact, I find myself liking it more and more, especially because of their culture and the way the people are, so polite and how they treat one another. It's nice and yet so different to anything I have experienced before. I have enjoyed discovering it and now I look forward to my F1 race weekend there."
Carlos Sainz
"Before racing in F1 I had never travelled to Japan. After my first race there in 2015, this race weekend has become one of my favourites! The reasons are many: I enjoy the track layout, the fans are absolutely amazing, passionate and very polite and the Japanese culture is just so different and attractive. The presents I get from Japanese fans are probably the most special ones I receive throughout the whole year. You can see they really think of ways to surprise you… I always receive a Spanish flag signed by the fans and they also wish me luck in a sort of Japa-Spanish language! They always tell me to push a lot and to go 'banzai', which is something I like to see, it motivates me! Other presents I always receive there are typical Japanese food and chocolates. Sushi is one of my favourite things to eat. Luckily, nowadays you can eat it nearly everywhere, but I have to say that the sushi you find in Japan is the best. There are a couple of sushi bars close to the circuit that I always go to, but something else I really like to eat when in Suzuka is Kobe beef – it has such a lovely flavour and just melts in your mouth, it's amazing!"
Red Bull
Daniel Ricciardo
"[From Malaysia] we move on to Suzuka with a quick stop in Tokyo. Tokyo is so unique and I love all the local food, I actually have a table booked at a sushi restaurant that I have wanted to visit since last year.
"I have always loved Suzuka circuit, it's tough for a driver and a proper racer's track. The whole first sector is great fun and there is so much time to be gained there with the right set-up. Saying that, I think the last chicane is the most difficult corner on the track because you have to brake from such high speeds and really attack the car on the kerbs.
"I can't talk about Japan without mentioning the fans, we always get awesome gifts and you can see them in the grandstands dressed up in fully branded race suits and helmets which is pretty special to see."
Max Verstappen
"After Malaysia we will spend some time in Tokyo before heading to Suzuka. Japan is full of new experiences and it will be great to spend a couple of days exploring before the race weekend starts. Some people say the Japanese fans are crazy, but I think they are just very passionate about Formula 1, which for me is very nice to see.
"Suzuka will always be a special place for me because I made my Formula 1 debut there during Friday practice and it's a proper old-school track. My favourite corner is the fast Esses in the first sector, but it's also the most difficult section of the track and you really have to concentrate on getting the set-up right."