Kubica: Williams need to make car more driveable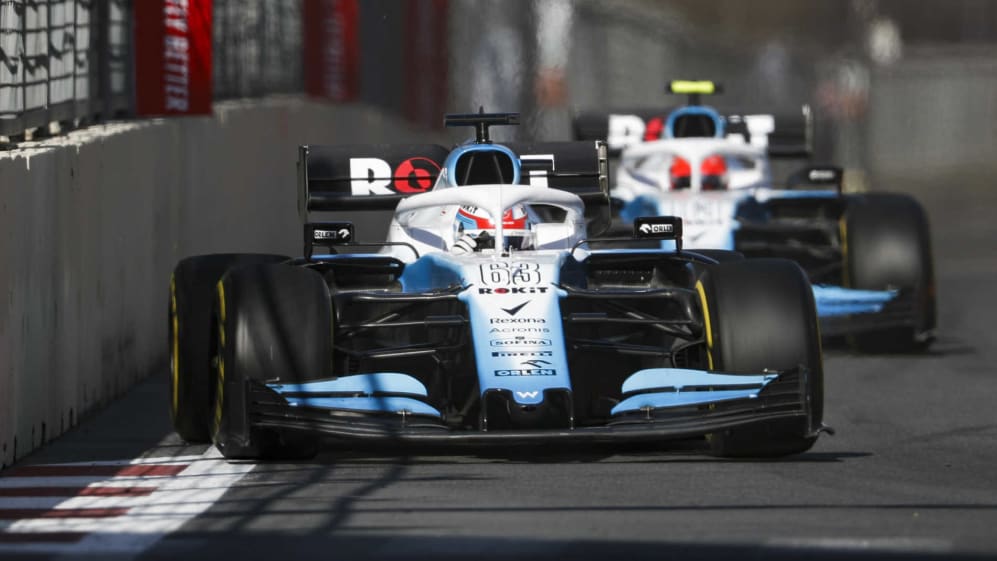 A crash during qualifying was the first major error of his Formula 1 comeback, and Robert Kubica admits he had an uncomfortable weekend racing in Baku.
Kubica turned in too early at Turn 8 - the start of the tight section around the Old City - during Q1 on Saturday and hit the inside wall, launching him to the outside and into the barrier. The damage to his car was significant, and although Williams repaired it overnight, the team opted for a pit-lane start to make further set-up changes.
Despite that, Kubica says it only took one corner for him to be alerted to how tough his race would be, and concedes it wasn't a particularly enjoyable run to the flag, as he came home 16th and last, two laps down on the leaders.
"It wasn't an easy race," Kubica said. "I made it more complicated by putting the car in the wall. Thanks to the guys, they did a very good job, I was able to start the race. We chose to start from the pit lane for technical reasons, that was a choice.
"I was nearly in the wall already at the first braking point, it was a good warning. Unfortunately I suffered all weekend with some issues under braking, the pedal of the car was pulling to one side, I got this big warning which was kind of wake up and try to bring the car home.
"It wasn't easy as I was following some cars in the opening laps it was not giving you any confidence at all, and with walls next to you and with the poor grip we are having it's really uncomfortable to drive. I stayed positive in the end and we managed to finish the race. It was a long race but thanks to all the team we were able to do it."
Reflecting on his qualifying error, Kubica says he was trying to take too many risks when he should have been more cautious with a difficult car, but says the main problems that need resolving are with the FW42 rather than his driving.
"Of course at that corner [in the race] I was a bit more careful! I probably just forgot about some issues and tried to drive like I should, but I paid a high price. I don't know even how it was possible I turned in so early – well I know, but I couldn't explain myself when I saw the car turning in so early.
"That's how it is, we have to make sure we at least make the car a bit more driveable and with less problems, which is fundamental, especially on this kind of track."
Team mate George Russell came home just ahead of Kubica in 15th and was similarly relieved to finish the race weekend in Baku, but he's more optimistic about future gains for Williams as racing returns to Europe with the Spanish Grand Prix in two weeks' time.
"It was as good as could be really," Russell said. "We knew coming into this weekend that it would probably be the hardest weekend of the year for us. Put that on top of myself being really ill since the start of last week, and then Friday with the manhole cover ruining the whole of Friday and the guys having to work all day and through the night to get the car fixed, I was quite relieved for the weekend to be over. Eyes on Barcelona.
"It's definitely going to get easier from now on in. I've got confidence that we are going to make progress. The team is working extremely hard, we've got some quite exciting things sort of in the pipeline. How close that will bring us to the pack we don't know, but like I said these weekends are definitely making us stronger and I do believe that at some point we will be able to (show more)."