Kvyat - first race stint in Abu Dhabi was the 'best of my life'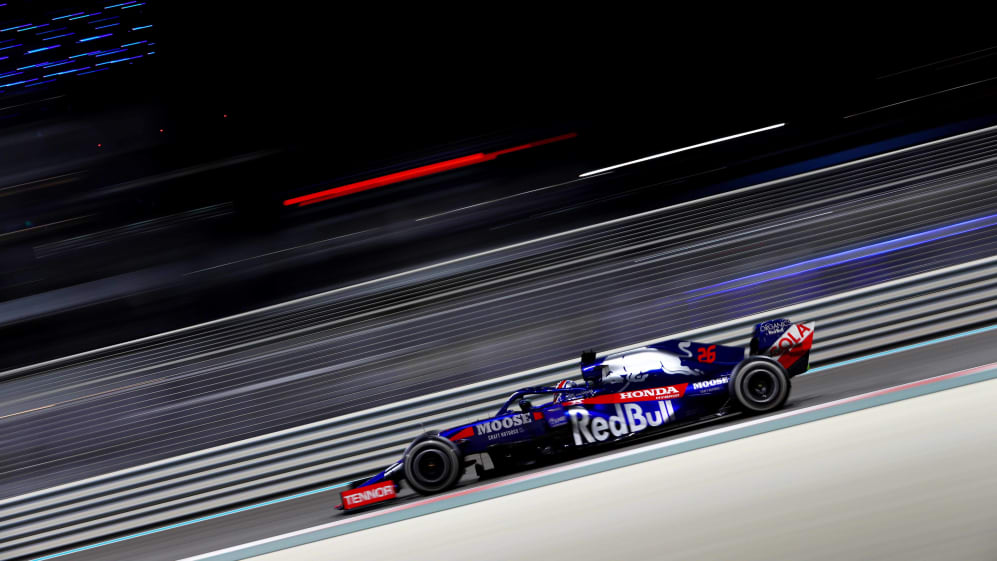 Toro Rosso's Daniil Kvyat added to his personal 2019 highlights reel by finishing ninth in Sunday's Abu Dhabi Grand Prix from 13th on the grid, after he completed one of the "best stints" of his life – a mega 39-lap effort on hard tyres to start the race.
Kvyat ran the longest first stint of any driver at Yas Marina, and despite dropping three places to 16th on the opening lap, he steadily rose to P7 by the time he pitted on lap 40. Then he switched to medium tyres, emerging 10th before swiping P9 from Renault's Nico Hulkenberg a few laps later.
READ MORE: The Winners and Losers of the Abu Dhabi Grand Prix
"Yeah, it was one of the best stints of my life to be honest, it was like [qualifying], every lap was really quick and consistent and I'm really happy to sign off the year with a nearly perfect race.
It ended a mixed run of races for Kvyat, marred by post-race penalties that cost him points in Mexico – thanks to a clash with Hulkenberg – and the following United States Grand Prix where he collided with Sergio Perez late on.
Kvyat continued: "Lately, a couple of races, it wasn't coming towards me, but now, finally, to sum it up, it's a race I wanted to close this year with."
The Russian therefore ended 2019 on 37 points in P13, although his team mate Pierre Gasly missed out on P6 in the standings to McLaren's Carlos Sainz after a first-lap clash with Racing Point's Lance Stroll and Perez.
"I don't have much to say," was Gasly's summary. "I didn't see the footage exactly… but it felt like Lance hit me in Turn 1, pushed me back into Checo and broke the front wing. And then one lap down, praying for the safety car the whole race so, yeah, it was boring.
"There are a lot of things to take from the second part of the season. I think I'm still a bit too upset about the race to have an objective and deep thought about it, but clearly over the winter we'll look back at what happened because it's been pretty intense…"
On 85 points and sixth in the table, 2019 was Toro Rosso's best season ever – and best finish in the championship since 2008.