WATCH: The dramatic last-lap pass that gave Sainz sixth in the championship
The last lap of the 2019 Abu Dhabi Grand Prix, and Carlos Sainz had just 10 corners in front of him to go for a move that would give him sixth place in the drivers' standings. Yet despite those high stakes, the McLaren driver got the job done, getting past Nico Hulkenberg into Turn 11 at Yas Marina to claim 10th place in the race and, with it, that coveted P6 in the standings.
Sainz had gone into the weekend level on 95 points with Toro Rosso's Pierre Gasly, with Red Bull's Alex Albon 11 points further back. Twenty-odd laps from the end, though, and things weren't looking good for the Spaniard's P6 prospects, as fresher-tyred rivals seemed set to demote him out of the points – which, with Gasly also failing to score, would have given sixth place in the standings to the Frenchman, thanks to him finishing P2 to Sainz's P3 at the last race in Brazil.
READ MORE: Hamilton rounds off title-winning season with dominant Abu Dhabi win
But a brave late call from Sainz to pit for a second time on Lap 40 of 55 paid dividends, with the McLaren driver able to overhaul and then fight his way past Nico Hulkenberg on the last lap of the race to claim a point for P10, as Gasly came home 18th.
The move on Nico was super-exciting and there was a lot of adrenaline
"I wanted that P6 more than anything else and I had to do it in Turn 11 of the last lap," said a still-buzzing Sainz after the race. "The last stop… was obviously a bit risky. I knew that I was out of the points because [Sergio] Perez and [Daniil] Kvyat were going to go through us on a much fresher tyre.
"I was P9, so I said [if we don't pit] we're P11, we're going nowhere. I was behind Nico the whole race and I said 'if I pit now and I have 21 seconds to catch back up on a medium, I might pass him, because on the same tyres, I'm not going to be able to do it'.
"So I said [to McLaren] we need to risk it, go for the medium tyre or something. I put the medium tyre 15 laps from the end and started catching Nico and in the last lap, I just made it in Turn 11.
"It was all down to that last lap, the last overtaking opportunity for me to go for that move. It was super-exciting and there was a lot of adrenaline."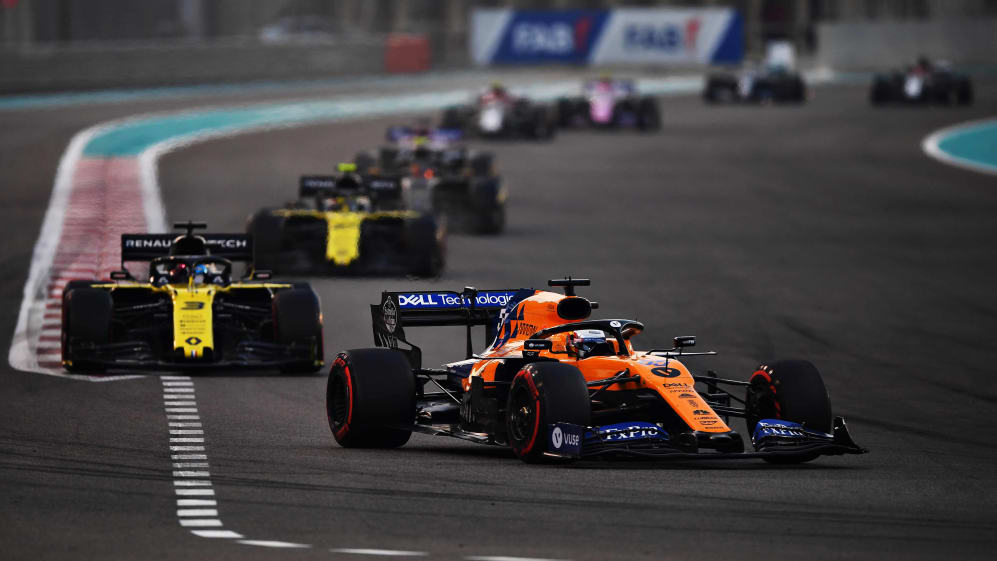 Finishing the season in sixth, ahead of two drivers, in Gasly and Albon, who'd both had a chance to race faster Red Bulls this season, was a big scalp for Sainz – and the Spaniard was clear that his first season with McLaren had been the best of his F1 career so far.
"We prepared massively for this season," said Sainz. "We put together, obviously, my strongest season of my Formula 1 career and the strongest season of McLaren to date in the last five, six years and it's just great news to see that we can do this.
"This weekend, it was a lot of pressure, because we wanted that P6 and we put ourselves under the pressure of going for it. And it worked well."
The final standings, then, give Sainz sixth, ahead of Gasly in seventh, while Albon – who finished the race in Abu Dhabi in P6 – takes eighth in his rookie year.