Kvyat delighted with 'absolutely perfect' race performance in Canada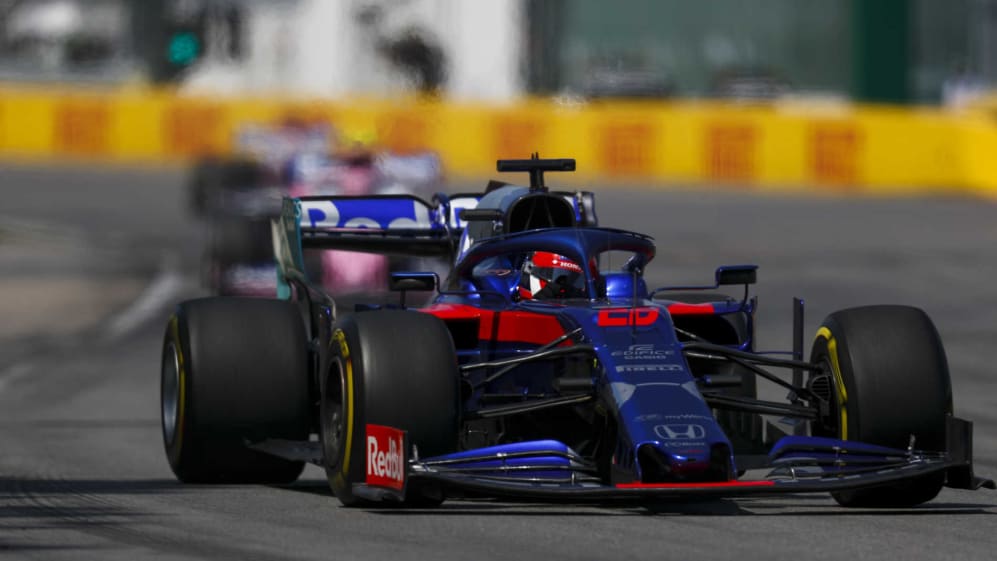 At a circuit not expected to suit Toro Rosso's strengths, Daniil Kvyat saw his solitary point for 10th place as the perfect result in Sunday's Canadian Grand Prix.
While the team's Honda power unit has made clear strides forward this season, Toro Rosso's weekend looked stacked against them from the outset when Mercedes announced that they planned to bring their first power unit upgrade of 2019 to the Circuit Gilles-Villeneuve – of benefit to both Racing Point and Williams – while all four Renault-powered teams got their cars into Q3 on Saturday.
But a strong race from Kvyat saw him pass Carlos Sainz's McLaren for 10th place within the final five laps for his third successive points finish – and the Russian was full of praise for his team after the performance.
WATCH: Sainz loses two positions in two corners to Stroll and Kvyat
"I think it was the absolute maximum in the car, there was nothing left," Kvyat said. "An absolutely perfect day from our side, we did squeeze everything out of it and the one point is a good reward for overtaking Carlos in the final laps.
"I could see he was struggling with tyres. I knew that he pitted very early, so I knew that our tyres were perhaps in a better shape, so I wanted to use it to our advantage."
Kvyat cited Montreal as a good test of Honda's power unit performance, and was pleasantly surprised by how competitive it was compared to the other manufacturers, even if he still sees a gap between engines.
"It was good. We knew we were lacking a little bit of power, a little bit of straight-line speed, compared to maybe McLaren and Racing Point. We would like to have it in the future, but the guys are aware of it. It's not a huge deficit, but it can be crucial on tracks like this.
"However on the other tracks Honda was doing really well. And honestly it is very reliable, it was giving us a good race pace, consistent, no issues, and we're pretty happy. But the guys are working hard, they know they can improve and they will work hard."
In contrast to Kvyat's result, however, team mate Alexander Albon's race was hampered from the first corner, when he suffered contact between Sergio Perez and Antonio Giovinazzi that broke his front wing and forced an immediate pit stop.
"I had a good initial launch, but was a bit too safe into Turn 1, that's my view on it," Albon said. "Sergio had all the right to go on the inside and obviously Antonio didn't see both of us. It's just one of those things, nobody's at fault I don't think, just three into one the guy in the middle is normally the one that has to try and avoid it.
"I was a bit stuck in that situation. It was a shame because it compromised the race really. We had to pit on Lap 1 and to be honest I struggled with pace after that. I need to have a sit down and find out why, but it wasn't too easy this weekend for us."
The Thai driver went on to retire his car 59 laps into the race. Nevertheless, Kvyat's single point was enough to lift Toro Rosso into seventh place above Haas in the constructors' standings.