Late grid penalties for Vandoorne, Perez and Grosjean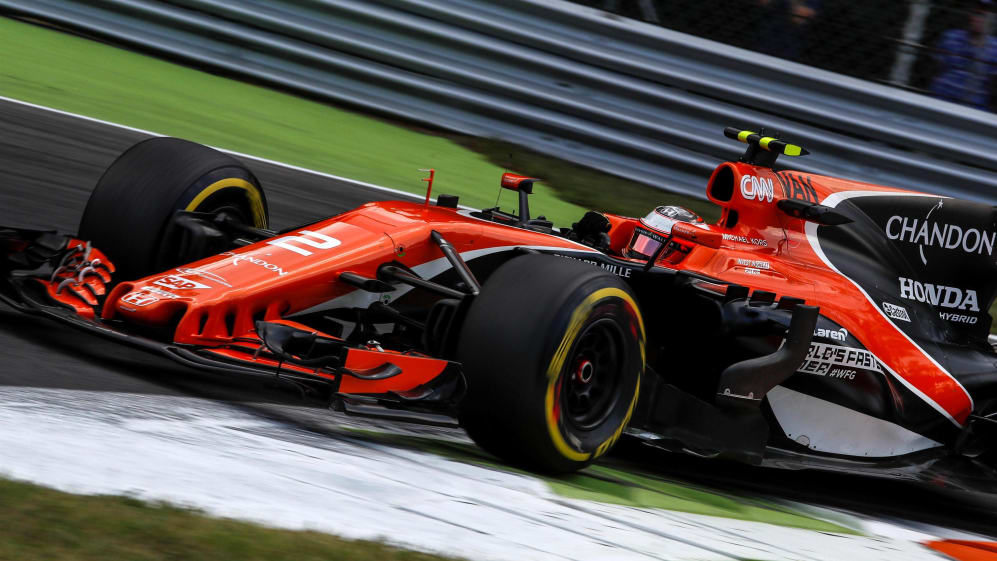 Stoffel Vandoorne, Sergio Perez and Romain Grosjean have seen their names added to the grid penalty list in Monza after taking on new car components ahead of Sunday's Italian Grand Prix.
Vandoorne, who qualified 10th, will lose 25 places thanks to McLaren replacing multiple elements on his Honda power unit, while Perez – 11th in qualifying – gets a five-place drop following an unscheduled gearbox change on his Force India.
Haas's Romain Grosjean also has a five-place penalty for a new gearbox after his high-speed crash in Q1. The Frenchman will start the race last on the grid, having failed to set a qualifying time.
The final grid thus lines up:
Hamilton, 2. Stroll; 3. Ocon, 4. Bottas; 5. Raikkonen, 6. Vettel; 7. Massa, 8. Kvyat; 9. Magnussen, 10. Perez; 11. Ericsson, 12. Wehrlein; 13. Verstappen, 14. Hulkenberg; 15. Sainz, 16. Ricciardo; 17. Palmer, 18. Vandoorne; 19. Alonso, 20. Grosjean.
The full list of penalties, listed by original qualifying position, is:
Max Verstappen, Red Bull – 20 places (additional power unit elements)
Daniel Ricciardo, Red Bull – 25 places (additional power unit elements, gearbox change)
Stoffel Vandoorne, McLaren – 25 places (additional power unit elements)
Sergio Perez, Force India – 5 places (gearbox change)
Nico Hulkenberg, Renault – 10 places (additional power unit elements)
Fernando Alonso, McLaren – 35 places (additional power unit elements)
Carlos Sainz, Toro Rosso – 10 places (additional power unit elements)
Jolyon Palmer, Renault – 15 places (additional power unit elements) NC. Romain Grosjean, Haas – 5 places (gearbox change)