Latifi frustrated that Williams weaknesses prevented late challenge for points in Imola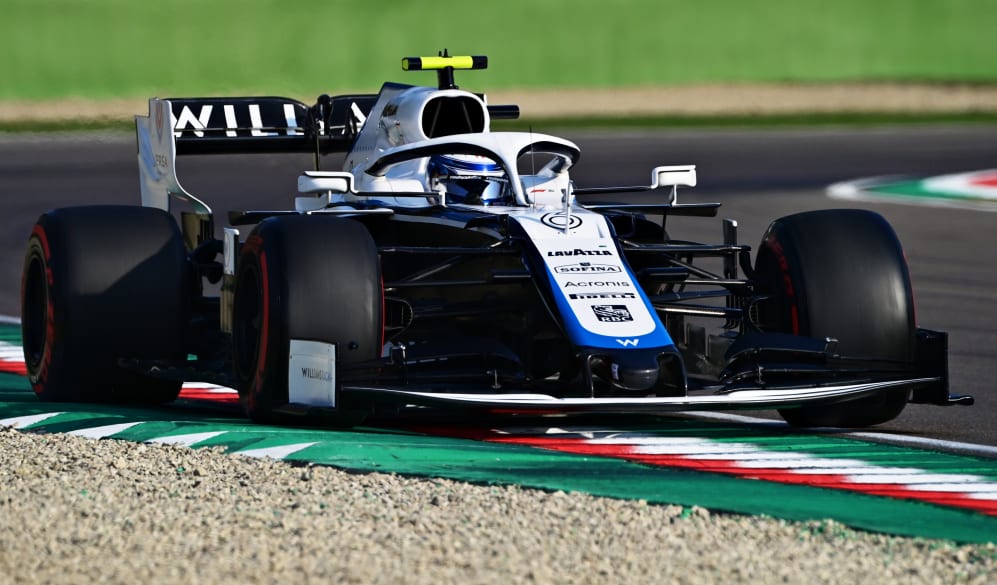 While George Russell's crash received a lot of attention, his Williams team mate Nicholas Latifi still nearly salvaged a point at Imola after a strong run of his own.
Russell was running tenth behind the Safety Car when he crashed trying to warm his tyres, denying him a chance of a first point in Formula 1. Latifi had been just 0.2s off Russell in qualifying and was running 13th - with the two Alfa Romeos separating the pair - before the race interruption when his team mate crashed, and he rose to 11th after Alex Albon's spin but crossed the line 0.7s behind Antonio Giovinazzi.
READ MORE: Hamilton, Grosjean and other F1 racers rush to console Russell after Imola mistake
"Obviously it's disappointing when you end up that close to the points but I think in general it was a strong race," Latifi said. "The opening laps were quite difficult to manage and then the race settled down, I managed to extend the stint quite a lot and it put me in quite a good position to capitalise at the end.
"For sure when you get the last laps Safety Car restart you know things are going to be kicking off, obviously a few cars went off in front, it puts you closer, but ultimately I think we just weren't quick in the right places on the track.
The car has inherent weaknesses and we were weak in the places where you needed to be quick
"The car has inherent weaknesses and we were weak in the places where you needed to be quick to get the DRS and even with the tyre advantage I had on the guys in front I couldn't mount the challenge. It was definitely frustrating I didn't have quite enough pace but overall pleased with the race itself, especially after what was probably my weakest race in Portugal."
Explaining what was limiting him so much, Latifi says Williams particularly struggled under braking in the final sector, following his own brake-by-wire problems that he suffered during practice.
"It's definitely a tricky track to [overtake]. It's narrow as well. These modern F1 cars are so wide, they take up a lot of the track, so one thing that helps a lot is if you can take many different lines into the corners, use the track to get some clean air. We saw it in Portimao, a lot of people thought it wasn't going to be good for racing but people took different lines for strategic driving.
"This track [Imola] is very difficult to do so, obviously very fast in places, very narrow, then combine that with our weaknesses, I really struggled at the chicane and at the last corner, in the braking zone, which is a weakness of the car.
"It was difficult to try and stay close, I almost went off track a couple of times in the last corner trying to get that last tenth for DRS but it just wasn't to be."
Latifi could still see positives despite his third 11th-place finish this year, with his qualifying performance - 0.165s off a spot in Q2 - a particular point of encouragement as he feels he's closing the gap to Russell.
READ MORE: Russell's Safety Car crash looked silly, but it's easier to do than you might think – trust me
"Really with the exception of last weekend the race pace has always been there. But the race start is so difficult to overtake and I think that's really the one area that's consistently put George in a much better position to try and score points is he starts further up, and the pace of the car in the race is pretty decent so you can at least maintain it if we get ahead of the Haas and Alfa, eventually able to pick up the scraps of the other cars if they suffer misfortune.
"From my side the biggest area is trying to put everything together. I was really just on the wrong side of a tenth this weekend, but considering how practice went - it was the one practice you didn't want to have any mechanical issues and we had two BBW issues on my quali simulation. So I didn't get any representative running and probably only got half an hour out of an hour and a half.
"So I had no references from a driving point of view, no idea where to go with the car direction - it was a little bit split across the cars to try and get a comparison - so considering all that and I only missed Q2 by a tenth and a half and was just under two tenths off George, I was pretty pleased with that.
"But it underlines I just need to make some little steps in qualifying, put it together consistently, and that'll make big differences in the race from a starting position and being able to maintain that."