Latifi laments pair of crashes in 'disappointing and frustrating' Saudi weekend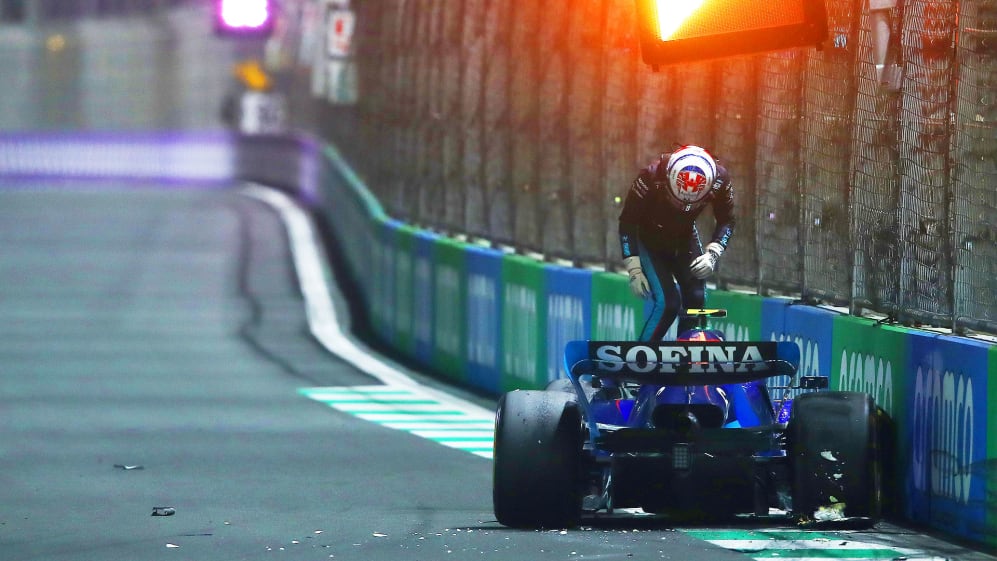 Williams driver Nicholas Latifi has offered "huge apologies" to his team after a race weekend at the Saudi Arabian Grand Prix that saw the third-year driver crash twice – once in qualifying and once in the race.
By his own admission, Latifi has endured a "frustrating" start to the 2022 season, finishing 16th to new team mate Alex Albon's P13 in Bahrain, before his crash-filled weekend in Jeddah. And the Canadian revealed after the Saudi Arabian Grand Prix that he was generally struggling with the balance of the Williams FW44, which he said had contributed to his Lap 15 shunt.
READ MORE: 6 Winners and 5 Losers from the 2022 Saudi Arabian Grand Prix – Who left Jeddah on a high?
"It's just frustrating. I mean we are not starting [the season] where we want, where we hoped to be," said Latifi. "I am struggling a lot with the balance of the car.
"I mean, it's one thing to have the pace we are at, but we're lacking overall downforce and then balance-wise, the car is a bit all over the place, and that's what I am struggling with at the moment. [When I crashed] I took the same line as I have across the weekend, so it was unexpected. But obviously both disappointing and frustrating."
Despite what Latifi termed the "unpredictable" nature of the FW44, the Canadian nonetheless allowed himself to be self-critical, saying that two crashes over a race weekend was "not what I expect of myself".
"The rear just seems to let go very unpredictably," said Latifi. "It's what we've been finding with this car so far, it's very unpredictable and the balance is all over the place. I mean, there is no secret there but as the driver it's my job to try and still get the most out of it and drive it.
READ MORE: 'I trust the team' – Gasly backs AlphaTauri to solve reliability issues after problems in Jeddah
"It's two times I've put it in the wall, and it's not what I expect of myself at the level that I am at. It's tricky. It's just one to forget and move and obviously, huge apologies to the team for all the damage this weekend.
"I wasn't racing anybody, I am just driving by myself, but the car is still difficult to drive – but as I said, that's my job, and I have to see what I have to do to improve it."
Williams are now one of only two teams, along with Aston Martin, who have failed to score so far in 2022, as they now prepare to head to Melbourne for the Australian Grand Prix on April 10.