Lauda - Baku blame lies more with Verstappen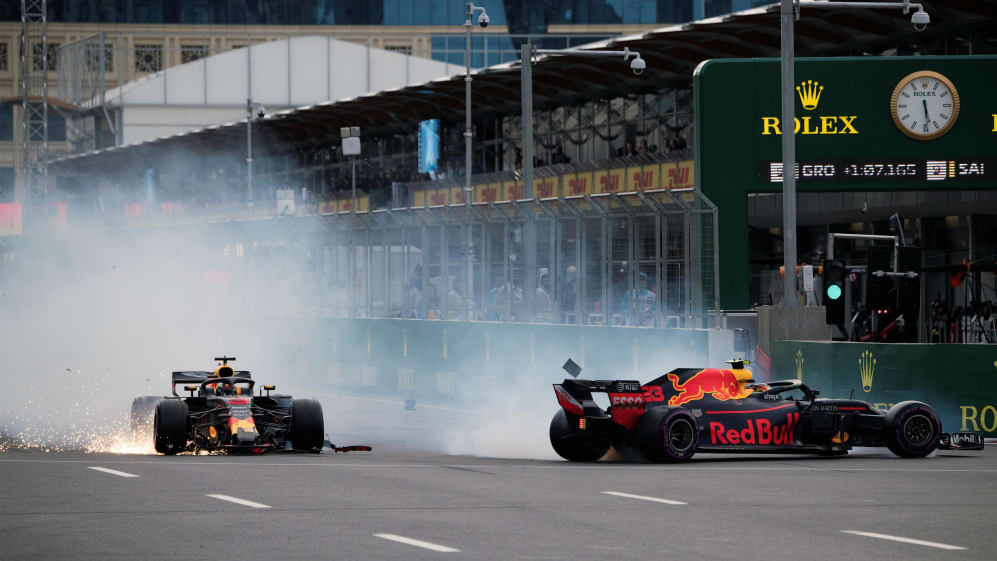 Red Bull Team Principal Christian Horner said Daniel Ricciardo and Max Verstappen were both to blame for their collision at the Azerbaijan Grand Prix. But Mercedes' Non-Executive Chairman - three-time world champion Niki Lauda - saw it differently…
Ricciardo had chased Verstappen for much of the race after losing a position to his team mate at the start, with the two battling closely and even being told by their team to calm it down.
Unfortunately, they didn't heed that warning and on lap 40, Ricciardo ran into the back of Verstappen as he attempted to slipstream past into the first corner. Both were reprimanded by the stewards.
Horner revealed both drivers would have to apologise to the team's staff at the factory this week - and in Mercedes' media briefing, Lauda was asked what he would do if he was in the Red Bull boss's position. "Go home and cry!" was his response.
"No, it's a disaster and we had it once [when Lewis Hamilton and Nico Rosberg collided in the 2016 Spanish Grand Prix]," added Lauda. "For me, it is 70% Verstappen and 30% Ricciardo. He was moving on him all the time, where can the poor guy go?
"I would bring them in the office together with [Mercedes Team Principal] Toto [Wolff] and tell them how much less they will get paid because of the damage they have done. Really. We thought about this once, but we didn't have to do it."
His comments came after Mercedes had extended their sympathies to Red Bull via social media shortly after the incident, tweeting: "We know exactly how you're feeling right now! We came back from it, you guys will too!"
Wolff, meanwhile, suggested he would take a different approach to Lauda, as he would be wary of dampening the racing spirit and hunger to secure victory.
"I just think you have to remind them that beyond all the racing that the drivers are here for, there is a large structure in the background that is working 24/7 to provide them with the best possible cars," he said.
"But equally, you don't want that lion spirit to be taken away. I've said it before, you can't expect to have two guard dogs in the car and for them to behave like puppies.
"There are upsides and downsides about having two fast drivers in the car."
Speaking before the stewards had released their decision on the incident, the FIA's F1 Race Director Charlie Whiting said: "It's a bit of a shame really, all in all. You could probably argue both drivers could have done a little better."
Red Bull leave Baku on 55 points in the constructors' championship, 55 adrift of Mercedes and a further four behind leaders Ferrari.