Leclerc and Verstappen say they share mutual respect despite having 'hated' each other during karting days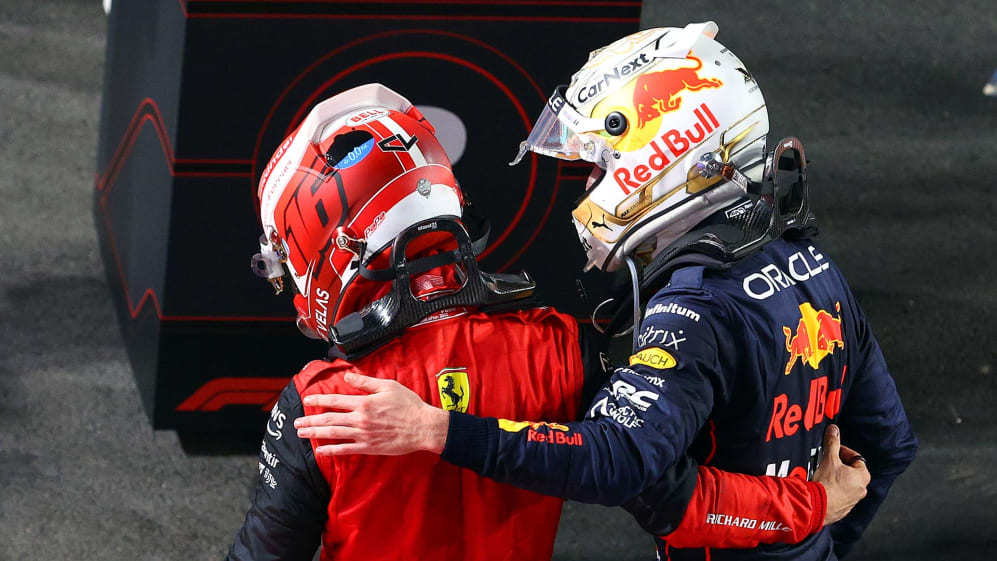 It's no secret that Max Verstappen and Charles Leclerc had a fiery rivalry in their karting days, the pair clashing on the road to F1 – but now the Red Bull and Ferrari title contenders have matured well beyond that.
Leclerc and Verstappen went face-to-face back in junior karting categories with both gunning for a future seat in F1. This season, they're both seemingly in championship-worthy machinery, though it's Ferrari's Leclerc who leads the standings ahead of the team's home race at Imola with Verstappen lagging behind due to his two DNFs in three races.
On Thursday, Leclerc said of Verstappen: "It's always been very close, especially in the junior categories. In karting, I remember it was either me or him and that's why we hated each other at one point, because very often it didn't end in the best way possible!"
READ MORE: Why expectations are at fever pitch as the tifosi prepare to cheer Ferrari at Imola
And on a rainy Friday at Imola he explained further: "I think it's a very different situation. We have matured a lot, we are much older – even though we are still 25 years old, which is still quite young. At this time there were episodes which made us hate each other, I'm pretty sure, on some occasions, but then you grow up – obviously we've both achieved one of our dreams which was to arrive in Formula 1 – and at that time it was just a dream; everything looked impossible.
"So, it's great now to be fighting in Formula 1 and there's a lot of respect for each other. So yes, it has changed, for sure."
Reigning champion Verstappen echoed Leclerc's words and said the pair can "laugh about it" after going toe-to-toe in karts. The pair have of course gone wheel-to-wheel this season in Bahrain and Saudi Arabia (where Verstappen took his first win of 2022), before Leclerc dominated to win again in Australia and consolidate his championship lead.
"Like Charles said, we've matured a lot and we're both in Formula 1 and I mean we are in two top teams and fighting for race wins, and what happened in go-karting, it's actually – you can laugh about it now – good times," said Verstappen.
READ MORE: Sainz says Ferrari contract discussions were 'super straightforward' ahead of Imola weekend
"I mean, we basically grew up through go-karting from, I think, 12 years old, and of course we were very similar in age. We already had a lot of go-karting battles but also we made our way through to Formula 1. And not only the two of us – a lot of drivers like George [Russell], Carlos [Sainz], we already saw each other at the go-karting tracks and now we are all here in F1 basically fighting with top teams.
"It's really nice to see that and I hope it can continue for a long time," concluded the Dutch driver.
Imola hosts the first Sprint of the season with rain pelting the track ahead of Friday's FP1 and qualifying session.
2022
Drivers' standings before Imola
POSITION
POINTS

1

Charles

Leclerc

Ferrari

71

2

George

Russell

Mercedes

37

3

Carlos

Sainz

Ferrari

33

4

Sergio

Perez

Red Bull Racing

30

5

Lewis

Hamilton

Mercedes

28

6

Max

Verstappen

Red Bull Racing

25