Leclerc angry with 'stupid' final day crash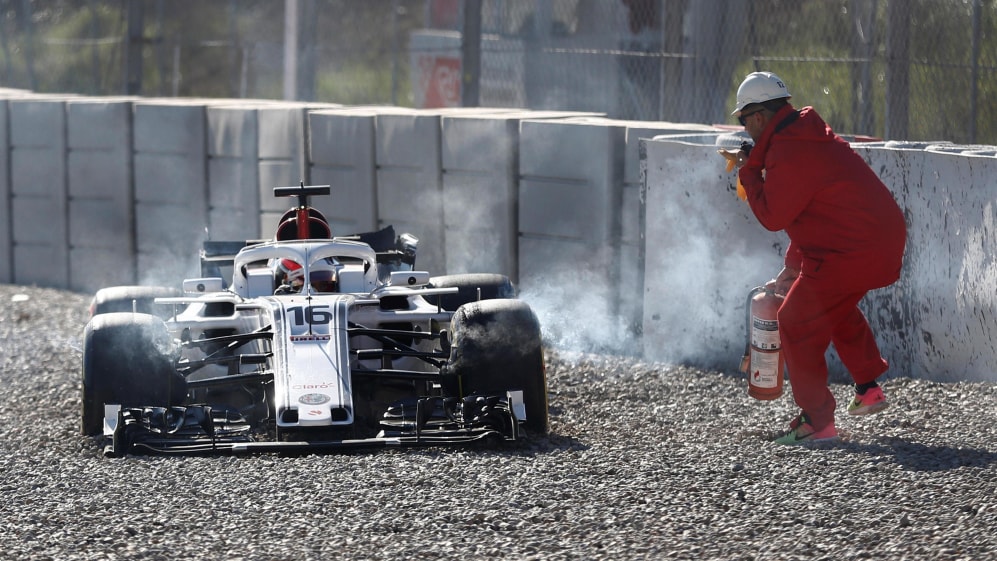 Charles Leclerc knows he faces a steep learning curve as a Formula 1 rookie but he described his crash on the final day of F1 pre-season testing as a "stupid" mistake.
A hugely impressive title-winning campaign in Formula 2 last year has resulted in Leclerc - one of two rookies on the 2018 grid alongside Sergey Sirotkin - receiving plenty of interest ahead of his debut season.
As Sauber got to grips with its new car in Barcelona, Leclerc escaped unscathed after suffering a number of spins. But he wasn't so lucky on the morning of the final day as he hit the wall at Turn 12 and damaged the car.
"It hasn't been a very good day for me," said Leclerc. "Today I have made an error that has cost me quite a lot. I will learn from it but I think it's a bit stupid from my side to do it so early in the day, but it happens.
"I was pushing, I think the pace was very good on the lap I was doing but obviously I did not finish it. Completely my fault.
"The two other [spins] are nothing special. I spun and everything is still quite new for me. I tried to push the limit, which is normal in testing, and I will obviously be a lot more disappointed with myself if this happens in the race in Melbourne.
"I've had some good information from this, I've learnt a lot and there is still a lot to learn. It is just stupid to have done it today, I am a little bit angry with myself, but the two others are just normal."
Despite his error - which triggered a spell of around four hours in the garage for Sauber - Leclerc is positive about his own development throughout pre-season and is confident ahead of his F1 race debut in Australia on March 25.
"I feel ready, definitely," he said. "These two tests have taught me a lot. I went a little bit over the limit. The first two times were just completely fine because it was normal.
"This morning I am a bit angry with myself because obviously I touched the wall. So it was not like a normal spin but I touched the wall a little bit.
"Then we've had two different issues, that's why we stayed off the track for a very long time, it was not only for my crash. But anyway we lost a bit of time on track because of me and this is something that should not have happened. But I've learned from it.
"Obviously Formula 1 is still pretty new to me, but I think I've learned a lot. On the performance side I think we are there and I think I've improved a lot in this test. I feel ready for Melbourne.
"Probably the race runs [are the biggest improvement] because I obviously had never done any race runs before two days ago. So I did my second one today - actually not even a full one because of my crash this morning - but I've learned a lot on the race runs."