Leclerc calls battling P4 at Monza 'one of my top five performances in F1'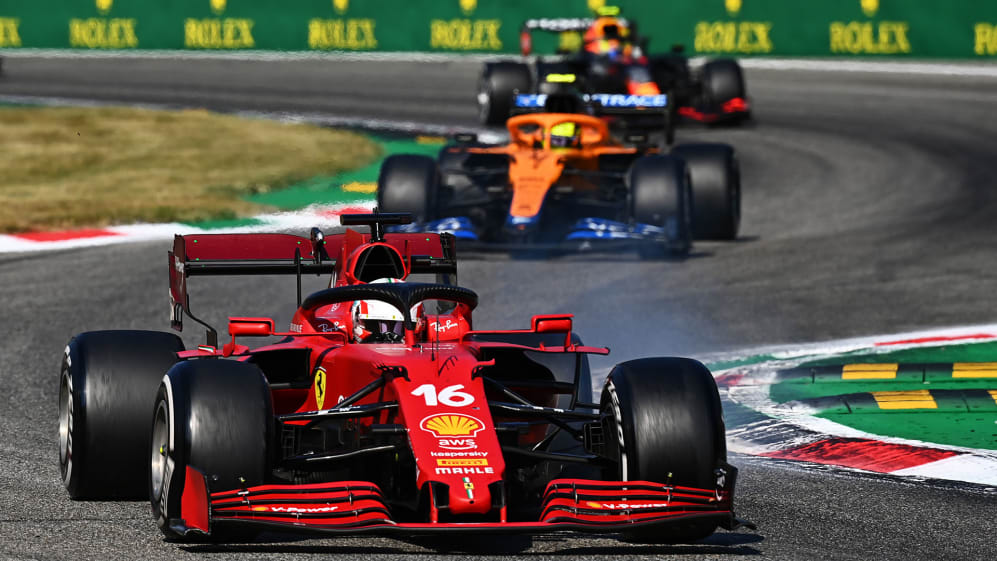 Fourth-placed finisher Charles Leclerc wound up just 2.388s off the podium places at a dramatic Italian Grand Prix won by McLaren's Daniel Ricciardo. And although the Monegasque has nine pole positions, two wins – including one at Monza – and 11 further podiums to his name, Leclerc rated his 2021 Monza performance as one of his best in F1 after the race.
Leclerc had been in the thick of the action throughout much of the Italian Grand Prix, duelling with the likes of Lando Norris, Sergio Perez and Valtteri Bottas – with Leclerc finishing fifth on the road before a penalty for Perez for overtaking Leclerc off the track moved him to fourth.
And Leclerc revealed just how tough his race had been in a Ferrari SF21 not best-suited to the demands of the team's home circuit.
READ MORE: Ricciardo leads stunning McLaren 1-2 after Verstappen and Hamilton collide at Monza
"I gave it all, really everything," said Leclerc, who'd run as high as P2 in the race after pitting under the Safety Car brought out for Lewis Hamilton and Max Verstappen's dramatic clash, before falling down the order.
"There was not much more [we could] do today. I mean every opportunity there was, I tried to take it… As soon as Valtteri passed me, I tried to overtake him again. And I succeeded but they were just too quick, especially [in the] third sector and into Turn 1, and it made us very, very vulnerable to overtaking. So, it was very, very difficult for us to overtake and very easy to get overtaken."
Leclerc's performance came after a galling Italian Grand Prix for Ferrari 12 months ago, with neither car making Q3 before Leclerc crashed heavily out of the race at the Parabolica, as Sebastian Vettel also failed to finish. But with Leclerc and Carlos Sainz finishing the 2021 Italian Grand Prix P4 and P6, the Monegasque hailed the team's progress – and his own performance at Monza.
"It wasn't the easiest of races, but at the end if you look at where we were last year and where we were now, it's a big step forward," said Leclerc. "We need to keep working like this.
READ MORE: Hamilton says Verstappen 'obviously knew he wasn't going to make the corner' after Monza crash
"On my own performance, honestly, I rate it as [one of] my top five performances in Formula 1," he added. "I really felt like I had given absolutely everything, so on that I'm happy, but we need to keep working to be fighting for the win very soon."
One disappointment for Leclerc and Ferrari was that, with McLaren taking a full 45 points from the Monza weekend after a one-two finish (including a point for Ricciardo's fastest lap and his P3 in the Sprint), Ferrari lost their P3 in the constructors' to their rivals, now sitting 13.5 points behind McLaren.