Leclerc 'extremely happy with P4' in qualifying as he predicts strong race pace for Ferrari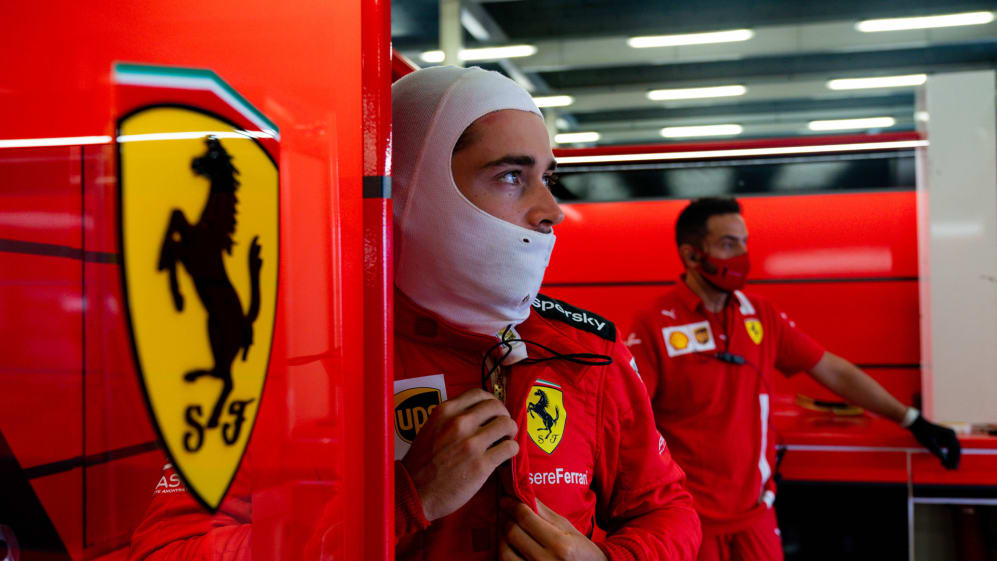 Charles Leclerc may have qualified over a second adrift of Mercedes' Lewis Hamilton for the 2020 British Grand Prix, and with a time over two-tenths slower than he managed 12 months ago. But the Monegasqeue nevertheless declared himself well pleased with his efforts at Silverstone, as he netted Ferrari's best grid placing of 2020 so far with fourth.
In a Ferrari SF1000 which both drivers have struggled to get into a balance sweet spot this weekend, Leclerc's P4 time was just 0.102s slower than Max Verstappen's effort for third in the improving Red Bull – while Leclerc was one of just five drivers to make it through Q2 on the medium tyre, giving him a strategic advantage in the race.
READ MORE: Hamilton recovers from spin to take record seventh Silverstone pole
"I'm extremely happy about that," said Leclerc afterwards. "I did not expect to be on P4 for tomorrow's race, and especially not starting with mediums. I mean, we tried it but we were not very confident about making it, and to make it work was very nice.
"And it's looking good for the race tomorrow, because our race pace… I think we have the pace but we are just destroying the tyres very quickly compared to the others, so starting on the mediums will help us."
READ MORE: Hamilton explains how mental 'reset' after Q2 spin enabled him to take record-breaking pole
Leclerc went on to describe the challenges of putting in a lap around Silverstone, with drivers having to constantly compete against winds at the former airbase.
"It's very challenging in a Formula 1 car," said Leclerc. "Maggots and Becketts now – it's crazy how quick that is, and now with the wind, from FP3 and quali it has been quite constant but for me yesterday, it changed completely and changed completely the balance of the car, so you need to adapt to it quickly because it really affects the balance of the car a lot."
Sebastian Vettel, meanwhile, continued to struggle relative to his Ferrari team mate, making it though to Q3 but ending up over nine-tenths adrift of Leclerc (although the German did have a marginally better lap deleted for exceeding track limits) while Vettel wasn't able to make it through Q2 on the mediums, meaning the 2018 Silverstone winner will start on the higher-degrading soft tyres for Sunday's race.