Leclerc: 'If there's one race you have to win with Ferrari…'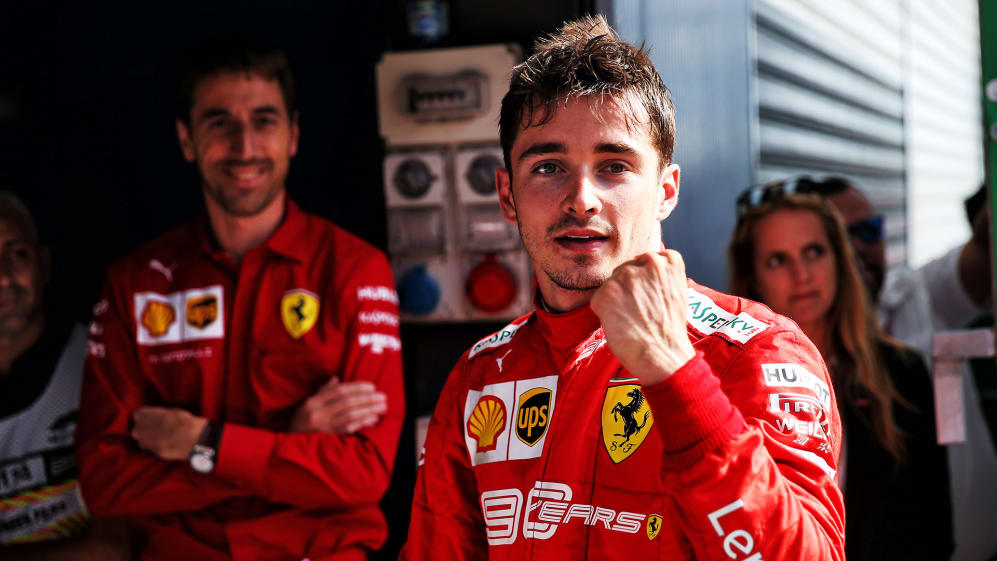 A sea of tifosi, dressed in brilliant red and proudly holding a massive team flag, welcomed their newest hero Charles Leclerc after he produced a masterful drive ahead of both Mercedes at Ferrari's home, Monza. The Italian Grand Prix was beyond anything Leclerc had ever imagined, he said after his victory.
This was a nailbiting, spellbinding race as Mercedes launched a two-pronged attack on Belgian Grand Prix winner Leclerc, the Monegasque driver left on his own with team mate Sebastian Vettel falling from fourth to 14th after a spin at the Ascari chicane and a dangerous attempt to rejoin the track.
So it was all up to Leclerc to keep the Silver Arrows at bay after that, nursing his hard tyres as far as possible, and pushing them when needed. The grunt of the Ferrari power unit, the latest spec installed for Monza, was his crucial weapon in the fight. The reception from the fans as he sprayed champagne off the towering podium showed just how important this win was.
"I think if you have to win one Grand Prix with Ferrari it's the Italian Grand Prix," he said. "From the beginning of the week it's been absolutely crazy, I came here with my first win, and to win straight away the second one here in front of all the fans that have welcomed me extremely well after the first victory, is just unbelievable."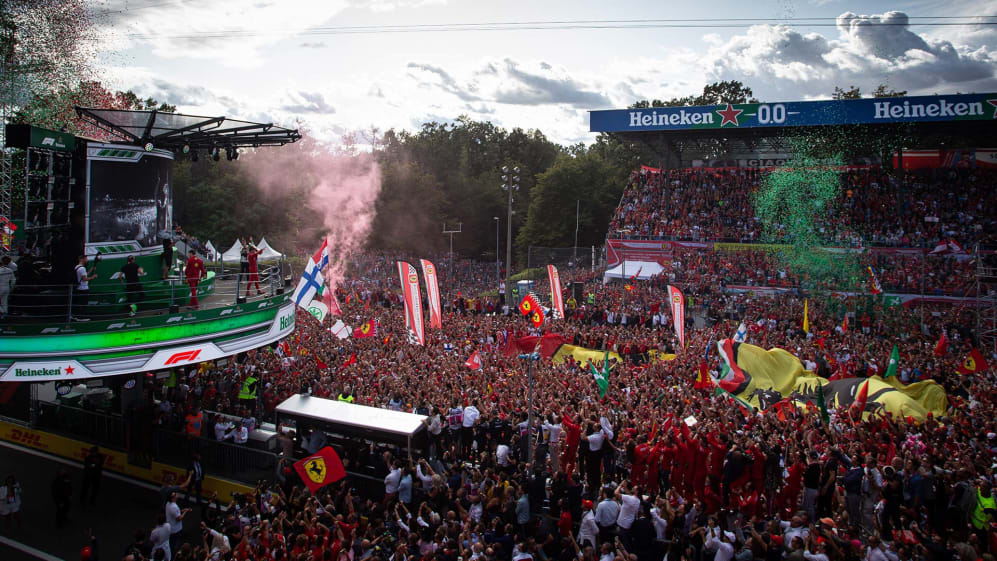 READ MORE: Dazzling Leclerc fends off both Mercedes to end Ferrari's Monza win-drought
"I did a few mistakes, but at the end I finished first, so- very happy with this. But I need to be careful with the mistakes, obviously none of them made me lose position today," he said, before speaking in Italian in a move that surely won any leftover hearts at Monza.
The podium was a dreamland for the Scuderia, red as far as the eye could see and jubilant fans streaming all the way down the start-finish straight to get a glimpse of Ferrari's latest home hero.
"No words to describe it," said Leclerc. "I've never imagined, I've never dreamed of something like this before. It's above everything I've ever imagined in my career to have such a podium."
With that, he leapfrogged Vettel in the drivers' standings and has Max Verstappen – just three points ahead – in his sights. Next up is the challenge of Singapore, a far cry from Monza.
I've never imagined, I've never dreamed of something like this before.
Mercedes stayed on his tail throughout, first Lewis Hamilton, who opted for soft tyres in an attempt to put the pressure on the hard-shod Ferrari. But that attempt was fended off, Hamilton buckling and missing the apex of Turn 1, going into the run-off area to avoid his team mate Valtteri Bottas, who skated past on lap 42.
Bottas did his best to keep the screws on Leclerc, but he only got into DRS range for three of the next 11 laps, and he could only bring the gap down to 0.825 seconds at the chequered flag.
"It was extremely difficult, [the Mercedes] were very quick, they were quicker than us, I think, today," explained Leclerc. "More than that, they had two cars to fight us, so one car went long – Valtteri went a bit longer – Lewis pitted more or less at the same time as me. So it was very difficult for us after that, but we managed the race very well and I'm very happy to take the home win – the win home."
Leclerc admitted that he made errors in his defence of the lead, having forced Hamilton off-track in exchange for a black-and-white flag at the second chicane, then missing the apex of Turn 1 to take a trip over the speed breakers, which the stewards didn't mind.