Leclerc left unimpressed with 'stupid' Magnussen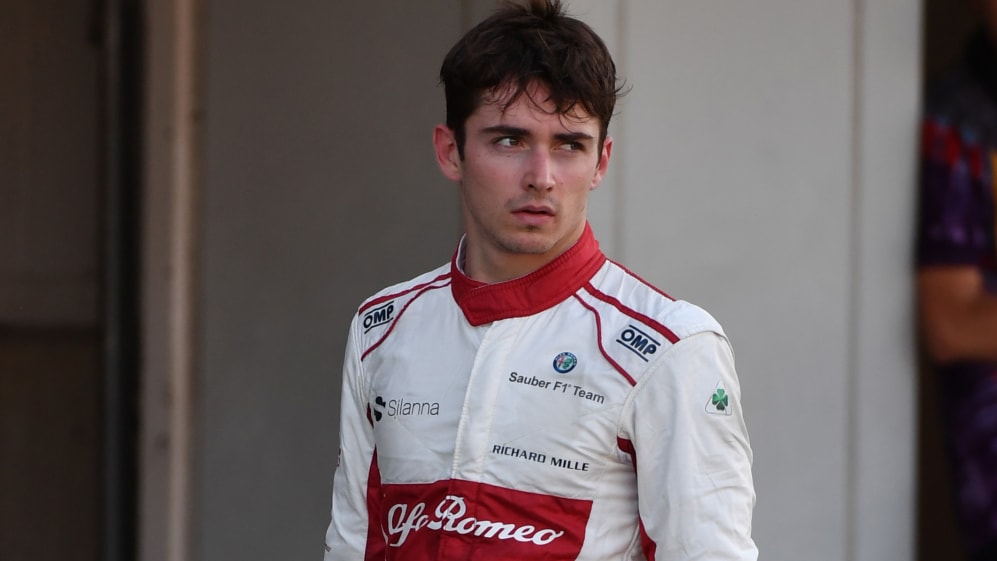 It was hard not to wince on lap two of the Japanese Grand Prix when Kevin Magnussen jinked his Haas to the right on Suzuka's start-finish straight as he defended from a fast-approaching Charles Leclerc.
With nowhere to go, Leclerc couldn't help but rear-end Magnussen, damaging his own front wing and puncturing the Dane's rear-left tyre in the heart-stopping incident. Leclerc wasn't pleased, and his appraisal of Magnussen's driving on team radio in the immediate aftermath was as succinct as it was brutal.
"Magnussen is, and will always be, stupid," he said. After reviewing the footage, meanwhile, the stewards decided that no further action was necessary.
When asked about the Magnussen fight the race after the race, Leclerc made reference to Kimi Raikkonen and Max Verstappen's 2016 tussle at Spa – an incident which also saw the stewards opt not to hand out any reprimands…
"For me, there was a similar situation with Kimi and Max… in Spa," he said, "where Max moved at the really last moment and everyone agreed that it was dangerous to do that and that it was not allowed anymore. But strangely it has been accepted today so I will have to get some response on that [from the stewards] to just know what I can do in the car."
For his part, Magnussen said the incident was "unfortunate, but that's what happens sometimes".
"I passed Charles around the outside of 130R, then through the last chicane he kept close and slipstreamed down the main straight. I went to the right, I think he followed for a bit and then went back to the left and clipped my left-rear tire, causing the puncture. The tire delaminated and ripped all the floor. It damaged the rear wing, the brake ducts, etc., so we had to retire."
That moment kicked off a string of incidents for Leclerc in what was a topsy-turvy afternoon for the Sauber driver. Five laps later, as the Safety Car brought out for the mess left by Magnussen's destroyed tyre pulled in, Marcus Ericsson got his braking wrong going into the chicane and clattered into the rear of his team mate – although fortunately for the Swede, the impact didn't appear to cause either cars much damage.
The Japanese fans were then treated to a string of brilliant overtakes from Leclerc, including a muscular pass on Renault's Nico Hulkenberg in the chicane, with the Monegasque once again proving why he's been picked by Ferrari to partner Sebastian Vettel for 2019.
But all that effort came to nothing on lap 40 as Leclerc was forced into retirement with an undiagnosed issue, telling his team simply: "Something broke." Still, despite the disappointment, it seemed that Leclerc had enjoyed his first ever Grand Prix outing at Suzuka…
"For me, it was quite fun to do a lot of overtaking, so this was good to see," he said. "But it's a shame about the end."