Leclerc remains hopeful for Ferrari victory in United States GP despite losing out to Hamilton in Sprint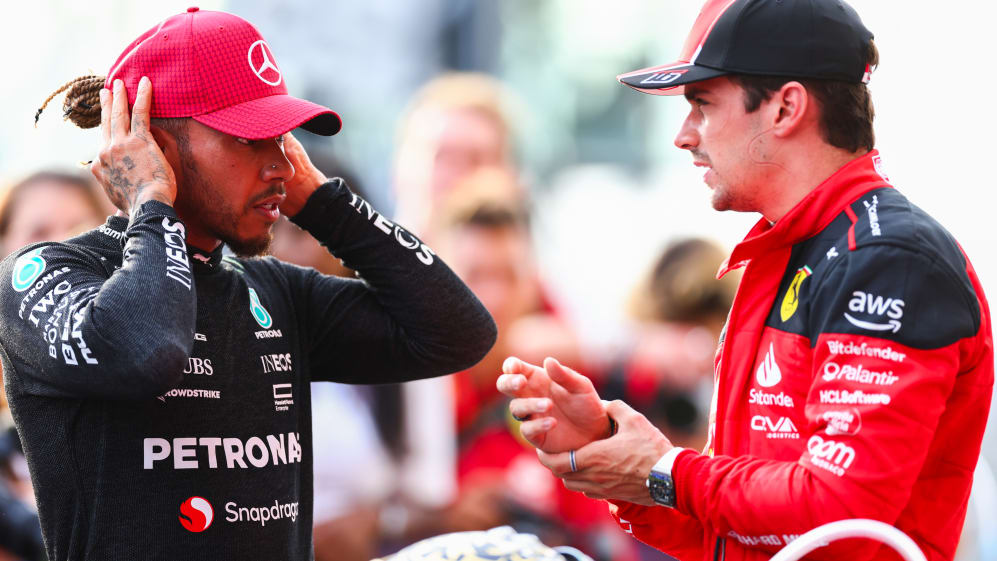 Charles Leclerc is hopeful he can bounce back with a win in the United States Grand Prix after losing a position to Lewis Hamilton in Saturday's Sprint.
Having lined up in P2 on the grid, Leclerc looked to challenge pole-sitter Max Verstappen into the first corner. The Dutchman defended robustly, while a fast-starting Lewis Hamilton battled with the Ferrari for second place.
READ MORE: Verstappen dominates to beat Hamilton and Leclerc to victory in Austin Sprint
After a brief scrap, Hamilton sealed the position and the order remained for the rest of the event, with Leclerc having to settle for third.
Reflecting on his tussle with the Mercedes driver, Leclerc said: "There was an opportunity, there was a gap and I tried but obviously then it was tight, and I lost the position to Lewis, but they were a bit stronger today in race pace.
"We expected them to be stronger and they were, so we need to work to try and understand what we can do better to be a step ahead tomorrow."
While Leclerc's SF-23 was fitted with medium tyres for the Sprint, team mate Carlos Sainz was the only driver in the field to run a set of used softs. The strategy did not entirely work out for Sainz, but Leclerc believes that the data from both drivers could bolster the Scuderia's chances of a win in the Grand Prix at the Circuit of The Americas.
"I mean, at the end we have quite a lot of data to analyse, having two cars on two different strategies," the Monegasque – who will start from pole position on Sunday – explained. "I think this will be a bit of a help for us because we know how the softs are behaving for tomorrow. I hope we can take advantage of that and hopefully we can win tomorrow."
FACTS AND STATS: Hamilton's best Sprint result for over two years as the Mercedes man takes second
As for Sainz, the Spaniard made gains on the opening lap of the Sprint thanks to the soft compound but was unable to maintain his momentum, ultimately finishing in his original starting position of sixth.
When asked if he was pleased to have tried the tyre strategy, Sainz responded: "Yeah, er, no! When I was the only car on softs I said we probably didn't get it right. Obviously after two or three laps I saw the medium was just quicker pretty much the whole stint.
"Something to learn from, something to improve going into the future to see if we can maybe save those gambles and don't do them. But yeah, at least I managed to keep my position. I think, with the medium, we probably could have done a better job, but we saved a P6 the whole race defending and [I] tried my best."
Like Leclerc, Sainz is feeling more optimistic about what Ferrari could achieve in the final event of the weekend in Austin.
HIGHLIGHTS: Catch the action from the Sprint in Austin as Verstappen takes victory
"We definitely look like we are in a better position going into tomorrow, also with the tyre more, we've learned how the soft behaves," he added.
"So at least we go into tomorrow knowing how all the tyres should behave, and now we can focus on making sure we do the maximum tomorrow – that is when the big points come. Today was tough, but at least we learned something."