Leclerc says fight for P5 gives him 'extra motivation' as Norris sets out to beat Ferrari drivers in Abu Dhabi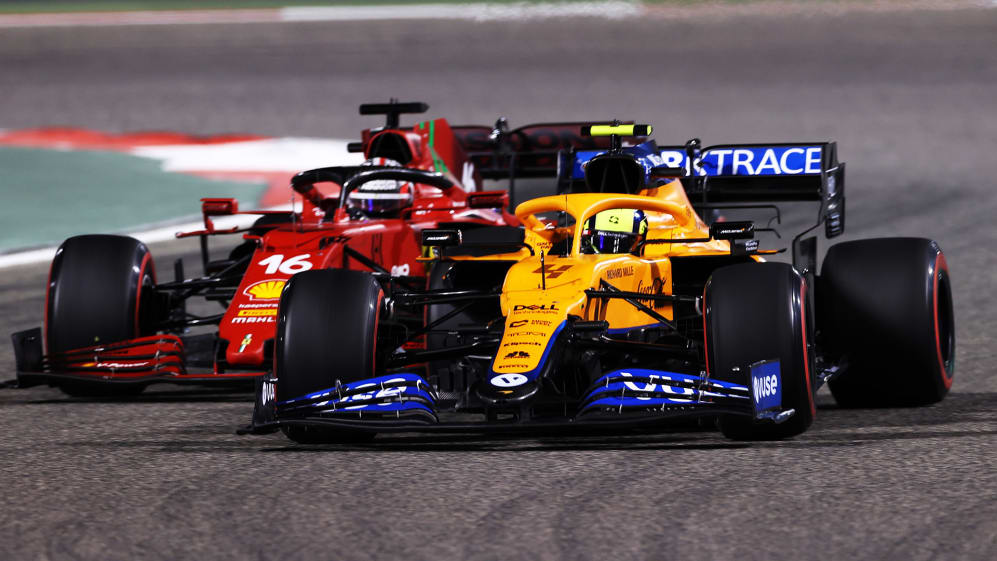 While the world focuses on the Formula 1 title decider in Abu Dhabi, there's a lot to play for across the board with three drivers – Charles Leclerc, Lando Norris and Carlos Sainz – vying for P5 in the drivers' championship. All three gave their view on the fight at Yas Marina Circuit on Thursday.
Ferrari driver Leclerc leads the charge for P5 as he is four points ahead of McLaren driver Norris, and another 4.5 points ahead of team mate Sainz, in the drivers' championship. The Monegasque driver said he's fired up to top the midfield at Yas Marina.
READ MORE: Alonso believes Verstappen 'driving one step ahead of everyone' as he says Dutchman 'deserves' 2021 title
"Yes I'm pretty sure the eyes of the world are more on the top two than on Lando and myself," joked Leclerc, "but yes of course there's a drivers' championship to play for, for ourselves, and at the end we've done loads of races to get there and it's also very important for us to get that [fifth] place.
"It gives us that little bit of extra motivation also, because we are not fighting for the top positions – I wish we were – but at the end there's still a place in the championship that I have to keep this weekend, which is the fifth place. So I will give my best."
As for Norris, who has averaged just better than P9 in the last five races, the Briton said he hopes for much more in Abu Dhabi, given he took fifth here in 2020, and was eyeing finishing ahead of both Ferrari drivers.
"I hope [I can finish fifth], it's the last chance. I think we were pretty good last year here actually, it was one of our better weekends. I think we were only two-tenths off of pole," said Norris.
READ MORE: 'My wife will be more emotional than me' says Raikkonen ahead of his final F1 appearance
"It doesn't mean we're going to be even better than that this year because the track's changed quite a bit and also the cars, but yes. This track tends to be easier for us so hopefully this weekend can be the same.
"For multiple reasons, we want to end the season well," added Norris, whose McLaren team sit 38.5 points adrift of third-placed Ferrari. "I want to be ahead of Ferrari and be ahead of them as a driver. If we can finish ahead of them as a team, even better, but that's a very long shot; we kind of need another Monza weekend."
As for Sainz, he reflected on a close battle with team mate Leclerc in Saudi Arabia that saw him passed by the Monegasque driver on the final lap – adding that, while he's 8.5 points off his team mate, it's still been a great first season with Ferrari.
"It got fairly spicy [in Saudi Arabia], good fun to be honest also. I was on the medium, he was on the hard… and managed to make a couple of good moves. But he came back on me at the end of the race with the hard tyre and we had the medium. So actually, very close, and a fun battle.
READ MORE: Formula 1 renews Abu Dhabi Grand Prix contract until 2030
"I'm still in the fight for P5 in the drivers' championship, third for constructors' looks good," said Sainz. "So I must have done a pretty decent season to be in that position," he surmised in Abu Dhabi.
This whirlwind Formula 1 season ends on December 12 at Yas Marina Circuit. Find out how to catch all the action on our Abu Dhabi Grand Prix Race Hub.