Leclerc says P7 finish a 'shame' but relishes race-long battle with Ferrari team mate Sainz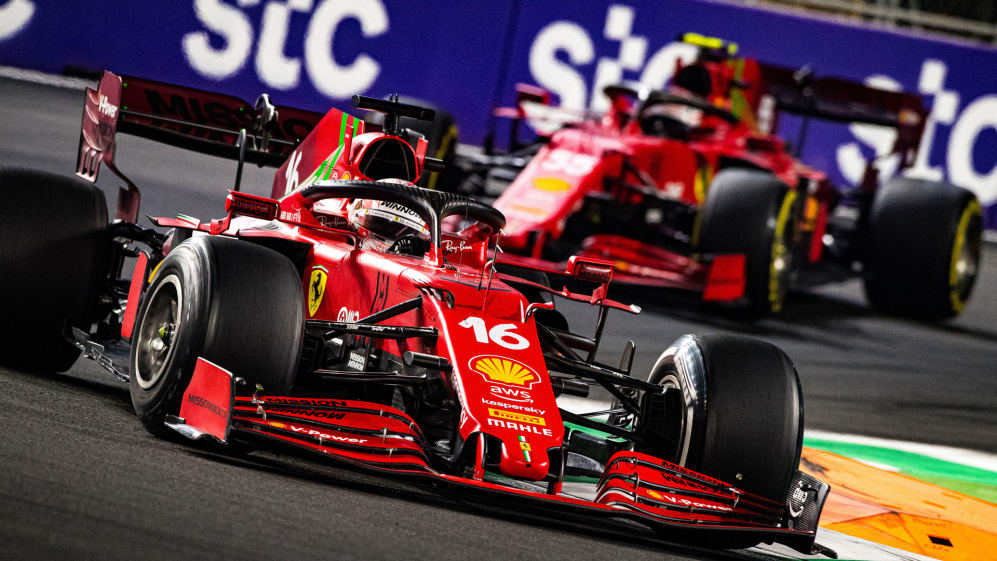 Ferrari added yet more points onto their tally as Charles Leclerc finished seventh and his team mate Carlos Sainz eighth in Saudi Arabia. But that result came after the two spent the whole race battling for position on different strategies – with Leclerc left wanting much more.
Leclerc took six points with his seventh-place finish at Jeddah, but the Monegasque driver started a stellar P4 in the race having outqualified Sergio Perez of Red Bull and Pierre Gasly of AlphaTauri on Saturday. However, he lost places to those who didn't pit during the Lap 10 Safety Car and restarted the race sixth on Lap 14 – when he collided with Perez.
From then on, he was embroiled in a battle with team mate Sainz, and only passed him for P7 two laps from the end of the race.
READ MORE: How a pair of crashes provided the 'sliding doors' moments in an electrifying Saudi Arabian GP
"Well Carlos was behind at first, then he overtook me while I was struggling in the first three laps [of the restart] with the hard [tyres] and then I had quite a good pace actually, and managed to overtake him two laps to the end. It was a good battle. We enjoyed it, I think, both of us.
"And yes, the pace was strong, but I can only be disappointed looking at the first part of the race we were very, very strong, so it's a shame we couldn't capitalise on that.
"We struggled massively with warm-up on the hard and I lost a lot of positions with the... restarts today – and on the hard tyres it was a disaster, so I lost positions on every restart. And with the pace I could make up for the space lost, but not enough obviously, and the potential was much better today," he explained.
READ MORE: 'There was nothing he could do' says Perez, after Leclerc collision sends him out in Saudi Arabia
It was a different story for Sainz, the Spaniard having started on hards from P15, making up six places by the time the red flag was flown, during which he switched to medium tyres. As a result of that strategy, Sainz said that it was "just not possible" to sustain his pace on used mediums from Lap 13 to 50 as he explained why strategy hurt his chances in Saudi Arabia.
"I was flying in the first stint on the hard tyre. The hard tyre today was behaving really well and I could make up a lot of positions at the start, in the first 13 laps. Then we were hit with a red flag that in a way benefitted me because it allowed me to keep P9, but it forced me into a medium tyre 37 laps to the end," said Sainz.
READ MORE: Ricciardo delighted with first points since Austin, as McLaren team mate Norris rues double dose of bad luck in Jeddah
"And a medium tyre 37 laps to the end was just not possible. I was [showing] really good pace on the medium until the medium gave up five laps to the end and I had to concede the position to Charles in the last few laps. But fast, just a bit compromised by strategy."
Ferrari head to Abu Dhabi with a 38.5 lead over McLaren in the constructors' championship as they have all but sealed P3 in the standings. Furthermore, Leclerc is four points ahead of Lando Norris in the drivers' standings, while Sainz has the longest active scoring streak of 14 Grands Prix.