Leclerc says he wants to 'do the real Le Mans' after racing in Le Mans 24 Virtual event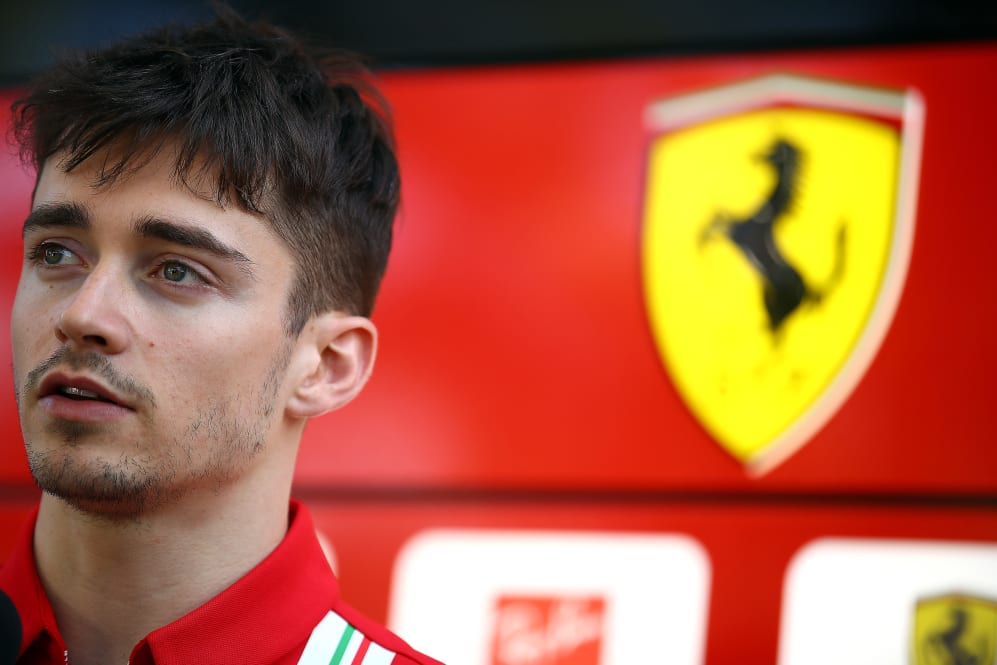 Charles Leclerc was one of a host of Formula 1 drivers to take part in this weekend's Le Mans 24 Hours Virtual event – and the Ferrari star says it has whetted his appetite to compete in the real race one day.
With the the real race postponed until later in the year because of the coronavirus outbreak, Le Mans organisers ran a virtual full length version of the historic endurance event this weekend, with 50 teams and some 200 drivers taking part.
Leclerc was among them, competing for Ferrari alongside Alfa Romeo F1 driver Antonio Giovinazzi. Their team, which also included sim racers Enzo Bonito and David Tonizza, had a troubled race, with technical difficulties even leading to their Ferrari 488 GTE ending up upside down in the pitlane at one stage, before they finished 18th in the GTE class.
WATCH: Leclerc turns stunt driver as he blasts a Ferrari SF90 around Monaco for new film
Nonetheless, Leclerc says it's given him a taste for endurance racing, and that he wants to compete in the real Le Mans race some day.
"Thanks for being with me during the whole 24 hours guys," he said on Twitter. "The first 8/9 hours were very fun battling for positions. After the server problem, it was more about finishing the race and that's it but still fun. Now I just want to do the real Le Mans though."
Oops! Error retrieving Twitter post
Alonso and Barrichello also hit trouble
Leclerc was far from the only F1 representative in the event, with two-time winner of the real race Fernando Alonso running in a car with fellow ex-Ferrari Formula 1 driver Rubens Barrichello.
Unfortunately for the highly experienced pair, an odd situation saw them retire from the race in the first few hours. Alonso explained afterwards that as he had been travelling down the pitlane ready to take on fuel, he was hit with a stop/go penalty for an earlier incident with another car. It meant he was was not refuelled at the stop, and his #14 car then ran out of fuel on the next lap.
They were later able to rejoin after the race was red flagged, but any hopes of victory were long gone by then.
Oops! Error retrieving Twitter post
Verstappen and Norris retire from the lead
It had started so well for Red Bull's Max Verstappen and Mclaren's Lando Norris in the #20 Team Redline car and with 10 hours of the race run, they were leading the race.
But technical issues forced them to retire as the racing continued through the night. A late red flag in allowed them to rejoin, but like Alonso and Barrichello, they were far too far behind to have any impact, leaving Verstappen and Norris hugely disappointed.
"Some things are out of our control," said Norris. "We did our best but, doesn't always work out. We'll come back next year... maybe."
Oops! Error retrieving Twitter post
#1 Rebellion Williams Esports car takes the victory
Norris and Verstappen's misfortune elevated car #1 – one of four cars in the event run as a partnership between World Endurance Championship outfit Rebellion Racing and Williams F1's sim racing team – into the lead of the race.
Driven by Haas Formula 1 reserve Louis Deletraz, factory Mercedes GT driver Raffaele Marciello and sim racers Nikodem Wisniewski and Kuba Brzezinski, they controlled the second half of the race and survived a late challenge from the #4 ByKolles Burst Esports entry driven Tom Dillmann to take victory in the first ever Virtual 24 Hours of Le Mans.
Oops! Error retrieving Twitter post